What will change now on the ground level realities?
Indian politics must overcome the current mindsets of politicians. Politics is not the private property of one person, or one party. It is a public trust. Trust must be earned through open society, open debates and in a sort of Parliamentary behavior.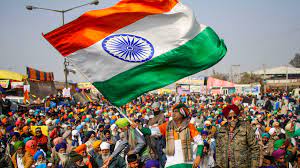 After a prolonged 14 month sustained agitation that India hasn't seen so far, the Indian government also, not seen so far for its stubbornness had climbed down from its audacious revenge mentality, there is a big sense of relief in the midst of other tragedies and tribulations. Just now, we have seen another tragedy of very high order, that of the helicopter crash in our neighborhood, in the Nilgiris mountains, that had added to the prevailing mood of distress and depression. In an open society and a democracy there must be a sense of openness and relief.
There are so many public issues over which a big democracy like India must feel a sense of freedom and relief. But unfortunately, in India we can't be so sure to feel that we, citizens enjoy such a widespread feeling. A near total of some three hundred journalists the world over are in jails in various countries, The New York bass International Union to protect journalists report: What sort of world do we live in?
And there are so many similar questions dictated by our moral impulses. Children who are out of schools, migrants getting sunk in hostile seas, poverty and malnutrition, some 30 per cent of the people in Orissa under poverty line, yet the able and though not so young a Chief Minister like Naveen Patnaik is in power continuously for over 20 years! These are some stray stories that fill our minds every day when we turn to the mainstream newspapers and news channels. How much is our freedom for the media in India?
We seem to be hesitant and even fearful of the rather arbitrary ways in which some big legislations are pushed through our rather fractured Parliament. There are, yes, some brilliant Parliamentarians, as there have been in the past but they don't seem feel like making some coherent speeches and oratorical noises. There is a rather deceptive quiet may be, they, the Parliamentarians and the so-called Opposition lights, party leaders, activists and well-meaning independent thinkers and experts. Unfortunately, now, there is a new surge in retired officials who don't seem to retire any more and they seem to swell the ranks of ministerial berths and also others on the waiting list.
In such an environment, it is no wonder that the farmers' agitation didn't lead to any healthy solutions in a democratic and open society. Farmers got what they agitated for?
It is an extremely difficult question or other similar such questions. Now, the hardest part of the farmers' demands were their demand for a legally guaranteed MSP minimum support price for all the agri commodities, some 23 premier items, from wheat, rice and vegetable oil to pulses and others. Is this legal guarantee possible or feasible?
No one stopped to pause and ponder! And now the feasibility! Agriculture subsidies are a worldwide issue, our readers might not fully be aware of this issue!
USA is the world's biggest agriculture nation. It produces and feeds the world, its biggest diplomatic tool is also the food subsidies and food exports. Agriculture trade is also now becoming a big political issue becoming an issue only lately. It is a highly sensitive issue also for the European nation countries where the majority of farmers are small farmers.
In India too this is a big political and sensitive issue. As we have now in India, how emotive the issue we have all seen. Now, the agri subsidy in India is about Rs.1.7 lakh crores!
Now, with the "peace agreement" with the farmers the assured subsidies might go up to. Rs.9 – 9.51 lakh crores, some 5 times more than at present! Is this possible to work out so much to farmers? What about the fiscal deficits and other financial constraints? Who cares?
Very depressing such a response, we know and we are sorry to say that. But what options are available given the hardened positions taken by the two sides? The wise decisions must have been direct talks, parliamentary debates, that give and take positions. After all, politics in a democracy, why even in other arbitrary governments is not the private property of one person or one family or for that matter for one party. There can't be any monopoly for any one person or party. The matter of politics. Unfortunately, after 70 years of practicing politics in the country we, the leaders of optics, seem not to have learnt much.
They use power for furthering their wrong doing instincts, for acquiring wealth and property through corrupt practices, we have to see what is happening to the many laws we ourselves passed the Lokpal Bill and other bills, also our penchant for taking revenge against opposition parties.
Indian politics has to go a long way, it seems, before we can learn to use our political and diplomatic skills. To conduct politics in a serious and simple manner of good behavior and honorable conduct.