Dev Anand's  minor classic
Dev Anand can write such English with literary merit? Spring comes to Bollywood!
Dev Anand's "Romancing with Life"  is a minor literary classic!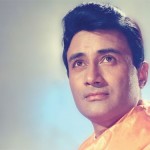 Mr. Sunil Dutt and Mrs.Nargis Dutt life stories poignant and deeply moving One, an  autobiography. The other, a loving portrait of a famous film couple. Together they bring back a lost spring time,the golden days of theBollywood cinema.When,the actors were genuine super heroes and actresses were the reigning queens.The film was always a creative work and we see in the pages of the 400 and odd pages of Dev Anand's beautifully-written,yes, he is a B.A. Hons from the Government College,Lahore, when that college prided itself as the best east of Suez.
Yes,it produced the higher class of ICS officers and others who went on to shape society and much else.'Dev Saab'as he is called by the industry,for he had lived through all his 84 years as a youngish man of handsone features who could speak impeccable English with proper accent and there are no such highly educated persons,then or now in the tinself town.So,the autobiography comes as a great surprise,it commands one's attention,not just the usual attention but an intellectual and even artistic curiosity as well.Here is a mind that is optimistic all times,young in attitudes,never say die spirit and what a life it has been! His story reads like any other rag to riches as Sunil Dutt and countless other  artists who ran away to Mumbai and made it big.