The new buzzwords for the current agri policy making!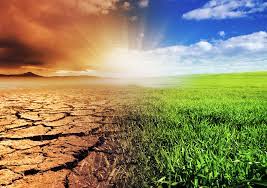 Climate change is now a grave reality. There is a debate in the distant Glasgow. At the same time there is flood in Chennai and there is dire prediction the Chennai city might sink in the sea to the depth of 1.8 feet before the end of this century. What more reality we need than this NASA report?
It is time to think radically and do many things on many fronts. The COP 26 Glasgow Climate Change Summit that had sought to set a new "agenda of action, as one of its sessions" described, has really, with all qualifications and skepticism is really a breakthrough.
We have to welcome the outcome of the very influential international leaders representing some 200 countries. There is much to discuss and debate till the next session billed for Cairo next year. Can the countries of the now say there is some time for rest till the next date arrives?
No, we can't say that within certainty. In fact, what we can say now is there is actually more urgency to clarify and conceptualize many new questions that have been thrown up now. The current scene of climate change with excessive rains. And flooding of Indian cities, more so right here in Chennai city, reminding the year of 2015.
Specially, for us who are concerned with what happens to the climate change and the warming of the planet is what are the adverse factors from the agricultural sector with the alleged excessive leak of carbon gas emission coming out of the agri and other crops. This is a subject new for the vast mass of farmers who don't know all these issues so far. Now this issue has come to the frontline and also much other pollution causing agents.
Of course the headline grabbing issue was the stars, the two big countries, namely India and China the two populous countries still using coal, India still 70% coal in its power plants and also China, and negatively the bad name as the two most polluting economies.
Also the unresolved question of what the two countries' stand and commitment to the agenda of action!
India's Prime Minister Mr. Narendra Modi in his characteristic boldness and risk-taking strength declared India would set the date of 2070. As the upper limits and thus won over the admiration of nations and thus this time India's highly rated international leader and statesman.
India's International profile raised. Yes, this time India's international profile as the most responsible nation and leader of some hope and capability for the world. So, in a way we, Indians, can take some share at this proud moment. This is really a great achievement indeed. But then to earn as a responsible nation India has to do much, besides diplomatically scoring a winning point. But then diplomacy is a new field for India and we Indians have also to earn the art of diplomacy in which the Western nations had shaped the course of world history since the famous Westphalia Peace treaty in the year 1648.
Today we live in the world with some, why, even much anxiety and with the nuclear weapons threat and also the new threat of climate change and many disasters the world have to live through.
So, what role agriculture is going to play in the present and future?
Agriculture has actually come centre stage. And a whole lot of new innovations are called for, new seeds, new climate change resistant seeds and use of eco-friendly fertilizers introduction of new agri machinery, improved water saving irrigation through sensors, why even improved agri marketing, most of all really ensuring guaranteeing higher remunerative prices and less exploitative agro reforms are all there to be done.
Really, the future of Indian agriculture calls for realistic agricultural land ownership laws are timely. As things are what we need to do to lessen the impact of the international climate change and global warming challenge is to understand science and technology in the agro and rural sector.
There would be progressive urbanization and also international migration.
Indian population this generation has come to reality and they migrate at the very first opportunity.
The inequity and inequality in society and politics is growing faster than before.
Corruption is also growing. Internal institutions are becoming out of date, transparency in administration is diminishing.May be the only certain way to meet the climate change and other future challenges, to put it bluntly, in our opinions to improve governance internally in a more honest and truthful manner.
Are we not going back in the pursuit of our values in our living? Why there are known inequities? Why we refuse to adhere to our own constitutional mandate?
Democracy essentially means fixed tens of acquiring and retaining power, isn't it so?
Then why, the world over there is the tendency towards dictatorial tendencies?
The world needs dedicated leaders. Where are they? These are not silly questions.
Why do the political process in the international arena not driven by ethics?
It is time world leaders shed their narrow focus and give up their adherence to raw power and the use of force. Why there are still wars in the world?
The UN must be strengthened and more international summits and G-7 meets. Only the economically strong nations can give decisive directions to the world.Of course we need new ideas and new insights. This can be given by many, especially by world thought leaders. Let us invite such thought leaders to the UN assembly and other firms.
Such independent thinkers are also to be given top viability so that the politicians can shed their egos and learn to behave responsibly. Nuclear weapons have to be eliminated and for this great men and minds must interact more visibly.
Image Source : https://encrypted-tbn0.gstatic.com