Our education status today!
Many of us, why, even the majority of us, as a society are not, or don't make, an open society, right? By this, what do we mean? See the recent controversy that broke out over the making of an indigenous vaccine for e.g. Covid 19. Discovering an India made vaccine must have been a great pride. And an assertion of our self-confidence and self-reliance about which our Prime Minister is harping upon for a long time.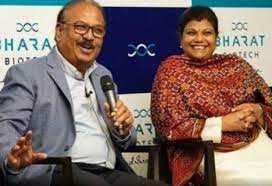 When the Bharat Biotech founders Dr and Mrs. Krishna Ella gave TV interviews the whole of the country were struct with wonder – a sort of disbelief. India discovering its own Covid Vaccine? There was a sudden silence. That fell on the scientific community. For many months when the whoopee world was battling with the science and discovery, India was gasping for some way out. But finally, thank God, the discovery came out and every one was breathing easy and yet there was no sudden burst of enthusiasm. There was more scepticism and intriguing silence. All around. Then after a few days, thank God again, only few days there came out from about 50 senior scientists and top level administrator-scientists and jointly signed statement asserting the woodwork of the newly discovered success.
Even after the strenuous defence and explanations for the various queries which the successful couple answers so spiritedly there was some sense of relief all around, it seems.
The point here as an education journal is that knowledge discovery is no easy task at any time. Science is such a rigorous job that we need to pursue the best and the strictly truthful end. What we want to say here so much applies too in the field of education.
Education is again a very serious field but unfortunately, education in India has not got the best 'shot' so to say when it comes to original thinking and policy making that might lift India into the world league.
See the status of education in India today. Just now we read a column by an eminent educationist, namely, Prof. Ved Prakash, a former chairman of the University Grants Commission, who says that as on date there are 16 Central Universities which have no Vice-Chancellors! And of course he goes on to say many other things about how the Indian universities are being run. When it comes to university education and higher education there are many sorry state of affairs, from corruption in education administration, some few VCs are in jail too and many other demeanours.
Now, we have a new education policy (NEP). Have you all noticed that after the NEP was put out in the public domain (or is it a published document?) there has not been much debate. Anyway, here are some of our view points. Indian education is now becoming more and more commercialised. Coaching institutes of many variations have come up everywhere. This is one trend. The other trend which has not been much noticed is the annual migration of students from India and China to country, primarily to the UK and USA and Australia and Canada.
The annual fees for overseas students, specially to Indians to UK universities is something like Rs. 40 lakhs and to the USA, slightly low and yet very high seen from the point of view of the quality of the studies. It is our considered view that after Independence, India did have any major education reform.
This subject is rather tiring somewhat and so we like to stop here and suggest that we have to reverse the outward migration of university students and we have to bring in foreign faculty, from the UK and USA and deploy them here and also open up new faculties both in the sciences and the humanities.

We need bold thinkers and visionaries in the education portfolios, both at the Centre and the States. At the State level, the education ministers must be capable persons. Also, there must be interactions, in fact, frequent interactions from education experts of other countries. Let there must be a debate. Only an open society and a liberal society can facilitate such exchange of new ideas.
Any new idea or ideas would be unwelcome in the beginning. But any students protests must be in the right of what the intellectuals talk freely. We have seen much education revolutions in France and other countries. Let new ideas flourish in India, right here, in our own times.