Yes, it is a fact of great significance that the students, those who had left schools and joined colleges are easily taken to protests and agitations. It is a question no one asks, we mean educationists and thinkers and anyone who thinks he or she is of some mental caliber, should be themselves capable of standing up to face a government which is in power.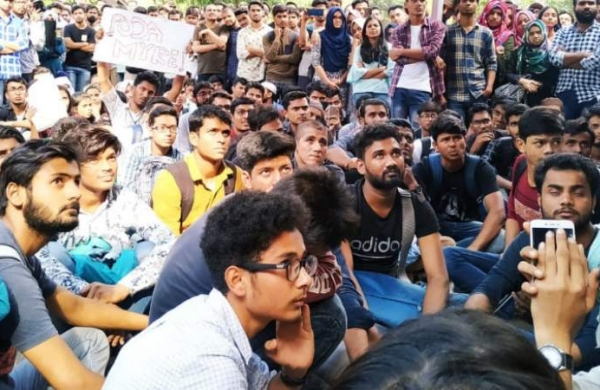 Incidentally, The Hindu newspaper (January 18,2020) a carries two, why even three columns dealing with education and radical student protests, also the editorial dealing with Kashmir's Islamist youth. Prof.Krishnakumar has raised many issues. One the very public life in India, a whole new generation has been let down what he calls a hollow public life, where the very much institutional deterioration from universities to educational administration and other forms of behavior and public conduct erosion are no more front page news but everyday happening. This also includes widespread corruptions at all levels, bureaucrats' proneness to exploit the politicization of our very public life.
Without elaborating the process we can say that bureaucratization of all institutions is also a major cause. To cite one example, in many states, education has become a ruthless business that even political leader who occupy party posts like the state party presidents are big owners of education institutions. From medical colleges to engineering colleges they own and they, as per some recent reports, openly flouted the rules and converted government quota seats into paying category, so that for each category of seats they cheat innocent students to cough up handy sums of 50 to above limitless lakhs of rupees!
It is a very unpleasant state of affairs but then what else you see when such activities are pursued on a wider scale? In one notable state many of the party dons are such political leaders and they can command any Central bureaucrats to visit the State as honorable chief guests in many public functions. It is a pity that even State Governors participate and legitimize the open defiance of all good public conduct and visit the very delicate cultural and why even the spiritual fabric. It is also very unfortunate that many new age spiritual figures have also emerged and they rub shoulders with the high and mighty.?
The Hindu has also carried a half-page interview with the Nobel Laureate, Venkatraman Ramakrishnan. He seems to be a person of great nerve for he has boldly spoken about the current anti-science trends he has noticed especially in India at present. Science has to stand up for authority and how many can dare to do so in India at present? This is another facet of any education principle, isnt it? And Venkie Venkatraman also had spoken for, though indirectly for a secular society. Once this message gets through then there can be a radical change.
Also some other, why many more issues are directly related to education policy making. We all know there is no publicly known education policy at present in India today? Right? This is for the simple reason that India as it emerged at the time of India's Independence, had leaders of great moral caliber. Today the whole society has undergone change. The Rightwing policy has changed the outlook of the society and the youth upsurge is such that there is no room for any reflective thought and the socio-economic changes have produced wealth for a larger section of people and also great deal of inequality.
Today the radicalization of students and the youth has widened. In Jammu and Kashmir, there are new issues of radicalisation and with the J&K leaders from the mainstream shut up under detention there are new challenges. Even juveniles, 'girls and boys as young as 10-12'are drawn into the radicalisation challenges.
Is there a hint of some sort of the old fashioned fascist strains in the current social and class formations? Here the intellectual debate of a more abstract and more historical parallels could help. Already some of the State leaders, from Mamata Banerjee to Amarinder Singh, the Punjab Chief Minister have started using such language of 1930 political developments. Now, even the State Governors are in a confrontationist course. Universities and specially the faculty are drawn into radical action. This too must be curbed at the earliest. Surely, all these latest developments call for the top political leadership and for a dialogue among the stake-holders. Euphemisms of various sorts won't do. Such talk's time is gone.
For one, the education sector has become suddenly contemporary issue. This is good from one point of view. From another other point of view radical restructuring of education processes, curriculum changes and also a radical change in the university administration are all high priority issues.