Agriculture today is vastly changed and we need to understand the current world of agriculture!
Indian agriculture, a field for pessimism or optimism?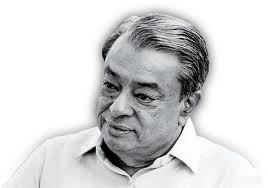 Agriculture is always on the top of the minds and tongues of Indian politicians, right? Even in the current unseemly political adventure in Maharashtra politics agriculture is talked about. Sharad Pawar the senior political leader, himself an agricultural pioneer, projects his image as a tried and tested agricultural pioneer. Very long time ago we sought him after and then he was the leader of the Opposition in the Maharashtra Assembly and he was kind enough to invite us to his office once and he talked at length about his vision for India to emerge as a successful producer of crops like vegetables and he pointed out how India could become a great agri exporter to the Middle East among other countries how Indian farmers could become prosperous. At that point of time Maharashtra itself was a pioneering state and we, in the rest of India, looked in awe how the State of Maharashtra was creating so many innovative co-operative bodies in cultivating grapes and the state had one of the most successful co-operative structure for so many other crops like strawberries, mangoes and of course sugarcane farming.
But as of now we are not sure how those pioneering ventures are doing today. Of course Maharashtra had also some of the leading lights of farmers' leaders like the late Sharad Joshi, another friend of this media and his Shetkari Sangathana proved many points in farmer's organizations and lobby building.
May be they were just only the pioneering ventures that remained only pioneering efforts only. The important point we like to draw attention of the present day enthusiasts of again another range of new interest and innovations in agricultural pioneering are the new technologies, the organic agriculture and food production and food processing sectors.
There are of course now so many new innovative agri technologies in various new crops like Israeli technologies in cut-flower cultivation that has led to new ventures, as in the neighborhood of Hosur and also many other new agri techs, from Netherlands and other countries.
Flower exports are now quite a big industry and there is a need to report the new developments in a much more systematic way. Of course there are the other extremes of so many distress stories for farmers to tell and enlighten the policy makers. There are also new problems like climate change and the horrible pollution stories from cities like New Delhi. Floods and scarcity are other issues that directly hit farmers. So, where do we stand as an agricultural media pioneers?
This is a question that often comes to us and hit us squarely. You see that unless you are a committed person ,as we can draw the example of Dr.Verghese Kurien, you would be nowhere in this business of 'do-gooder' job! From the days of Kurien to the current scenario where the human capital is much depleted (!) You would be nowhere to do any business. Now, the political quality of politicians is so low and where the bureaucracy is spreading its tentacles everywhere, there is hardly any segment of civil society that is left to seek company with the do-gooders!
There was time when Kurien used to attack, left and right the role of bureaucracy that was putting obstacles in every step of his activity. This, once Kurien himself narrated when we were left to wait for an audience with the then Prime Minister Chandra Shekar in his official residence. There were so many hilarious incidents that evening when the great Dhirubhai Ambani came calling the Prime Minister himself a novice and we were all thrown into confusion, some met the PM, some left disappointed.
Those days you can find at least few gentlemen, IAS officials, unlike now where new types of self-seekers are everywhere. For those who are unfamiliar with the Lutyens Delhi bungalow zone would not know how many bureaucrats, retired and others are hanging on in Delhi on some job or assignment and how they are all a cynical LOT AND HOW YOUR MANY PET SCHEMES COULD BITE THE DUST AND YOU YOURSELF would be lost once you tried to make your way in official Delhi!
So, given the sort of cynicism and negativity that prevails in the Delhi bureaucratic and political circles it is next to impossible to steer your way through any departmental key holes! Where is the atmosphere to nurture any new idealism and hope and vision, the qualities that are essential to nurture new initiatives and ventures, be it natural foods or organic agriculture?
The few ones we feature in these pages are some lucky ones and the vast mass of farmers are of course are facing many challenges. We need a new agriculture policy drawn up with an open mind and a humble submission to the unlucky farmers and rural people. It is rural transformation and an honest, corruption-free and dedicated team of agricultural pioneers of this generation only can revive agriculture as a new hope for a great agriculture country like India.
Now, agriculture no doubt is going to be the new sunshine industry. A growing and prosperous economy and society like India, with its vast geographical space and varied climate zones offer great many opportunities for India to emerge as the world's big basket of agricultural products and services.
Let us all recognize that India as of now is emerging as a great agri trading power. There is no escape from this global reality. There are concerns about India joining the South East Asian community. The world is becoming as more interdependent. We have to open up our economy for new imports, milk from New Zealand, pepper from Vietnam and Tea from Sri Lanka etc. India, luckily, in the frontline in agricultural exports. In rice and wheat and some other bulk commodities India has enormous advantages.
So, we have to woo our neighbours. Of course we have to be competitive players and the old style laggard image must go. India stands to gain only when it opens its doors for foreign imports like Malaysian palm oil in which we are so deficient! 85% of our edible oil is imported, so we have to be friendly with our South Asian neighbours!