And a showcase of India's role in the international affairs!
Bill and Melinda Gates Foundation Award for Indian Prime Minister – The Global Goalkeeper's award!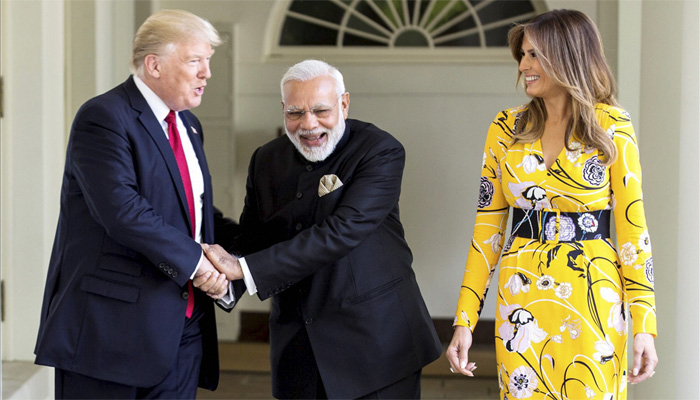 PM's US visit and the US President's close participation in the India events there have brought a great many fruits. The PM-President closeness drew world attention. May be, the Indian PM succeeded in positioning himself as the world's one more great power leader. May be India is also thus sought to position itself as a world power, next, only to China and Russia.
Only future developments might indicate. However, given Modi's penchant for creating for himself this aura of importance and priority for himself and thus for his country Indian Diaspora in the US might imagine themselves they too have got a higher social and economic status for themselves in the scheme of things as they say.
Of course it is always a nice thing to take a positive view of things and also in this instance US helps India to win approval over such sensitive issues like Jammu and Kashmir and may be also in economic development issues. International affairs are a very different thing and it might not lend itself for publicity and approval by an incumbent government. Even in this case we see not very long after, in fact almost at the very start of the current scenario Mr.Donald Trump faces the uncomfortable prospect of an impeachment.
If that unlikely thing is to happen then, one is afraid that what Mr.Modi gained by a way of favourable publicity and coverage might evaporate and unfavorable comparisons might emerge. Also, the Bill, Melinda Gates award also draws the prospects of comparison when we really deeply reflect, as some commentators have already done so, with the lack of a free and open society where the freedoms and rights of individuals are respected and even guaranteed so that the toilets, the gas connections and much else promised are readily enjoyed.
Yes, economic subsidies are like the saying that 'Not by Bread Alone'! But along with the capabilities of citizens to enjoy the benefits. So, when there was much talks and even self-praise about two big democracies are great and unique even in the world when they come together to give the best of the freedoms and security to the citizens.
Even when we saw the cheering Indian Diaspora were really happy and self-satisfied they too might have reflected they, while got the economic liberation when they left their shores of the past, they also lost something by the way of being patriots and once were free people. Now, in the USA, they too would have reflected on their own reflections what they had lost by leaving their own inheritances for the pittance of a dollar and creature comforts.
They too have to live their lives in constant fear of a gun culture that doesn't give your freedoms of whatever value back in your own country.
This migration issue, Mr.Trump was referring to many times in his speeches. What about the illegal migrants plight now left to nowhere land?
The future for the migrants, from other countries too, like Mexico, the front line state where the burden is very high, also what about the spouses's visa issues. US won't give the Diaspora the comfort they are seeking for and they too have to live a life that while it promises some minimum economic security, then, this security comes with great doses of many other uncertainties.
It is freedom, human rights, collective social security, issues like racism and often brutal killings you subject yourself with no other way, these issues must have haunted the audience when they cheered, we are not sure with what serious reflection on their own kinsmen and women back in their country.
Now, much is talked about patriotism and nationalism and nationalist vs. secularism and much else.
The Indian Diaspora too must carry some guilt within them for what their own country men have lost by way of their own democratic values and the securities that come with a genuine democracy.
The debate about the good the Diaspora inherited, they also lost the traditional social values, the traditional spiritual feelings of fulfillment they lost by seeking to get out for the sake of a penny!
Anyway for Indians left here the burden of reflection is there for they have lost their freedoms back in their democracy however faulty and short-comings, for they have the rights to fight for, while they have surrendered all such freedoms in a foreign country. A true open society is one that allows the citizens to enjoy freedoms, to gather for a protest and seek for justice in whatever field they seek and that is a true life for a free citizen.
Anyway, these are some of the thoughts when we saw the cheering Indian Diaspora and thought whether they had gained and we lost back in India!