But doesn't talk of agriculture and its problems?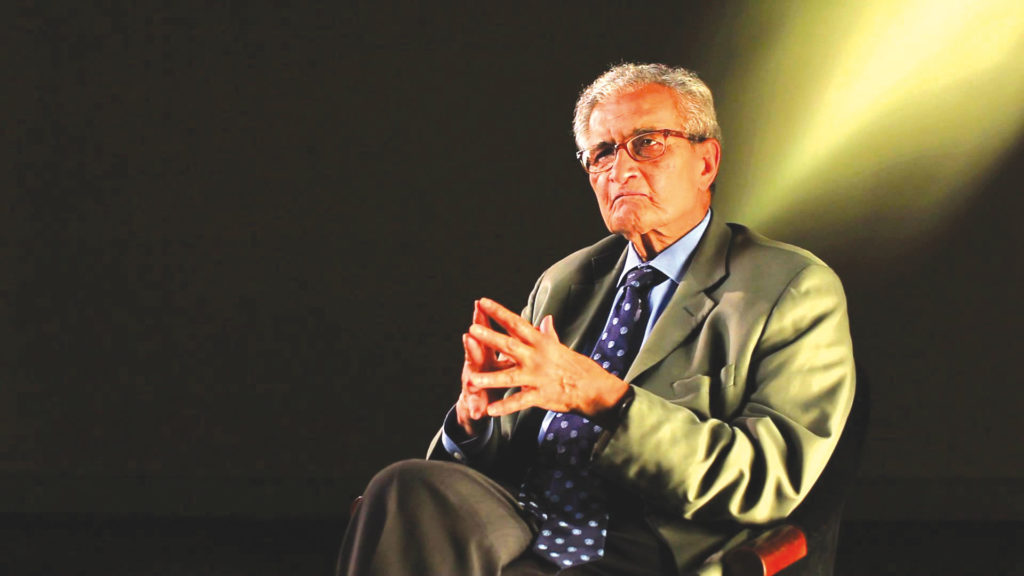 Agriculture, rural issues are assuming critical crisis levels. Further agriculture productivity farmers require lots of incentives including farming viability. So too panchayat raj reforms. Prof.Amartaya Sen can contribute a lot if he lends his moral prestige to such reforms, new ideas and polices.
Prof.Amartya Sen is a celebrity and an icon! The Nobel Prize winner in his wisdom and deep thinking has some insights of which Indians and farmers in particular must give some attention. Prof.Amartya Sen is a well-known economist and thinker and has the unique distinction of winning the Nobel Prize for economics, a unique recognition for an India, for an Asian and a universal citizen. Prof.Sen is closely known to the Vadamalai Media family, as both were students of Santiniketan, Visva Bharati University foudned by Rabindrnath Tagore. Sen family is closely associated with Tagore of whom Prof.Sen's grandfather, Kithimohan Sen was a colleague and Sanskriti scholar.
We joined the Oxford University, UK on the urging and inspiration of Sen who went to Cambridge and made his name there.
Now, the point here is that in a recent lecture in Kolkata Prof.Sen had observed that land reforms under the CPI (M) rule in West Bengal produced a well-anticipated social and economic reform, though Prof.Sen also noted that the destruction of industry was its flipside.
Prof.Sen has always been an admirer of the Left rule in Bengal and though he now notes that compared to West Bengal Bangladesh Bengal has fallen behind it in terms of projecting a combined Bengali identity. Readers must know that Sen was born in East Bengal and grew up also there for some time.
Now land reforms are s sensitive subject. As a former student of Santiniketan which is located in the most backward district of Birbhum and Burdwan and also as one who travels often to Santiniketan from Kolkata by road we know well that how backward is the West Bengal state. The 121 and odd mile stretch is a visible evidence of the backwardness of the state where not one tea shop can be found worthy of attention. Such is the sight of poverty and backwardness.
And to cut the story short Prof.Sen hasn't given any statistics or Human Development Index to show his claims. In education and healthcare it a great shame for the Bengalis that so many cruel deaths of children and other issues of malnutrition etc are really condemnable in this time of great advancements.
In Chennai alone you can see swarms of poor people from Bengal rural sides around major hospitals for treating many of the diseases for which in the great city of Kolkata too there are not facilities. Or, no one these days believes in the efficacy of the Kolkata medical facilities. What a pity? What a tragedy?
Also, the politics of the state is so deplorable with Mamta Banerjee fighting multiple battles with the CPI(M) and now, the BJP are nowhere to take on the highly street smart Mamatadi!
Prof.Sen, we have to beg to differ, from the great thinker when he makes some statements about the solutions the reduction of poverty. Rising income levels only can reducing poverty. Not a great insight coming such an life-time thinker.
Yes, we need rising incomes? How?
Sen of course shies away from observing we need modern industry. Mamata destroyed the Tata car factory. Also the State has been hostile to the coming of the IT industry?
Oh, so many hundred reasons can be cited and we need a whole lot of reforms. Of course reducing corruption has to be mentioned.
Also the need for creating many new institutions like Lok Pal and Lokayuktha also needed. Prof.Sen unfortunately doesn't touch any of these solutions. Without touching political reforms, party reforms, electoral reforms you can't ensure growth and sustained growth as well. Prof.Sen is a great economic theoretician no doubt. But he has not practical experience of the ground level realities that are critical at the present times.