The first five years must be an indication!
Will the new education reform report really change the Indian education?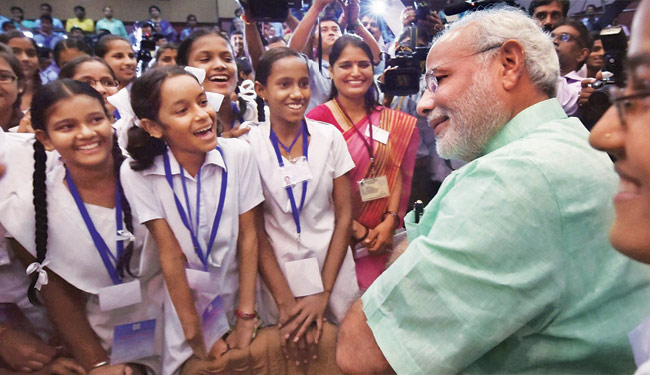 What is the current status of the Indian education? Nobody has raised these questions so far. Now, the Modi government with its massive election victory mandate has all the powers to restructurethe Indian education as it wants.What are the likely chances to recast the Indian education? You see, there is really an all pervasive fear across the entirespectrum of public opinion.
No one, even pro-BJP intellectuals so farhave opened their mouths and expressed any new idea, even controversial ideas. From the initial few pronouncements the new minister, the Hon'ble education minister Ramesh Pokhriyal, it looks he too seem to be of the same old schools. He has championed the cause of theHindutva ideology, teaching Indian values of the special kind and wehave to really wait for some more time before the entire Kasturirangan Committee report is made public. It looks the said 480-odd pagesreport must be of substantial value and we have to see how the latest report came to be written and who are really the members who prepared the report.
As far as we know that when Smriti Irani was the HRD minister sheappointed some bureaucrats, one was a former Cabinet Secretary, to write an education reform report. The contestants of the report were not made public and yet for many reasons we don't know what happened to the report. And the very same minister also appointed another committee with again former bureaucrats of the NCERT and other officials were made members. This report also did not see the light of the day.
We are of the opinion that bureaucrats are not the best choices for an education reform proposal. Anyhow, these reports vanished and now weare told that there is a Kasturirangan report on education. Also, we don't know who are the members of this committee and also when this report was prepared. During the previous regime, it seems the report was prepared. Then, why so much secrecy and other reasons when this report is mentioned but no public discussion or debate on this report is being talked about. Dr.Kasturirangan is an eminent scientist, a former chairman of the ISRO and of course has wide experience and a competent person for the education reforms debate. But let us first debate and discuss in public and let education thinkers and experts and others, specially from fields like culture and arts, even from other disciplines and this diverse knowledge and expertise can be best utilised when we debate a subject like education.
Now, as for the status of education we have to be open-minded and really concerned about the way the whole field of education had deteriorated. We in this journal are engaged in the field of education for nearly half a century! We have a long story to tell and lot of experience to share with the fellow educators. We had been in politics, an elected member of the then Madras Legislative Council (from the Graduates Constituency) luminaries like Dr.A.Lakshmanaswami Mudaliar, who presided over the Madras University for an unbroken tenure of 27 long years! Ironically, it was at the hands of our own Private Member Bill on fixing the tenure of the Vice Chancellor; the tenure of the great educator was terminated! So, our own experience in founding a high School in a remote village as an experimental school; the experiment invited much attention and we had also widely travelled in Europe and visited many distinguished French Lycées and other public schools. So, we speak with some inside knowledge of how schools function.
Let us be realistic about how our education, from LKG to other stages are highly commercialised and also education process has become socorrupt, from the self-financing colleges to other currently-obsessive various exams-oriented tuitions to other competitive exams. Is this all education? Or is this the very degeneration of education? And to add to this all-round fall in standards and values, we have nowthe new challenge of indoctrination of the Hindutva ideology! How much the new education draft report is meeting this demand? Naturally, this indoctrination issue would colour the rest of the recommendations. As far as the very tone of the current obsessions ofparents and students to get admissions into quality schools, in theprivate sector with such high fees where the educator-turned entrepreneurs, as we can see in TN and elsewhere, these educators entering all the fields from politics to other business areas and given the sort of corrupt practices that have entered into education-businessmen, they are also in some case well-known corrupt politicians. One wonders whether Indian education is really reformed on modernlines and whether modern knowledge can be imparted with such medieval mindsets!
There is an air of total artificiality about education reform today. Many senior educators, scientists and education administrator's had resigned and went away and not one such senior educator would bewilling to come forward to take up any new responsibility.We feel that higher education is also in shambles. There is so much mediocrity in the universities and we don't think we can do justice to this sector in one brief editorial. Also, the new breed of educationministers is of very poor quality and there are ministers for school education and also there are ministers for higher education! And the new breed of Vice-Chancellors! Any education reform committee must take up some case studies and examine in some great depth and details how to recast the selection of the VCs. It looks right now, it is an impossible task!
We really fail to make any realistic recommendations. For we know well, how the governments would take such recommendations. The concept of the Central Universities is also a tragic story of political whims and fancies, some universities are selected near some Chief Minister's native villages! What sort of university it would turn out? Simply, let us imagine such a scenario! So, we are in such an impossible position to discuss other policies like child education, nutrition etc. Education change in India at present seems an impossible task! God forbid! Our children today are so unlucky! Sorry for this dismal outlook!