Welcome to an easy season for school education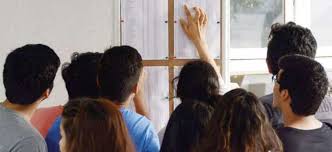 After a long time there was this easy season for the school education. The secondary education lately has become a mad house for all sorts of ills and inequities and a sense of suppression and oppression for the parent community. There is a mad rush for admissions for all sorts of schools and the parents, the middle class and for also, not the so-called uneducated poor families, the education system has been wronging them for too long.
No education minister of any sort, seniors and junior leaders have thought of this self-inflicted injury to one's own self-esteem. We seem to have become a new type of illiterates!
Don't we see our children at home and understand the tensions and bad behaviours. The children are pressed for performing at schools. All sorts of transports are busy the whole early mornings and also in the late afternoons. Are there any education ministers speaking? Even the Central education establishment, from the ministers to secretaries don't seem to be concerned. Only if you feel oppressed or you think it is your obligation to the parents you would speak out and share your concerns. If you don't feel anything at all then what can the public expect from you – the person in charge of this hell-hole, so to say, that holds the innocents to ransom!
So, there is this unspeaking evil we are all perpetuating in the name of modern education. There seems to be along queue for getting licences for establishing new CBSE schools even in the remote areas of the states. In one city, for instance, like Erode in Tamil Nadu, there is an intense competition, and if anyone gets this certificate to start an institution, a group of people join together and they decide the initial investment and with no infrastructure they manage to collect together a minimum number of students and a success story in education entrepreneurship.
So, education is all about competition, mindless competition for crushing the young minds with utterly unqualified founders to produce exam results. Immediately the very next day the rank holders are advertised full-page in colour these days in all the neighbourhood newspapers and you get so disgusted and degenerated. For what these so-called schools and colleges do is sheer exploitation of the fear and uncertainty about their own children. So, luckily, after so much of public disgust the government has come out banning the advertisement of the innocent faces of the so-called successful students.
Tamil Nadu has come in for public criticism that this year the education department has come out banning many so-called engineering colleges, in fact a record number of 92 engineering colleges from admitting students for lack of infrastructure. Why many more have been banned in admitting students for BE, M.E etc. Of course the very political atmosphere is that there are many capitation fee colleges wherein you can walk in and join any of the courses.
So, this year's surprise results where many thousands had got 100% marks and that too in social sciences is a great news! Also there are newspaper reports that the correction of the question papers was done in a record time and with a very squeezed number of examiners. More to the point is the report that there might have been one more angle for the exercise of an easy valuation. What is it likely? Could there be a political angle? The 2019 general election also came in timely. So, the powers might have thought to give the voters, the much harassed parents to come forward to vote the incumbent dispensation!
Please let us all ponder over the freak season of this year. Of course these sort of views have to be articulated and assessed by education observers and experts. We can only ask some questions that are both comfortable as well as uncomfortable. Anyway, the School Journal sends its good wishes and congratulations to all youngsters for performing so well in this year's exams!
Nothing gives more pleasure than finding youngsters to feel so confident and morally courageous to face the future in such a scenario.