Let more people, politicians and experts and thinkers debate and discuss!
As elections near, farmers are getting forgotten!
Farmers as vote-banks are a different category of people!
From being debtors and litigants farmers become pampered for short periods!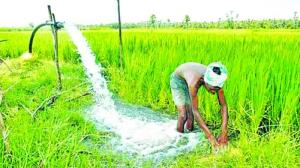 You see in a democratic country like India where periodic elections every five years and in many recent instances States Assembly
elections too intervene ,as for instance the forthcoming Lok Sabha elections in Tamil Nadu would also see elections to 21 Assembly seats  and that makes for further complications. In India at any  rate, periodic elections mean a great deal of diversion of attention, elections mean for voters a time to earn some money. The so-called freebies include more ready-cash, plus lots of other goods including food packets, free travel to the polling booths and also other perks for all of which this time the Election Commission has  fixed prices and the candidates have to give account of his or her expenses.
So, the vote-banks get consolidated and farmers make up a sizeable commodity and vote banks!  So, agriculture in India is getting transformed every now and then and  it all depends who speaks about farmers and where one is placed when you hear his or her sermons on farmers!
Now, more attention is grabbed by spokespersons on TV news channels and given the fact of India having an estimated 400 TV news
channels, there are enough spokespersons for the agri sector and related rural distress we have enough attention-grabbing power for
this sector.
What is the current priority in agriculture?
Obviously, farm loan waivers! The subject gets priority attention and when such leaders like Prime Minister Narendra Modi speaks the whole nation listens. More so the prime time TV grabs much attention and diversion too!
What is the progress for instance in one such new farm schemes introduced by the Prime Minister with much fanfare?
We mean the PM-Kisan Samman Nidhi Yojana(PMKSNY)?
I think it was introduced in few states, in particular in Gujarat and in  few other states. One of the current issues in policy making be it employment, jobs and other schemes, we don't seem to have enough data. Why even it is alleged that much of three NSS surveys-were leaked after they were approved by the National Statistical Commission  and two highly rated autonomous body's experts chose to resign half way. Unusually those who know how the government departments work these days, it is very unusual and even bold to see such highly rated experts chose to leave the autonomous body. So, what was alleged and what was suspected for long that the government is not doing an honest job and instead of taking the public into confidence, the government has done the opposite. It is now widely alleged and also believed that the unemployment rate in India is at a 45 year high!
How to believe the government's many claims, critics ask.
There are many such schemes too, like for instance the Budget announced Pradhan Mantri Shram Yogi Mandham which promised for the unorganised sector workers  a direct income transfer. As far as Indian agri sector is concerned we have a very peculiar official mindset.
We have never for the past five years  had seen or heard what the Minister for Agriculture has in mind .Neither he had spoken nor had his deputies in the ministry shown their faces. It was not even often some small time bureaucrat had said some brief messages.
We do not know even now at the time of electioneering any major policy pronouncements. There is an all Indian insurance company, you know?
Anybody knows what is its work so far?  No, none at all?
How the agricultural insurance, the crop insurance scheme or schemes have performed?
It is the  absence of data, now one of the biggest scams, or scam-level allegations are flaying thick and fast that are dulling the minds and even the interest of those interested and involved in the farming programmes.  Let us know that agriculture is now a world-wide concern, food has to be produced, foods have to be distributed all over the world, there are still countries in the South American geography and also in North Korea where there is a food shortage and the governments are scurrying for help. And fortunately, the very international community, the world bodies, like the UN,FAO and the WTO are all heavily committed to improving agriculture and the food production.
Unfortunately in India agri sector is marked by farmer's suicides. This is one back spot in the Indian government's agriculture policy making.
Unfortunately, the humanist tragedy of hard working farmers committing suicides is very  superficially dealt with and in this one area both the ruling party and the Opposition parties are equally guilty of heartlessness and sheer utter insensitivity.
Then comes the average Indian farmer's profile.
He is more often uneducated, poor and owning one of even less acre of land as agricultural property and also the landless labour, often
doubling as tenant farmer and also landless and we are all planning agri polices on the basis of this utterly unviable livelihood  economics!
We need an utterly new agriculture vision document, we have to face the brutal realities. We have to relax the many of the antiquated land legislation laws. Relax the tenancy security law that neigh urges the tenant to pay rent and cultivate or leave the land so that the market forces
determine the viability of farming based on somewhat market forces.
Now, the litigation legacy is also old as the British colonial administration. Sciences have to play a decisive role. New seeds, biotech
applications, the world is now flooded with 80 percent of GM crops. New generation farm families are abandoning farming, urbanisation is
helping many poverty-ridden families to migrate to towns. This is welcome and inevitable.
Already Indian agriculture where 80 percent of land is rain-fed, so too in the outside world. Let us turn food shortages into food surpluses.
This is the only larger perspective in new have to plan our agricultural strategy.