How many of us know that we live in an entirely new generation?
In education there is literally an explosion, unseen in the past years. What sort of education India envisaged? Who are making you think about education in India?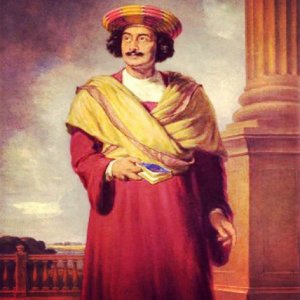 Politicians, bureaucrats or who else? A difficult question! Certainly, politicians are the last people who care for education! They are busy with their own affairs. Yes, you see their daily utterances! We are not constrained or concerned with the current election buzz! We have to go by much more solid issues and concerns.
There are not enough thoughts on the sort of education we need. Of course, there have been great men and great minds in the past. We specially think of Raja Ram Mohan Roy who came at a critical moment in India's history, in the early 1800s and we all know what historic shift he gave to India's religious, social, cultural and even to the political transformation. Now, every such pivotal reformer had to pay a heavy price for their own self-consciousness and for actions.
Ram Mohan Roy paid the price and he died in a foreign country and  was for long forgotten even. I was shown the very place, just outside the Tagore mansion, Jorasanko in Kolkata from where Roy spoke and preached his Brahma Samaj messages and let us be clear at the outset, if you really speak on big subjects you have a price to pay too! By 2050 the world would have 9.3 billion people in the world? The historian Giovanni Federico calculated that the world has grown six or seven fold between 1800 and 2000.This means that we live in a generation that has seen unprecedented growth in people and India with incredible 1.3 billion souls!
That is in the next  30 years, we would have added another 3 billions of people in the world. Already, the pressure of people on the global scale is visible. More and more educated Indians, get educated and also get migrated to further progress in their lives. Migration of people, able-bodied, educated and aspirational-high people are moving out. So, what sort of education India of our generation needs? Who all can tell us these concerns? India is now in well-past post-Independence generation. Right now, India has, as they say, million mutinies and every awakened social and economic class has clear aspirations and goals.
The rich, the upper crust don't have any goal for its own class. India has all the material security, they have all the economic and political clout so that they don't need any well-thought-out education goal. We have seen how the one big industry house got the stamp of a centre of excellence before the institution was even started or not even named and even conceptualised!
Today's politicians do whatever they want and the very many social ills the educated middle class thinks as right and wrong don't apply to the upper class and their benefactors in politics. We live a democracy and that we have to rememebr. So, education for a democracy must serve the ends of democracy. Can we say this? We are not sure. Even the very middle class is bound by the democratic norms.
Elections is the biggest mark of democracy. So, with all the ills of modern democracies, we too in India must learn to live with. Corruption is the biggest threat and we have to learn to live with this evil. May be the mass of people even might not care for the so-called middle class values. So, we have to see how education policy had evolved in Independent India. Many education ministers had come and gone.
Some of them we knew in person like the great scholar, P.C.Chandra and
also politicians like Arjun Singh. Also, some great secretaries cum educators like J.P.Naik and Anil Bordia and others.
Today, we have no such talents. We have only populist politicians and very low-talents. Indian education bureaucracy is the largest in the world. So the quality of education too is very commercialised and what we have got are very indifferently-motivated. Let us at least say: our education today must serve all people and we have to learn to live with a lowest common denominator education only! Amen!