Let us liberalise the private sector in school education to create new types of secondary education that gives Indian school's system to promote more quality schools!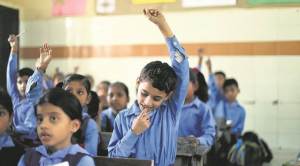 Yes, this is how the senior most and much-respected civil servant, Rahul Khullar describes the Schools scenario in New Delhi. He has in effect pleaded for allowing the high-fee charging rather publicly perceived glamorous schools, most call themselves as public schools even in a low cost Karol Bagh lane(!) and also by now other new fancy names and titles like International public schools etc. The point here is that Delhi's so-called "Public Schools" are no more public and it is like the American Public schools that are not government schools either.
The crux here is that Delhi's so-called elite community is enamored by its own hierarchy; the wards of senior civil servants and the rich and not so often well-informed but by going by what the New Delhi power-elite imagines as glamorous and also high society, try to sneak into some selective schools, if some old fashioned name carries more weight, it carries more attractive a pull.
Hidden in the debate is the place of English medium, more pretence is given to the English medium by the concerned school or schools command. So, the school education medium is the most critical question. The scantiest attention to the medium is more controversial.
The Aam Aadmi party that rules Delhi has its own rather unarticulated whims and fancies about the school curriculum. This we are not sure and no one raises such sensitive questions. Let us say the Delhi schools ,whoever wants to teach in English medium and then the pleas and counter pleas for raising the  school fees can do so and get away from any regulations whatever.  Unfortunately, the government schools that implement the Seventh Pay Commission teachers' salaries are lucky for the obvious reason that they can teach in whatever fashion they want, being government schools and it is the private schools that have the burden to retain their brand value and also pay well.
With a great deal of personal knowledge about how even the famous British established Public Schools perform in final exams, it is simply a dilemma for the really committed and genuine well-run schools to pay well and retain talents. So, there can't be a rational solution to run a good secondary school these days. We have to draw an enlightened education policy, recognize genuine quality and some national ideals and declare that the good quality Public Schools enjoy some real freedom and not mere verbal autonomy, give a clear recognition, under some conditions some more autonomy to charge a publicly known high fee structure and so like the British Public Schools (for instance the famous Eton Public College in England now charges nearly 40 thousand Pounds a year!)But it is the brand value that matters here! So, long as some schools enjoy this sort of brand value somehow the money the schools can charge and get away. Facilities like a very good sports infrastructure of the Olympic level, such extracurricular activities and facilities like Horse Riding tracks etc. can be introduced into International level public schools in India.
Apart from all other government considerations, we have to revive and revitalize the Indian Public Schools Conference and make a genuine public debate about the need to run international level secondary schools! You see that India has some peculiar history of education. Coming of Independence gives us a great responsibility to reform Indian education, keeping in mind our own ethos and transformation of Indian political and socio-economic realities. Sorry to say so but the gross reality is that we can't create an artificial society and political culture in the name of democracy and social equality. We need new ideas and creative thinkers.
To some extent we have to create an open society and this means much tolerance of the ground level realities. We have instances of those powerful bureaucrats, why the Central government ministers through their children in highly reputed private schools because of the schools' prestige in society. One HRD minister, for instance, called Headmistress from the South all the way to New Delhi. Once this school head saw the minister, the minister said to give a seat at her school! So, our point here is to allow new types of schools, yes, expensive ones can also be allowed so that what we have said about the British style Public Schools too can thrive and we can create special scholarships for bright pupils to benefit by such schools of excellence.