What the new MP Chief Minister Mr.Kamal Nath says about preference for only locals is not acceptable!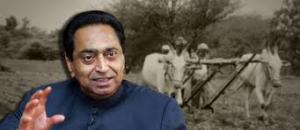 How can we ban the imigration, yes, the seasonal migration of farm labour from one state to another can be controlled by any state policy?
This is unwise and must be curbed at the very beginning. Who doesn't know there is an intensive internal migration of labour, farm labour and even educated youth from the North East to deep South and also the now well-known and well-established practices of internal rural labour from UP and Bihar  to Punjab and even other states like MP can be curtailed ,let alone banned. This is an election-time propaganda that might have paid off well in MP but flawed in principle.
What is the cardinal principle?
The Indian Constitution gives equal rights to every citizen of the country, to live and move about in the whole territory of India, right?
The same principle applies to the rich and the poor, to all the entrepreneurs. Even Mr.Kamal Nath is an entrepreneur who made it big in Kolkata!
There can't be any more chauvinistic feelings, based on language, race and religion. India is a diverse country and this has been reiterated many times by many, big and small, so we have to eschew the thought fully from all our people.
In fact, the migrant labour made things easy for the Punjab and Haryana and why even the Western UP agriculture operations viable and practically solved of its many problems. Also, why MP state, known for its own regional diversity and levels of growth must now think in terms of broken ideas.
Separatism is bad and even an evil. We have seen how the many separatist movements that arose even in Independent India, in Punjab and Tamil Nadu had held back progress of people, both culturally and even psychologically.
It holds back progress in education too.  We, from the South often see in the Northern states how even the educated persons with M.A. degrees can't speak a word of English.
This has held back the progress of youngsters from some of these states. Now, at the far end of the development process why rake up the issue of outsiders, as migrant labour.
They are all part of the Indian development warriors, their hard work and earnings could offset the many issues in the parent states both in terms of education and health progress.
So, please, Mr.Chief Minister, give up the idea. You are one of the bright and talented leaders of the Congress party. You may rise up further in the political hierarchy and could serve the nation in more ways.
So, please give up the idea. Also you can give a new meaning and depth to the crop loan waiver issue.
Crop loan waiver is no permanent solution to the emerging agri issues.
We need more science and technology in the   rural sectors people must be  given new hopes and solutions through science and technology.
The IT industry can take roots in MP?
The younger generation must be given many such new opoportuntiies.
So,let us ban from our own minds new ideas in backwardness. Banning migrant labour, outsiders is not a positive thought.Please let us all think in positive terms.