Indian democracy faces multiple challenges!
We can't take for granted the current realities alone!
There can be unanticipated developments!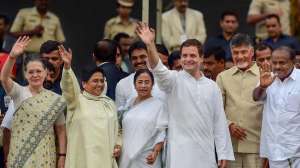 Politics is now all the passion and superficial concern of the dominant sections of society. Every one, I mean the citizen, who has made some progress in life, earned wealth and an ambition to further his or her prospects in life takes interest in politics. That seems to be the only way to gain further foothold in life, so to say.
So, we seem all sorts of people, Tom ,Dick and Harry, are eager to 'enter' politics. Arvind Kejriwal, the Delhi Chief Minister, is a outspoken man  and he had called the Prime Minister as 'a not educated person'. Of course, this is a rude and uncourteous remark for  whom we can call an educated person and others 'uneducated'. The late Kamaraj was an 'uneducated' person or for that matter there are so many not so-well-educated but they had left great legacies. We can name many.
He had cited Dr.Manmohan Singh as a well-educated person. Yes, he is but that alone didn't give him any glory. The series of scams in his tenure brought the Congress party to such a disgrace. Politics is not a simple subject. It is a serious subject. It had given the world much of its civilisation. The story is told many times. We ourselves had covered the topic many times in these columns. Socrates, Plato and Aristotle are only few names. There are others from ancient Greece to Rome, to Italian Renaissance to the French and the European Enlightenment.
The point here is that in India we live at a time when there are very many issues that cry for debate and discussion and that is our concern here.
You see that Indian democracy is our prized legacy and that is facing challenges.
2019 Lok Sabha elections is becoming a priority with every other political party and the new-found unity of the Opposition parties in Bangalore the other day unlined the new temper of Indian politics.
What will be the debating point in 2019.Re-election of Mr.Narendra Modi for another term? Yes, it is! Displacing Mr.Modi by the Opposition parties? Yes, that is also the high priority for the Opposition parties?
The BJP has an ideology. But what about the Opposition parties?
There is no clear agenda that could bind the Opposition parties. The Congress has all the weaknesses of an exhausted party.
The old hands hang on in Delhi, most of them are high networth individuals, so to say, they are also professionls, lawyers and others, feudal and ne nouveau riche!
The party in many states is in shambles.
What is the vision or a core agenda?
For other parties, for Mamata Banerjee, K.Chandra Shekhar Rao, or even Chandrababu Naidu, Sharad Pawar or other regional parties? As far as we see we don't hear then speaking out!
Here are some concerns and priorities.  Indian democracy is great with 1.25 billion people. It has worked unbroken since 1947, though in the Commonwealth countries it was not so.
Yet, today there is a sense of unease widely in the country. Why is this so, no one asks. It is because there are some tensions and pressures built in the system. Parliament is not functioning and we haven't found out ways to deal with this situation.
Parties are becoming more casteists, communal, as even in Karnataka we have found lately. This process of castes and communalism consolidating is likely in the coming days.
Media is under stress, why even judiciary, why even the many other independent or autonomous bodies like the anti-corruption bodies, CBI, ED and even  the existing Lokayukthas are not functioning. Political opponents are targeted. Our leaders talk but not many or convinced. The many claims are not seem validated.
Now, it looks more sinister games, yes we can only call then games, not policies are on.
One such anxiety arises from the latest news item that the government is set to engage a private agency monitor online activities of individuals and social groups, why even organisations, newspapers, news channels, collect "digital media charter". The aim is to give a 'positive' slant and "inculcate nationalistic feelings in the masses". Brain washing?
This step seems to be very disturbing. What we like to highlight here is that we need a new charter of electoral reforms, reform of the Election Commission, punishing criminal elements in elections (this category of persons are growing faster!) funding of the political parties, undoing the electoral bonds schemes, why even the reforms and structure of the political parties is over-due, so that political corruption and the tendency for the parties to become more unaccountable to the public and thereby, the parties perpetuate themselves, as dynasties, why even as business empires(see the scale of corruption in TN, for instance, as  receivers of black money from the capitalists, from the capitalist class which is becoming more and more monopolistic and cause for exploitation of the poor and the vulnerable sections.
Today's democracy is not transparent for various reasons but we have to restore and purify democracy in all its glories!
A robust social agenda that would take   the excesses of monopoly capitalism and at the same time combine the private capitalism as the engine of economic growth.
This seems to be the most critical agenda for the present generation.
It is a long story. From  the time of the previous generation of intellectuals, from Lord Keynes to Joseph Schumpeter to Fredrick von Hayek to other intellectuals like Karl Marx to Karl Popper to Isaiah Berlin.
You want do without capitalism but it has to be tamed to function under a robust democracy, that too a parliamentary democracy and an independent judiciary and an independent media and other NGO watchdogs! Do any political party cares for such concerns?
There is no other alternative, please take note! This is our agenda for the 2019!