Farmers agitate and come out on the roads and show their anger and helplessness!
Of course, agriculture, as we say, is always a difficult sector.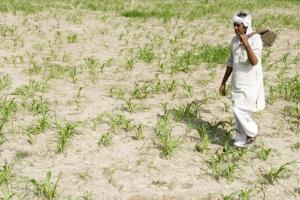 It has become more and more so simply because we tend to take the disorganised, inequity-ridden sector for granted. The very many antiquated land laws, from agricultural landownership to tenancy legislation has g driven genuine farmers to courts and district collector weekly meetings and this had also led to accumulation of debts, genuine and otherwise.
Now, you can see how much we have all gone with the rising farmers' suicides becoming no more news. TVs don't show these uncomfortable scenes while we lap up the latest scandals and meaningless corporate shows, often each show is dependent upon the other, newspapers and TV companies have to survive and so they show their own other activities! Conclaves and what have you. The visual media is infected with other gamblings and games, cricket is what? Is it a sports or a medium for making money through advertisements.
The very society is becoming more and more selfish and self-cantered and so too politics! Democratic politics too seems to be deteriorating with one party taking revenge on the other! How much time is devoted to governance, the one word that hides so many other hidden meanings! So, we have here a situation that the much-advertise farmers' crop insurance scheme seems to be declining in farmer's enrolment.
Do readers need any statistics? We have but we don't want to bore the readers who are already disinclined to read anything on agriculture, a very discoursing field.
Also, to see farmers from Haryana and Punjab coming to the highways to disgorge their unwanted vegetables and milk.  Of course, this sight is very disgusting and also very painful when we consider how much more nutrition the country's children need when we pour the dear milk on the road this way.
But alas! No central minister or thinkers or other votaries of the Hindutva had spoken out on the farmers' distress.
Why this state of mind?
The Union Agriculture Minister, of all the other ones, had come out with a shocker! He called the farmers protests a "Gimmick"! We don't think there can't be a more rude and uncharitable remark from the very minister who is supposed to be a guardian of this unfortunate lot of people.
You see agriculture is so basic to our life and it won't go away. Agriculture would be there, tied to our very soul, our body and life id tied up with our life, economic and social, why with our very politics. And alas. It is sad to think that our Prime Minister has a style; he doesn't utter a word on such occasions.
This mindset of our leaders, new and the not so new must change.  Please don't show how much you're an ignomorous, you who want political power but you don't have the capacity to rise up to your chance!
Politics also won't go away. Democracy is all about two and more parties. There can't be any other way in politics.
Please nominate to the heavy portfolios the right people. People in the rural areas are much more shrewder that their counterparts in the urban areas.
Public perception and public opinion are the two critical elements in any politics, more so in democratic politics.
Every five years the people have the choice; this no one can take away.  So, in the coming next elections, in 2019, there are enough indications that the Opposition parties might unite one way or other. The issues are also getting clearer. Farm distress is going to be one crucial issue. Many promises remain on paper only. This harsh reality must hit all those who have stakes.
So, please take immediate steps to ease the farm distress. We have highlighted issues many time. It is for the wise and the prudent to act in appropriate ways.