Now, in a latest move the government has drawn from the supposed  autonomous institutions like DD and AIR and posed them,15 and 16 respectively, and posted them to work as publicity officers for various ministries. The government's publicity wing, Press Information Bureau, PIB, is going to see, say reports, a conflict of interest and confusion.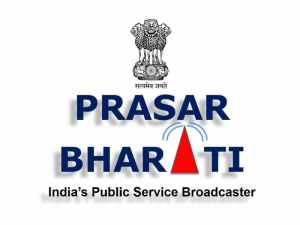 They will be now  publicity officers as well as DD and AIR staff.
What sort of objective publicity you can get from government propaganda?
What information citizens get from this wing, which the people can't get from private print media or from TV news channels?
The government has a broadcasting arm, named Prasar Bharati!
There is a huge budget of  Rs.28 billion!
India is a democracy, supposed to enlarge the freedoms of the citizens. The government also has an advertising department.
It is supposed to propagate the government's public interest programmes.
But once you peep into the working of the bureaucrats-run departments in the area of public broadcasting and advertising the government's various public programmes, you would soon find yourself into some darker corners of the public life!
There is a tug of war between the Prasar Bhaarti Board and the union ministry of  and broadcasting. Nothing to be surprised given the Indian bureaucratic system and the mindset of the current political dispensation which has had no tradition of internal democratic functioning. The appointment of a serving IAS officer is another step backward.
The Prasar Bharati is supposed to be free and creative enough to command credibility by the viewing public. There are enough indications why the whole goal of turning Prasar Bharati into one likes the British Broadcasting Organisation(BBC),of course a  tall order. There are any number of innovative and daring and credibility-winning private sector enterprises in TV news channels.
The Doha-based Al Zazeera is a latest example. A Gulf country could become a trailblazer, the staffs of the AI Zazeer is recruited  from the BBC primarily and you are surprised by the high quality and credibility of their broadcast. #Even within India itself you gave now any number of private TV news channels, NDTV, Times Now and India Today and many others, the latest Republic TV are all prime examples of what a freedom loving TV new channels have to be.
We all expected that Mr.Narendra Modi would bring in new wind, really the breeze, to the media environment.
Alas. There is just the opposite.
Freedom of media is a strong point of any free society.
Let us how there will be change in the right direction.
Also, we should all realise that we all live in a free society.
So, how can the Prasar Bharati can think of blacking out the broadcast of a state Chief Minister, that of Tripura Mamnik Sarkar's Independence Day broadcast simply because it carried a contrary view.
This is childish to say the least. Also, there is another department of  the government. The Directorate of Advertising.
We who run almost a similar public interest journalism, media publications dedicated to such topics like agriculture and rural development and education.
Not a single ad we are able to procure from the ministry.
Everywhere in the country, in the states there is least concern for public good, we are sorry to say. Take even the Library Movement. Do you know there are state where there is still not a library act enacted?
TN was the first one in India after independence, after 1948 to act a Public Library Act which ,we are pleased to tell the best run state level library act and the TN public library system is a first rate one and there is one more reason why the TN is a leading education state.
It is time the Union HRD ministry ,please take note of it.
Education, library movement, free public broadcasting service and a great deal of freedom and creativity to the TV news channels would go a long way to enhance the quality of our public life.