Electoral defeat or setback is not the time for agriculture policy making!
It must be done independently!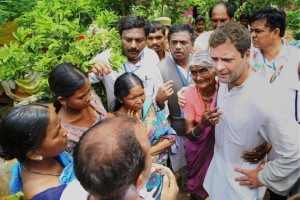 Only when you have a firm faith or a vision of the largest number of people engaged in an activity that holds critical role in the creation of sustainable wealth  and distribution of the same for the largest  number of people or more, precisely, the poor  who anyway are also persistence in their survival  at all times.  Why are the many poor, asked the Bible? So, it is also a sort of Biblical question that agriculture always held the central place in all our economic thinking and economic practices.
How to make farming in India profitable?
Yes, it is not such a simple question, you know? Yet, do our policy makers ask such a question?
Is it so simple, we ask, about building a consensus in agri policy making? Because as we see No, they ask for some escape routes, more so in times of elections like every other thing in India, we become so obsessed with our own narrow goals to make every issue a political issue.
Under Mr.Modi, this impulse, we are afraid has become more virulent. No less guilty is the other party, we mean, the Congress party. Now, under Rahul Gandhi as the new President, we don't know how would transform himself as a party president though his mother, Sonia Gandhi, it looks, might still play behind the scene as a shaper of major policies. And that too with Manmohan Singh still very much active around the mother-son duo, might also play a role.
Let us only hope the just verdict of the 2-G court might also contribute to further confusion in policy making both at the ruling party and Opposition party levels.
After all, the next budget, already we are told to be an agri-centric budget. What is an agri-centric budget, given the present mindset of both the parties that are already engaged in election-centric policies and strategies?
As far as this magazine is concerned we are only concerned with certain central and critical issues that agitate the farming community in India. There are many activists, in agri sector too. But they are all city dwellers and theoreticians and it is they who hog the headlines in the media.
Their use is limited, we dare to say. Please take those who are engaged in agriculture or agri-related politicians if you want to make some headway in agri policy-making.
First, our aim must be to make agriculture more remunerative, make the sector fairly competitive vis-a-vis other sectors.
As it is you, the policy makers see agriculture only as a poor people dominated sector, more small and marginal farmers who own unviable pieces of land parcels and also full of landless labour, right?
So, you have to have a major policy shift, major policy change to make farming fairly open to change in the mind-set of bother farmers, as land owners as well as the new generation farmers, young and educated and motivated to take to farming as a viable activity.
What do all these things mean in the first place?
You have to take note that the only conception of land owners as oppressors and tenants as exploited sections of people. Taking two states, Tamil Nadu and Kerala, the land reform laws in the two states are regressive in nature even today. You can place your own states in perspective. Farming is unviable in the two states as things stand.
Agriculture needs first motivation to engage oneself in farming. This means, you need to take risk to invest. You must have some viable land holding. So relax some land reform laws. Make farming viable on market basis. There must be say some relaxation so that a minimum of, say, hundred acres to undertake investments and to take to innovations like introduction of agri machinery, other services like  latest drip irrigation, harvesting machines etc.
Already these changes have come about but you must give some institutional support, bank finance etc.
Crop insurance, bank finance and also linking these activities with Adhaar etc are needed.Also, create conditions for traditional farmers to live in the villages.
There are many other rural issues like communications, transport etc so that there is a new momentum to take farming, to live in the rural areas etc. There are of course both short and long-term policies and also other support schemes like the 100-day rural employment schemes in which active farmers can participate and also contribute funds.
These are our practical approach to turn famers a friendly to towards a positive mindset to see their future optimistically.