That shows in the physical changes and the mental outlook of the Andhra people!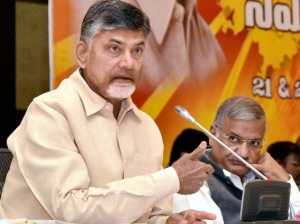 Andhra Pradesh, with all our admiration for the veteran leader Mr.Chandrababu Naidu and his new team of ministers, is still the most backward state among the Southern Indian states. That shows when you drive through the state. Specially, Chittoor district is still so much a haunted geography as we find it often when we pass through that territory. Oh, what a state of poverty on the face of everyone, men and no less the children all look helpless in the face of so much adversity and helplessness. Why not any leader, from near and far who travels through these geographies talk about such neglect for so long, we often wonder.
And Chittoor, for anyone interested in the past history must know, it was here in the very spot of Chandragiri, where the last Rayar royalty signed the small document leasing out the small sea front in Fort St.George in Chennai and that by a twist of history went on to turn the very royalty to become a tenant! That tenancy document we once saw in the museum inside fortress-turned museum. In later visits the document is seen missing, perhaps they removed it to some safer place. When we read the original document our blood boiled for no other reason how land ownership and tenancy rights can be turned into you death knell!
Yes, even today, AP seems to be steeped in feudal oppression and suppression, the rural poverty seems to have got a grip over the land in spite of Mr.Chandrababu Naidu's foresighted progressive policies.
Right now, under Naidu, AP is blazing a trail of faster development and we see the changes coming faster under the dynamic CM.'
New National Highways from Chittoor to Bangalore is underway. The roads are widened and the land acquisition is faster and villages on the middle of the roads are razed down and one hopes this is done with Naidu's own unique leadership and a sort of come-on let us solve the problems approach! So, we see everywhere a new optimism in AP towns and rural areas. New five star hotels as in Tirupathi and we are s told ten flights a day to the temple town means  there is a rush to start new projects and also new industries.
The industries list for AP seems to be lengthening.
Naidu is a strong believer in industrialisation and that too for an agricultural state like AP new industries is the lifeline.
In AP, it seems every day is a happening day. How many high-tech conferences and AP AgTech Summits, the visit of Bill gates, an old friend of the CM (how many CMs today can claim such pedigree?) and many unheard of industry captains from South Korea, the Korea's Kia Motors is setting up a brand new 2 billion dollar car plant, scheduled starting time is 2019. The state already has an Isuzu plant in the Sri City, near Chitoor and Nellore districts and a Hero Motorcorp plant. Naidu is a doer, let us keep in mind. He can beat any rival from other states to be beaten by his charm offensive.
AP has rich agricultural land but that contributed only 10 per cent of the State's GDP. Naidu wants that people who now depends on agriculture, at 55 per cent of the workforce to be brought down to 40 per cent in the next 12 years. Is it a tall order? It is! But you need leaders, not film heroes or others from the saffron brigade who can easily polarise the political system, those who are really qualified not to neglect the job of administration but to concentrate on the actual job, like Naidu, in the states.
Even Leftists now have no job in actual politics.
So, we have many lessons from what Mr.Naidu is doing.
By observing what Naidu has done in his first stint in politics (when we had actual met him and had long chat) but also now by observing Naidus, selfless dedication to turn AP into a new renaissance state, as he is building a modern city in Amravati, we have to call him for his true contributions and innovations in a long list of areas.
WE have no hesitation to call Chandrababu Naidu the very new renaissance political leader of modern India!
Our media is handicapped by several limitations. So our media is not ready to distinguish between the true leaders and the fake ones. See what has happened to the neighbouring Tamil Nadu. Truly Dark Age had set in the state. So much high corruption, court indictments and yet we see the film industry, as concentrated in AP as in TN. Yet, people in AP voted for true leaders.
This is political renaissance!
Let the citizens of the country across the states realise what is happening in AP under Naidu.
Right now 187 large and mega industries have gone into production, investing Rs.35,256 crores and creating employment  for nearly one lakh people, this in the last three years!
In mobile phones production, one million-phones-a year is done in Tirupati's Sri Venkateswara Mobile and Electronics hub. Foxcon, the Taiwanese giant, already makes over 2 million phones a year! Foxconn alones employees 15,000 women at its plants.
Naidu is also aiming into the next generation techs like AI. Thomson Reuters teams up with the local universities.
These are the big days for the Andhra people. They can look for a new era of development and prosperity.