A Great Shame!
And see who are all claiming victory?
The most revered former Prime Minister!
All the loud-mouthed Congress spokesmen!
And lo! All the publically perceived corrupt faces!
Yes, this is India where the judicial system looks a laughing stock!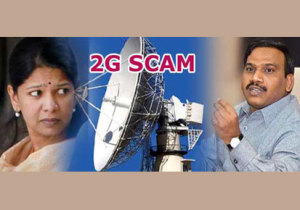 We don't know how to make sense of the 2-G verdict. Fortunately, this is also said by senior CBI officials and other high-ranking bureaucrats. Why, even some ex-judges of the apex court are also embarrassed to say the same.
What has happened to our judicial system, the administration of law and justice?
From now onwards, the public, the citizens are likely to become more sceptical about our politicians and those who have turned politics into a big business opportunity. Or, turn to politics to practice their black magic, be it religion or some other route to grab power for whatever purposes.
It is a sad day indeed for all those who had learnt to take politics seriously. At least the most some of our senior politicians can do is to volunteer to stay away from continuing to practice politics with all its sins and further to muddy the waters!
In an unprecedented way the Special Court  that sat patiently, as presiding judge himself wrote in his 1,000 page judgement that he sat religiously all these 8 and odd years, from 10 AMN to 6 PM and listened to what the government agencies and their low-level official  said and did and what he saw so painfully and yet he had to sit helplessly that none of the officials, the CBI and ED men and the prosecution officials was  to sign papers with no interest and  "how  the UPA's chaotic functioning, lack of clarity on policy issues and bureaucrat is running riot, contributing to the public perception of wilful  subversion of procedure and monumental scam "as the Times of India editorial puts it.
In fact the TOI is much more scathing and says many things.
One thing the public refuses to believe in the many claims made by the chief actors.
Manmohan Singh should not have rushed to claim any immunity from the judgement. At least he should spare the country any more such claims; he should retire from public life more gracefully.
Also, there are many other issues. Sonia Gandhi can't remain silent and she should equally blame herself for her choice of the PM candidate.
The two secretaries of the PM also equally share blame for misleading him. But then why you are there to be so misled?
And of course the charges of crony capitalism?
This is a reflection of the way our judicial system functions and everyone responsible for such a state of affairs have to share the blame. The BJP government too can't run away. You have been there for the past three and half years in power?
Didn't you know you have a role in this decline of the system?
What about the Supreme Court's cancellation of the 122 licences?
We Indians must feel ashamed of ourselves.
We go all the way to London to prosecute a lonely wrong-doer, supposed to be, namely Mr.Vijay Mallaya but here you have whole lot of offenders, in the public eye, justice seems to have derailed. How can you wash off your hands, the Law Minister, why even the PMO level to the blames rests firmly, both on moral and administrative grounds?
After Bofors, another scandal of monumental dimensions? Yes, it looks so unfortunately. It will be another phase of agony, we are yet to witness in the coming years.
So, there is no respite for the common man and the poor and the weaker sections to seek justice or the confidence from onwards the system will deliver timely justice without any regard for status or rights.
Who can restore confidence in our judicial system?
This is a question that would agitate the minds of every citizen for long, very long indeed!