Why such a question here?
Readers of Agriculture& Industry  Survey might wonder!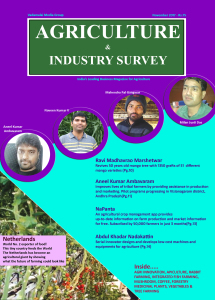 Please hear our voice. Brand building has become such an obsession with the industry leaders that we have had a long time  that some big names kept coming in the media and on public platforms  those unsuspected readers, yes, and most readers of such magazines like ours, all devoted to some lost causes, might not see the realities of the world. You see ,after all money power matters in this highly materialistic world, where everyone doesn't even bother about their own freedoms, self-worth or self-esteem, they all go by the crowd mentality and try to compete with each other in the same blinded frenzy.
We should know that we live in a world of illusions!
Once the big industry captain was held up as an icon. then came the corporate warfare, much dirty linen was washed in public, the corporate values were thrown aside and the court battles were fought, won and lost! What sort of corporate icons these people are! So too in recent times another corporate governance battle was  fought in a billions of dollars worth of an IT giant.
What corporate governance these people were bragging about. Yes, we have to be sometime less than polite to tell the truth to the common man, the unsuspect reader!
The much respected CEO, the Chairman of the Board was literally thrown out! What sort of corporate governance we are talking about here?
Then, to behold! The very gentleman who succeeded  the ousted Chairman came out with the report that the old team judged things correctly!
What this icon had to say? He has to sadly confess!
Is this a model of governance.
You see, our media industry is now undergoing  turmoil, the print newspapers are declining in attracting readers. Some of the great names are facing crisis.
In this environment where Internet, various devices are replacing news in a serious sense and social media is taking a revenge of sorts is diverting readers of traditional media towards instant news, titbits.
Now, comes the most damning indictment of the IT giants, Facebook, Google and other mass news portals are accused of spying and carrying Russian funded ads and that interfered with the US Presidential elections. And also, the IT news sites are also, very soon, would be found to be destabilising governments, there are allegations of Russian interference in European and US affairs.
This raises some serious issues.
What about  the largest good of the largest number of people?
Media, as we see, has a role to play. A more committed a more open-minded and let us say a more morally accountable role to inform, education and enlighten the peoples, not in one's own country but also in the larger world community.
Otherwise who would serve the larger cause of the world?
How to tackle  the unceasing rise and spread terrorism?
These are some of the questions that public-spirited media must answer besides, championing the real lost causes?
You see ultimately brand equity is all about the character of the person who earns it. Unfortunately, in India, the peculiar colonial history of India had conditioned the Indian character only of some disabilities, an innate sense of inferiority etc.
Thus we find great compromises in the character of even the top names  of the corporate ladder. You find them compromising with their advertised values by seeking a licence or awarding a book by bending themselves low before an incumbent government. The media too is meek and willing to build up a person with an eye on some  rewards.
Thus media brands or media created brands don't last even one's lifetime! So, be warned!
How to combat poverty and hunger?
Right, who would champion the cause of the most disorganised, most divided farmers, the rural people, and the villages?
Anyone who stands up for such cause please comes forward!
We at Vadamalai Media had championed such cause. And yet what reward or recognition we had got so far?
Of course, we don't work for any rewards, material or non-material.
We find fulfilment in reaching out to such  noble causes.
Our brand equity is just that commitment to larger causes.
Agriculture and education  are our  fields  of priority. We are there for now some half a century. So, this is our brand pull, our brand value.
So, please judge, gentle men and ladies  at the ladder of brand equity, take us also along with you! We have no aspiration s for any material rewards, please excuse us for saying so, rather it seem, with some less than politeness!