What is its future prospects for power?
Now, it is simply seem as a cash-machine on which a group of discredited men and women are sitting up!
They are hoping against all hopes of standing up to face an aggressive Mr.Narednra Modi!
Rahul Gandhi's American tour and the image-building can the Congress party revival?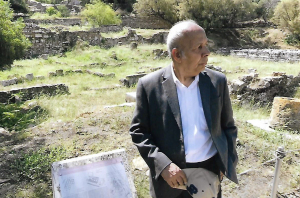 Asks one US-based observer, Sadanand Dhume who is a resident fellow  at the American Enterprise Institute in Washington who attended  Rahul Gandhi's meeting and had seen in close quarters where in New York  at a hotel auditorium  and also interacted somewhat. He has now written an edit-page article for the Times of India, September 21, 2017.
This article sums up what the made-up Rahul image, made up by some interested people like Sam Pitroda, former adviser to Rajiv Gandhi and quite a capable technocrat.
The edit-page article describes with no hesitation as a some sort of half-witted man-child, quoting social media and WhatsApp.
The young Gandhi must prove his capabilities at the elections; no amount of body-building can help. Once he is seen as a loser in the political arena who else can help him to become a leader, a worthy heir. There is no new idea, no credible ideology even when compared with the patch-up Hindutva, right?
Even what the Indian media had reported doesn't give much hope as far as I am concerned.
Before I proceed further I have to share with readers may own background in Congress party. I had moved closely as a student at Visva Bharati, Santiniketan when Pandit Nehru was the chancellor there in the years, 1955-59.
I was greatly attracted by Pandit Nehru and also later when I registered my name as an ordinary member of the Congress party in 1962,I went on to work with great Congress leaders, then, K.Kamaraj, the Congress President who made both All Bhahadur Shastri and Indira Gandhi in 1966.
I worked at the AICC, then at 7, Jantar Mantra Road and thus I came to know most of the then leaders, from Morarji Desai and others.
I contested for the Madras Legislative Council in 1968 and was a member for six years.
I had remained in the Congress party ever since, perhaps the only Congress man in India who had not changed parties!
Now, I can bear witness to the fact, the harsh reality that the AICC over which Sonia Gandhi had presided for 19 years is as good as dead! There are office bearers like Gandhi, the president for years and years, for 30 or even forty years!
The party had not even changed peon. All the member of the Working Committee are family retainers only and they too haven't changed for all these years. First, my question is what sort of a political party is the Congress where one family and its family retainers continue to remain there, how any change can take place either in terms of new ideas or new policies.
Mrs. Sonia Gandhi is a mere figurehead and she doesn't bring any new energy to the party. She is sick and tired and doesn't even care to receive visitors. There is a corrupt coteries that operates behind her and any hint of rebellion is nipped in the bud!
As for Rahul Gandhi, even now, the writer Mr.Dhume pays not a compliment but a devastating comment comparing his "intellectual stimulation, the Twinkle magazine".
Most of his reported speeches, dutifully some TV news channels broadcast them, show they, some portions are carefully written and vetted for publicity only.
For instance, what does job creation Mr.Gandhi know about?
So too the polarisation, economic development etc.
Not one line or one word or one observation shows his maturity. To compare Mahatma Gandhi and at the same breathe Nehru and Ambedkar and Moulana Azad as NRIs, Non-Resident Indians is a joke and might even hurt the sentimental of the people.
What such descriptions and such observations could help to revive the Congress party in the country. The Congress party is losing, steadily, some of the senior states in many states, the latest being Narayan Rane in Maharashtra. Many had left in Karnataka, Gujarat and other major states.
Also, the mother-son duo are simply cut off from the ground level realities.IN many major Congress bastions like Tamil Nadu, the leadership had chosen film actresses, party defectors as key office bearers.
I myself had tried to revive the party in TN where the great Congress leader Kamaraj was the most popular. But no way. Today such a great nationalist party had pledged itself to the rival DMK in whose alliance the very 2014 general election was lost owing to charges of high corruption like "2G,coal scam" etc.
And yet the cynicism of the Congress leaders based in Delhi is such they bring in Dr.Manmohan Singh under whole leadership the party lost so heavily  often to sit with Sonia so that the image of things are normal. This is a great self deception.
There has never been a genuine international party election. Nor its funds are accounted. The Election Commission too got frustrated for the party not submitted its audited accounts.
So, a big deception is sought to be played. No state level leaders are even chosen by any consensus.
So, the whole atmosphere in the Congress party ranks is the senior leaders behave like sultans when the very sultanate had gone!
Politics is perhaps the most high priority pursuit of those who are already in it.
It is the most ambitious pursuit of the good and the bad, right?
Who said politics is the highest public morality? Whoever had said it or not what we see today, more so in India, is that politics as perceived at the top of the society is not ethics or ethical pursuit.
We may not be wrong if we say, in the pregnant phrase of Hannah Arenddt (1906-1976), it is "the banality of evil".
The Congress party can be revived only on basic ethical basis.
There must be a honest self introspection.
Dynastic succession under the present mindset is a sure way for further disaster. No amount of outward tricks would do. Rahul Gandhi has to work under some other senior leaders for some more time if he still wants to continue as a full-time politician.
There has to be change in the mindset of Sonia Gandhi and her close associates. Most of them I have met them, they are all very dedicated Congressmen but they all seem to imagine that to keep quite is the only way to their own survival.
We met for instance one lady Congress leader who served as a successful Chief Minister of the Union territory. When we asked for her ideas she gave the impression she only was waiting for some "job" from Sonia Gandhi.
The same too we found from most of the senior leaders who prefer to continue in Lutyen's bungalow zone, rather move out to their respective states!
A sort of rebellion would break out once in 2019 Rahul Gandhi doesn't win. In such a post- 2019 scenario, we feel that that there could be an internal party revolt.
There are as of now one or two faces, like the Karnataka Chief Minister, Mr.Siddaramiah, who could even emerge as an alternative leaders, even an alternative Prime Ministerial candidates the guts to!
Yes, in today's Indian politics, it is money and social caste power matter. Mr.Siddaramiah too has the guts to take on Modi.  No one as it is dares to question Mr.Modi. It is the contest of personalities that would matter as long as Mr.Modi continues on an aggressive path.
Of course there are other contenders. Lalu Prasad Yadav, Mulayam Singh Yadav, Sharad Yadav and others from others states too could emerge.  The present day silence of conspiracy might disappear once it becomes clear that Rahul Gandhi's artificial propping up doesn't work. Comments welcome.