Or, getting caught in its own fantasies? 
Justifying dynastic rule is highly unfair!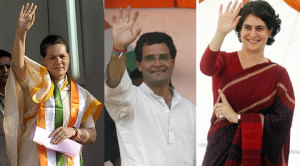 As the economy grows fast, it very likely, that too in a democracy, corruption, the power of the corporate lobbies, why even the powerful industrial houses would only try to influence the party and government in power. Free media must be free. But unfortunately, there is no awareness about this critical area.
Also, the various anti-corruption agencies are not yet in place like LokPal and Lokayukta, let alone independent CBI and ED. So, so many high profile criminal cases are pending in courts. So, sadly, corrutpion and black money menace would only likely to grow.
New revelations everyday!
Every day we see news on the TV channels about how the Congress party is losing elections. Now, the various elections to the Assemblies have also shown that the Congress Party, the biggest and the most historical, is losing the confidence of the voters.
The Party seems to live in a cocoon. If you visit 24, Akbar Road you see a sprawling bungalow adjacent to where Sonia Gandhi, the president of the Party lives, she is the president for the last nearly 20 long years! There is a sort of settled feeling where for most of the time all the office bearers are absent! May be once a while they might show up. Otherwise the assistants, they too seem to be very complacent. A mood of 'all silence and no action' can be gauged.
What is happening to the major national party?
You can see from the daily dose of bad news, the latest was the one from Karnataka, a Congress party MLC was found to possess a diary where the entries show a staggering amount of funds running to Rs.600 crores were sent to various names, all in initials and yet they are so easily recognisable by anyone interested in politics.
Of course, there were denials and assertions!
Without taking sides we can see that the standards of public life re declining. The sort of election speeches made by both the Prime Minister and Opposition, led by Rahul Gandhi, show there is no hope from this downright fall in civility. Even the incumbent CM, Akhilesh Yadav cannot be excused for having used unparliamentarily language.
This is one aspect of the decline in political standards. The other aspect is the attack on black money. The new Chief Justice of India of the apex court had shown some refreshing urgency to clean the court's procedures; speedy disposal of long-pending cases is one welcome step.
Why, even the two judge disposal of the infamous AIADMK corruption case is a salutary welcome relief.
We are sure now that other high profile and long pending corruption cases must be expeditiously disposed off.
If not for any other reason but for the atmosphere of a clean and vibrant society and polity would be sent out to the long suffering helpless citizens who seek a new dispensation.
Now, we see in a recent interview in the Times of India (Feb 24, 2017) a very senior Congress leader, Shiela Dixit pleads for time for Rahul Gandhi to mature (Rahul not mature yet, says she) and give him time!
Is this fair and wise? There is an atmosphere in Delhi where everyone seems to imagine that Congress party would function only as a dynasty! What a shame!
We seem to be moving for a more uncertain times, it seems. God forbid!