Under Prime Minister's otherwise dynamic leadership!
As I type these lines I see on the TV screen that a new Chief Minister is being sworn in what is seen as the most controversial politics of the Indian state, namely, Tamil Nadu.
What TN points out to the rest of India and the world is that in a large democracy like India as the top priorities of governance and providing a clean and transparent government faces entirely new types of contradictions. Real politics faces fake politics. In a sort of Good vs. Evil!
There is an all-round change in the political parties' fortunes.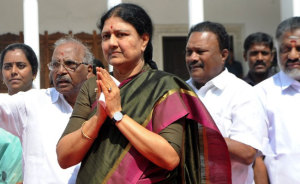 In the just on-going state Assembly elections in five states, from UP to Manipur and elsewhere in Punjab, Uttarkhand and Goa, there is much anticipation for a change in the perceptions of voters. In UP, the biggest state with 80 MPs, there is intense political churning in the sense there is a generational change. Younger faces, two of the heirs to established political legacies, are in the electoral battles as allies. Of course, they were opponents till yesterday, yet today they join hands, thanks to electoral compulsions. Caste loyalties override ideologies. Opportunism reigns over firm commitment.
Then such political contradictions in terms of ideology and political opportunism define the Indian polity today.
Few days in Delhi
Spending a few days in Delhi and going around and meeting people, high or otherwise, gives a deep sense of a new freshness and at the same time an equally deeper sense of unease too! Why so?
Why a sense of freshness? For the obvious reason that politically India has changed now. After continuously being ruled by the Congress leadership, from Sonia Gandhi onwards, India reported a disaster report card. People became tired of the series of corruption cases of very unprecedented nature and scale.
Manmohan Singh as the PM had brought a sort of disenchantment all around. Arun Jaitley has portrayed how Singh was not a natural leader, natural politician. This is right in a sense. Though opponents in other parties might hit Jaitley in the same way. Jaitley too in a sense is not a natural political face; he looks more like a competent lawyer-turned politician. In Delhi, this is a usual feature. There are so many such lawyers turned politicians and in my opinion this sort of lawyers seeking political office, get the jobs and then turn the portfolio one of management expertise and not as leaders with a mass background or mass touch. There is also one of the latest feature of the Indian polity, there are steep corruption cases or allegations even against the most experienced ministerial names, and the Congress exemplifies well this phenomenon of corruption in high ministerial ranks. The ED and CBI are helpless and so the corruption trail lingers for long.
Before we come to the very dimensions and the scale of political corruption issues, we have to note one or two other new features.
Sitting in Delhi and visiting people in high positions, one feels there is a lack of empathy among the current crop of leaders who come from outside the parties. These range, for instance, from Manmohan Singh, Sonia Gandhi and the many family loyalists, in the Congress to leaders in other parties, from the BJP to the Left parties and in between ones like the various Centrist parties. The rise of the dynasties is also distorting the inner party democracy, apart from the very spirit of democracy in the party or parties. May be the BJP, as the new party seems an exception at the moment anyway. But how far, after the current Assembly elections with so many new dynastic heirs in the battle, one can't say right now!
The ones who are supposed to lend their experience and wisdom to the Indian public life are seen as far removed from the concerns and debates on the lives of the people in the far-flung spaces, remote and not so remote states.
Political leaders of stature?
But then there are no such political leaders today with such command over the imagination of the people. After driving around Delhi, through its leafy Lutyan's Delhi area in the so-called bungalow zone one is dulled into believing that this is Delhi, prosperous and spacious with vast gardens and lawns etc. with security, all around one is likely to be tempted to believe that this is real India!
No, all this is faked now. There are many wheels within wheels. The rich and powerful few big names, lives in the 250 acres of private land. The rest with 1,000 odd government bungalows are all owned by the government.
Another thought that ran through my mind when I drove around such exclusive locations is the experience that in most bungalows live, mostly I say, in an experience where I met so many senior leaders they all occupy bungalows for many long years. One senior leader lives for some 40 years! These seniors are more in the Congress party and where we see some of the Congress leaders continue to occupy prime properties and they are also MPs for some 40 or more years in such occupation.
That is one reason for the party's disastrous defeat in there 2014 Lok Sabha elections with no one leader of stature willing to go and live in their states nearer the people. This is the real tragedy of the present day politics which had created a new type of greedy politicians who promote their families and earn wealth in unethical means. There are many dangers in the rise of this new class of shady characters who thrive by wrong means. Where the leaders of moral strength and character? Also, the various contradictions in the Indian polity and the economy itself. The subject calls for intense debate.
Politics of corruption
The single most issue in my view seems the rise in political corruption. Here again we need a fresh new debate.
The subject is complex and we limit here to one single most important one: political corruption.
Except in the latest case of AIADMK functionaries imprisonment for high corruption, this one case taking 21 long years to come to a close, there are many such number of more cases of serious corruption. Some even more serious ones from the very same Southern state of Tamil Nadu. Where some Cabinet ministers in the previous government had already served sentences in jail for more than a year. Yet these cases don't don't seem to come to a close in any reasonable time.
We all thought that when Mr.Narendnra Modi came to power after securing an absolute majority in 2014, he would take steps to revamp the polity by implementing the anti-corruption legislation, Lokpal Bill.
Alas! It has not been done. Nor Mr.Modi seems to have any broad picture of how he would go about it. No Lokpal and no Lokayukta for the states anti-corruption clean-up! What new ideas the PM has? No clue at all! This is unfortunate, to say the least.
In fact, Mr.Modi hasn't also speeded up other reforms like filling up the judicial vacancies and speeding up the speedy justice to the poor.
So, there is a sense of deep disappointment all around about some other pending reforms.
Electoral funding reforms
The one more single important reform is electoral funding. Today (February 16, 2017) I read in The Hindu the opened article by Yogendra Yadav about the latest reforms announced by Arun Jaitley, the finance minister about the very same subject.
I agree with Yadav in that that the new proposed legislation for issuing election bonds is not an improvement.
As Yadav has pithily puts: "The fact is that most political funds remain in the pockets of party leaders". And even here, as per the latest figures submitted before the apex court the major national parties have admitted that one party(the Congress)has approximately Rs.3,500 crore from 'unknown sources' and the next big one, the BJP has something like Rs.2,500 crores as unaccounted funds.
Even a child knows this is black money! Parties continue to thrive on black money even today!
From the way the leaders go around their jobs there is no real serious intention to attack the black money at the roots. Political parties are run on the most secretive ways only!
And this is one real reason why the current political turmoil as shown in TN is really about how public opinion is being corrupted by extremist and fascist ideologies where worship of the leader is done in a more despicable manner and also winning elections by distributing the vast hordes of black money. Again TN is a classic case for serious study.
Even now, the audacity of disregarding all the laws and rules of behaviour by the political leaders can be seen. We need more independent thinkers and intellectuals to articulate more progressive ideas and ideologies. So, this is a long battle, it seems.
No regulation of the political parties, they have all become money -making enterprises. We need serious reforms of the polity, urgently. There is danger ahead, one has to warn.
The economy is growing in a healthy manner, though there are imbalances. India is an unequal society and it is becoming more inequitable. There is danger here too. Issues like pollution, rapid unplanned urbanisation etc are other bigger issues too.
Any modern economy and that too India's large economy has to witness the very same turbulences and distortions as we, for instance, in the US economy too. There have to be a transparent governance mechanism. Law and the courts have to be free and independent of the party in power.
Towards this end, how far the present incumbent or the aspiring new leaders are committed to travel, we can be sure. That remains the big question, still unanswered.