What chance for corporate governance in India?
Role of Independent Directors falls flat!
India is a poor country, we have to realise first.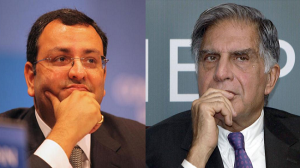 World bank, Tendulkar Committee Report and the subsequent Rangaran committee have also fixed poverty line in India fromRs.27.2(in 2009) to Rs.32.3(urban India),Rangarajan :Rs.32 to Rs.47 and the total number of poor resulting in 270 million. So too the rising inequality, India is at the top in the world!
And we are a very talking nation. Here we have all the world's contradictions!
We have the world's second rich list.
In such a contrasting nation, we now see many of the traditionally respectable notions of our living styles and talking style, not the least our writing styles are so hypocritical indeed!
Take the latest Tatas's corporate battles. Tatas? Once the name spelt awe and respect all round, among the rich and the poor alike. Now, we see all the skeletons in the cupboard tumbling out.
Now, we have seen one after another the various companies board meetings. Tata Sons, Tata Trusts and other operating individual companies. Tatas never talked small. They always talked big. No Small is beautiful. It is always the big is beautiful!
We have here a small personal recollection. In the 1980 when the great JRD was alive and other big names too (like N.A.Palkhivala) were very much there we wrote a small letter pointing out some injustice to another big name in the art and culture world. First the Tata person concerned didn't see the merit of the letter. He wanted to find out how important, small, we were!
So, that is the test it seems even now that prevails there. May be not.
Anyway, now the many concerns that raise questions of ethics, morality, leadership and what have you in the venerated Harvard Business School have all been thrown overboard, it seems. Some of the Independent Directors at any rate didn't perform as per the expected governance norms.
There are so many conflict of interest cases. Here we restrain from mentioning names. But one name that stands out is that of Nitin Nohria, Dean, and Harvard Business School.
He has been a great name and as the Dean of such a great institutions, troubling questions arise as he has written much on ethics. The dean's stoic silence is understandable. On October 24 Tata Sons abruptly ousted Chairman Cyrus Mistry after a messy fight! And Nohria was sitting on the board of Tata Sons as a non-executive Director! First, Mistry claims there "was a total lack of corporate governance" at the Tata group. Second, Mystery names Nohria as one of the two directors who were reduced to "mere postmen"! Simply following the orders of his predecessor, namely, Ratan Tata!
Third, Tata Sons is now seeking removal of another independent director at some of its separately listed operating companies who has backed Mistry.
A top Proxy advisory firm IiAS notes, allowing large shareholders to remove outside non-executives undermines the point of having those independent directors and hurts minority interests.
Nohria is recognised as an authority when it comes to ethics! He has publicly mused that "it is easy for people to believe in their own sense of moral responsibility but what happens when they are put under pressure by bosses or tempted by large short-term gains?"He has insisted that "character is something one has to work at forming".
Anyway, despite his teachings and his own reputation, Nohria seems to have had no impact when it comes to fostering good governance at the Tatas. Sorry to say such things. But then how to convey to the common man and that too in a poor country where the very inequality is so huge and so intractable.
Here we don't want to go further into the details but for record we have to note that Ratan Tata in his former avatar had given Harvard Business School a huge donation, 50 million dollars and when Noria was named dean this took place and a few months later Tata inducted Nohria on the board of the Tata Sons. Incidentally, When Tata gave the 50 million dollars donation to the Harvard Business School; it was considered the biggest contribution in the School's 102 history!
Not to speak of Tats big power and influence on the various institutions in the country. Tatas came for adverse comments when the 2-G scam broke out and his PR machine then could swing the very government of India when the Tata PR machine could manipulate the media and others to even name the Cabinet ministers and even the choice of portfolios!
We leave the readers to make their own perceptions and let the public opinion take some serious lessons in citizens' duty. Let us create a committed public opinion when it comes to corporate governance. Not just that. Even our political leaders's moral worth when they yield to corporate pressures to save their offices!