Not exactly, they are brought forward to the fierce Assembly elections, their names are invoked! The majority of rural voters are farmers and so the invocation!
Who says farmers are neglected? It seems only some marginal groups? Mainstream now is all the farmers. Who are talking much about farmers, you know?
Yes, none other than the high and the mighty!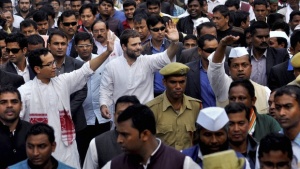 Rahul Gandhi in his supposed kisan yatra in UP covering some few thousand kms, constantly invoked the kisan. His rope cots with which the kisan walked away now and then and they made for the hilarious laughs! That is another thing. Who cares for theft inner points in such a high-power, all stakes at stakes rallies. And the other big name is the old Gwalior maharaja scion, Jyotiraditya Scindia, one member of the so-called Rahul bridge was quite loud-mouthed when he dealt with the plight of the kisans. Do you all know that Mr.Scindia had shifted away from his home constituency, Gwalior for the nearby rural Guna constituency? The reason is that people are changing fast, Indian people are no longer tied to the feudal loyalties. So, Gwalior is no safer for the former price. So, he is now talking of farmers from a predominantly rural constituency.
One more Rahul loyalist is none other than the weighty maharaja of Patiala, Capt.Amarindra Singh. He became the president of the Punjab Congress Committee ousting one Mr.Brar, a Rahul Gandhi nominee. He pledged that he would recover Punjab for the Congress this time. Mr.Singh also adopted this time a kisan theme.
All the Congress propaganda machine is now promising is to wipe off the farmers' debts in plain ten days once the party voted to power.Is it so easy to cheat the farmers, the poor souls who never had it so good it seems.
The UP elections are likely to be the epic battle of battles. There is the mighty lection machine that Mulayam Singh Yadav and his son-cum Chief Minister, Akilesh Singh Yadav have put together.
Then, Mayawati, the assertive former Chief Minister had shown that no one can take her lightly. She conducted a massive rally.
Then, of course, is the New Delhi ruling party, BJP, which by latest polls seems to be making headway and even, already predicted to lead the show!
In all this we are impressed by Capt.Amarinder Singh's door to door canvassing and collecting signatures of lakhs of farmers, visiting door to door, say, in Kotili Surat Malhi village in Gurdaspur by visiting houses of farmers and got the forms signed, seeking debt waiver petitions!
The party plans to establish direct contact with 75 lakh voters, reaching out to more than 2 crore people, from October 12 to October 25!
Great indeed! For a leader who had always lived in luxury and comfort and also did a sort of typical Congress leaders' life styles, now plunge into rural visits, exerting himself so much, one has to declare faith in the Congress's much abused powers to neglected the average part workers and also neglecting nurturing of the party in a serious committed manner.
The point here is that nobody believes the political parties these days.
Even Mr.Modi's many promises remain unfulfilled, says voters opinion polls.
So, it is anybody's chance these days, certainly not for the Congress party to apple to the farmers' votes.