There is a new rural revolution!
Internet consumers in rural India will simply explode!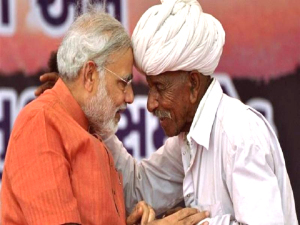 This will bring about a sea-change in the way rural consumers, why, even the producers to produce, to sell and buy through the new MNC food retail companies!  Public sector vs. private sector!
Welcome to MNC Food Retail investments! The government recently announced 100% FDI, foreign direct investment, in trading of food products that are produced and manufactured in India through retail trading including eCommerce! This is good news for farmers and rural consumers, we like to reiterate! Now, agriculture is not often talked about, not even mentioned.
But the food processing sector is getting attention. This is for the simple reason that large MNCs in the retail sector eye Indian market as their best bet.
Fine, they are welcome. For farmers too such an open market would only give them to realise the maximum profits. This is after all what the farmers also want.
The Prime Minister in his Independence Day speech narrated for long his government's achievements. Fine. He, at the end of the day, seemed to be imagining that it is the government that has a lot to do. From building toilets to roads and much else. Rural electrification he cited in particular and soon came the rude shock of the particular village he mentioned by name, Nagla Fatela near Aligarh in UP and it came as a shock for the simple reason that the particular village was living in darkness when the PM was mentioning this name! Nagla Fatela has so many houses, 150 houses were getting power through 'katia', illegal connections while the rest, 450 of the houses in the same village remain in the dark! Power supply in the rural areas is beset with non-payment of tariff, theft and also too much politics, too much populism to win votes! This is not just peculiar to UP but also in all states.
And TN, one of the advanced states has the perennial problems of a debt-ridden state electricity board!
There are critical issues in power generation, distribution, distribution of subsidies, to take care of a poor society with so many poverty traps.
So, you have to be realistic but the point here is that even Mr.Modi with his friend determination to reform things, India would remain for some more time in the old mindset.
Now, the PSUs are again an inheritance from the first phase of our industrialisation. Even now, the PSUs, in some strategic sectors, oil, gas, telcom and some other critical areas like atomic energy has to be in the public sector.
But then some PSUs like Air India and Bharat Sanchar Nigam, to take two examples, not to mention PSU banks, the need for further reforms is urgent.Why delay Air India privatisation? So too the TTDC hotels, the remaining ones?
Privatisation of some sectors is now timely. In agriculture and rural development, there is a need for radical thinking. Take for example, the latest Internet spread.
There is a detailed study of how many segments that will be benefited and impacted. Mobile phones, health, life and motor insurance and direct to home TV segment, all these would grow multiple times!
So, the new announcement that such retail giants like Walmart, other MNCs are keen to invest in rural retail. In our view such a new thrust to rural expansion would only do good for the farmers who produce but as of now unable to sell for a profit will change now. As per the latest report that by 2020, rural Internet users will make up 48% of all connected consumers in India. By 2015, they are the rural consumers, 120 million. By 2020 thy will grow by a steep 315 million! This is rural revolution!
The food processing sector would get a boost by the coming of MNC giants.Doubling farmers' incomes by 2022 is the goal, said food processing secretary Avinash Srivatsava. 100 new cold chains are expected to come up in the country with investment of nearly 3,000 crores, said the secretary.
There are several concessions like 100% tax exemption for the first five years, preference to companies with 26 % foreign equity, loan up to Rs.100 crores through Nabard etc are also announced.