India to import wheat this year!
Farmer communications must become farmer-friendly.
Key agri economic data! Inadequate!
Wheat imports may surge to a decade-high!
Is the Indian economy moving?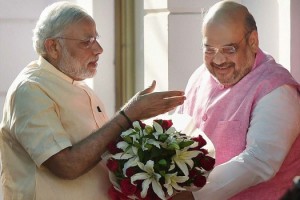 Modi asks party workers to embrace new thinking, ideas. Fine, these are the very words that are headlined in a leading newspaper by Prime Minister Mr.Modi at the National Executive Committee of the BJP at Allahabad. The Allahabad meeting of the party assumes significance because it was seen as a strategic step for winning the UP Assembly elections and also as a build-up to the Lok Sabha polls in 2019.
MrAmit Shah, the party president had spoken at length on the party's commitment and the government's "resolve to balance reforms and growth, welfare and pro-poor policies. This almost sounds very old fashioned rhetoric.
Modi has gone further and said that the legacy of mis-governance and corruption and the need to get the economy moving. Is the economy moving?
Just in April came the news about the industrial production shrinking. Then, came the successive fall in exports for so many months.
Now comes the most damning indictment. India's wheat imports could surge a new decades high?
Yes, India is looking at cutting import taxes after back to back droughts has reduced wheat output amid rising demand. India may import, as per reports, 5 million tonnes of what in 2016/17.The country's output of the grain could decline by an annual 2.3 percent to about 85 million tonnes.
At five million tonnes, India's wheat imports would be the highest since 6.7 million tonnes arrived in 2006/07 and way above the highest since 500,000 tonnes of last year, data from the US Department of Agriculture shows.
Higher than expected wheat imports by India, the world's second largest producer and consumer of the grain, could boost wheat prices.
India had set a target to produce 94 million tonnes this year.
USAD is our reliable source about India's agriculture, mostly on agri trade data.
Inside India, farmers are kept in the dark and it is not the Indian officialdom is either well-informed. There is a bureaucratic neglect at the top level when it comes to reliable information on agricultural data. Even for whether data we have to rely more on foreign TV channels and also USDA and some other private sources.
Of course, it was the BJP national meet and also in a State and city, Allahabad when the party is imagining a victory in UP. Politics apart, the meet also saw some ministers referring to the world recession that was cited for one reason why the Indian economy is not showing results.
International trade was also mentioned. But the point is that even as for real understanding, we don't have a free media and what little there is it, the Indian media, is functioning in a robust manner.
We are not sure how far the PM is well-informed about the state of affairs in the media industry and the need for reform here too.
India media is also turning into an "illiberal" phase?
An India without the Congress? That is the slogan of the BJP party and the high functionaries. Is this a real state of affairs?
In the European context, they in Europe and even outside, speak of "electoral democracy". Once you get elected in an election, however imperfect, then you justify your actions without the existence of an objective and free media.
Why, our own DD is still unreformed>Can we afford to have such a public service broadcasting, especially related to educating our farmers in farm-flung areas. So, our information reach in the farm sector also must be reformed and updated.
There is also no tradition of the Agri Universities engaged in gathering data in an industry-ready manner. No one, either in the ministry or at the lower levels cares to communicate with the farming community.
As a media we have to report some criticisms. Crony capitalism, paternalism are said to be influencing decision-making. There is a need for some deep introspection.