A society must be bound by certain values
Yes, what binds the Indian society today?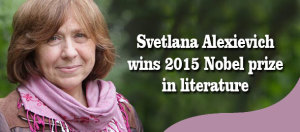 Just now I am reading through a book by the Nobel Prize winner, Svetlana Alexievich, born in Ukraine, winner of the 2015 Nobel Prize in Literature. The latest book, The Secondhand Time: The last of the Soviets (Random House, 2016). I have read the first few chapters on the Kindle. I have read the portions with absorbing interest. In translation it is bland, not a criticism, but a fact. She is not a writer of novels but known as an investigative journalist. Do you know what does this genre in the Russia of today mean? Many journalists were put on trial; Svetlana herself was put on trial and she had been lucky to be acquitted.
But there are others like Anna Politkovskaya, who was equally a brilliant journalist and yet she faced assassination on Vladimir Putin's birthday in 2006. This new book reads as a history, starting from Krushev in 1956 and covers events up to Gorbachev add even beyond. It also talks about Putin becoming President in 1999 and about the dramatic events of Yeltsin (1989), Berlin Wall collapse (Nov 1989), Dec 1990 – Soviet Union collapse and also events like Ukraine's independence in Dec1991 and latest the Chechnya events and also the current state of things inside the Russian country.
Being a writer and a journalist it is very insightful of the author who notes that once, under the pre-Putin days, the ordinary Russian citizens had freedom only inside their kitchens to discuss freely the affairs of the state. This is a book, says a reviewer, about the collapse of the Soviet Union and the rise of a brand of capitalism. It offers a flood of voices: doctors, writers, former Kremlin apparatchiks, soldiers and waitresses. Some insertions of the author in between the voices are in brackets like:"She no longer wipes her tears"."She is practically screaming".
"Most of the stories are about the promises of the Gorbachev and Yeltsin eras, promises that have been betrayed. Instead of tolerance and opportunity, people were presented with a thuggish form of capitalism and one that divided people into winners and losers. Instead of peace, after the 1991 breakup of the Union of Soviet Socialist Republics into independent states, various racial hatreds remerged.
The book is thick with longing for old time's…Instead of the world of labour camps and suppression of various kinds; it is also a bright, just world. This nostalgia expresses itself in various voices. Part of the longing is for Russia's old intellectual life.
One woman says:"In one arm, I hold my baby and with my free hand I am holding Aleksandr Solzhenitsyn, the great author, a later day Tolstoy (This is for the help of the Indian readers of today who might not be aware of all these famous Russian greats.)
A man comments:"We stepped out of our kitchens and onto the streets, where we soon discovered that we haven't had any ideas after all-that whole time we had just been talking. Completely new people appeared these young guys in gold rings and magenta blazers. There were new rule: if you have money, you count. No money, you are nothing. Who cares if you have read all of Hegel? Humanities started sounding like a disease! So, this is new Russia, the author says, of course with her own inimitable style of simplicity and absolute honesty and a certain moral courage and disdain for the reality outside of her.
What the author says is deeply moving. There is a great deal of sacrifice by people, common people with no celebrity status in the pages of the book."Many people had thrown themselves under trains in this book". Incredible suffering is recounted in stories from Stalin's concentration camps and the frontlines of ethnic conflicts. A sense of uncertainty about Russia's future informs the book. Now, what about India, I asked myself!
This recalling of nostalgia also infected me in a sense. Is there a hope for India, a certainty about our future, our hopes and wishes for our own future destiny? Or, are we simply fed with hollow promises and an uncertain future for ourselves. What are the nostalgic recollections? Was there a past, a recent past that made us proud of our own heritage? Or, what else were our recent nostalgias?
There are still many undercurrents of uncertainties, many recent memories of much carnage, 9 riots in Gujarat that keep coming back. So much of uncomfortable questions only a Svetlana of our own creation can bring out our own hidden and unspoken realities of the recent past.
Our education? Where is it moving? An education for a time of economic prosperity! Any binding values that unite us into one people? Or, divided and tension wrought situations?
Where is the intellectual core of India today? What is it? The civil society voices, silenced or free? Prosecution of criminal -type court cases of opponents in politics and ideology! All these remain mere questions. Let them remain so. But the soul of people is not that simple task for suppression and repression in words and deeds.
I don't want to do a job done well by a much more capable imagination like that of a Russian author I had quoted here. I leave many of my anxieties to the imagination of my own countrymen and women.