Who can reform the Indian higher education?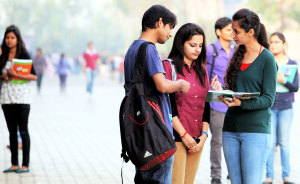 You see, there are many sensitive issues in Indian education. What are the frontiers for individual freedom in India? The Supreme Court has ruled that the freedom of speech is limited to your boundaries for not to cause any defamation to your clients. There is a new tension in the polity on this score.
Now, university degrees are in the news lately. A state governor has sued or threatened a state party chief for alleging the universities in the state and appointing vice chancellors for a bribe. So, what sort of open discussion is this about universities, their degrees and pursuit of knowledge?
We have to be discreet in discussing the universities in the country. But one thing is open, we believe. That is the Indian universities have fallen in the international rankings, right? At least that much is clear and everyone concerned with higher education must be only too worried. We are not anywhere in the international league of the best universities. That, we believe, is a shame on ourselves. This truth we have to articulate so as to make aware every other university chief, chancellors, vice-chancellors and even other higher placed functionary, like, say the President of India and the Vice President who are also functioning as visitor to Visva Bharati University and Gandhigram Rural University.
These two universities which are very close to us, we know them so well (we were in fact at the Visva Bharati as its Alma Mater) and we also know many other universities where the VCs were dismissed or terminated by the highest authorities. We restrain naming the names and to save ourselves from the possible charges of defamation.
Indian universities are of three kinds. The state universities are now at the hands of the state governments.
Readers know that these universities are highly politicized. VCs are now appointed arbitrarily, there are no norms and some of the recent cases had exposed the many irregularities, no qualifications, selections being done on the basis of political considerations and these cases ended in court cases and lot of mud had been splashed now and then.
The other categories are the central universities. Here again, so much arbitrariness can be seen. One central university is located in a remote rural small town (in Tanjore district in the South). What sort of faculty would turn out in such remote locations?
Recently there is the news that the Gujarat University has given a list of 82 'preferred topics' to do research for PhDs! This is unheard of in any other universities. You go to university to pursue knowledge in new and unexplored areas of knowledge. A university is known for its vast explorations of unchartered territories of knowledge. A university is known for the degree of autonomy it enjoys.
In India, this concept is forgotten, thanks to new breed of politicians who in many states are school dropouts or film actors and actresses. So, what sort of autonomy one can expect. In fact, ironical, as it might seem, the latest Supreme Court judgment in the defamation case only brought to light that one CM had filed as many as 100 and odd defamation suits. All critical attitudes needed for a democratic society are killed. Politicians have become god-like figures where sycophancy is equated with party discipline and party structure. Citizens prostrate before leaders. Senior politician leaders travel all the way to Delhi and camp there for seeking an appointment with party leaders.
It is the freedom to speak, express opinions and differ from the official lines that constitute freedom. So, we have also to see why the latest trend of stirring up student protest as in JNU and Hyderabad is another sign of intolerance, another sign of a negative view of higher education.
Let our campuses become free places for free expression of differing opinions. The best universities evolve when we really understand the basic issues of a free and liberal society and polity.