Nitish Kumar's call for a new unity of Opposition parties!
To take on the BJP, RSS challenges to the Indian polity!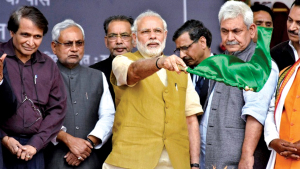 Now, Mr.Lalu Prasad Yadav, the chief of Rashtriya Janata Dal, has come out openly supporting Mr.Nitish Kumar, the incumbent Chief Minister as the next Prime Minister in 2019, the Opposition Parties, across the political spectrum are rattled!
They are using rather cheap tactics and lighter language to create usual confusion and contradictions that always exits in politics, more so in democratic politics.
But this time, it would be a different political game, so to say, given the many new variables, with the Congress weakened, Rahul Gandhi's limitations, The BJP,RSS driving the agenda in a different direction and the very Indian politics and political culture maturing.
Mr.Nitish Kumar, the Bihar chief minister, has been elected as the national president of the JD (U), the party that managed to unite Lalu Prasad-led RJD and the two leaders who have a mass appeal and who forgot their past rivalries and forged an alliance along with the reduced Congress which in a surprise outcome also managed to raise its tally to an unbelievable 41 MLAs.
The Bihar Assembly victory came about by reducing the BJP's challenge to a damp squib.
In fact, Mr.Narendra Modi's self -confidence, if we may put it so, was exposed to be a mere show and bravado. Democratic politics in India has evolved in a remarkable manner that once long-imagined domination of the Congress too is now gone, it seems for a long time to come. In 2019, the next Lok Sabha elections it looks the real fight might be only between the BJP, may be redoubled in new ways and might once again stake its claim to come back to power.
Very likely. But in a country of such diverse politics scene, with almost all the other major regional parties like, say Mulayam Singh Yadav with his own narrow ambitions, the Dravidian parties in the South, even the Trinamul in West Bengal and not to speak of other states, it is very likely that most of them, however mighty and unassailable in their respective hubs can't imagine or aspire for national roles.
Let us be a bit plain and honest. How can the ADMK or the Trinamool or even others like Biju Janata Dal can come out in the open and invite other parties to join them.
Their very parties have very narrow ideals, limited to their respective states. Also, narrow visions and also let us remind ourselves they are also caught in many image problems, some face serious corruption charges, some very contradictory ideological goals.
At least Mr.Nitish Kumar can claim a clean image, a national outlook and an impressive pedigree, Democratic Socialism of the Indian freedom struggle years, Lohia Socialism, JP Narayan movement against Indira Gandhi's Emergency atrocities etc.
The very latest events, Kumar's breaking away from the BJP as a matter of principle and also forging the Bihar alliance that saw the Congress's Rahul Gandhi taking a last position in the company of new heroes.
In the next two or three years the present images of the JD (U), RJD leaders and others who are positively inclined to see a new national cohesion would only see a new unity of purpose on the basic of what Mr.Kumar had expressed now, a new ray of hope to take on the BJP, a possible unity among all the non-BJP forces, including the Congress and the Left parties to keep away the BJP from power in 2019 Parliamentary poll.
This is a rather new and refreshing call from a senior political leader who commands wide respect and admiration for what he had done so far in his long career.
Mr .Nitish Kumar is widely admired for many of his personal skills. And developmental accomplishments."His record is admirable. He has impressive techno-managerial skills, works long hours, and is a tough task master-making civil servants do the same. But we must take care of not idealise him", says a noted scholar from the UK. James Manor, "Undone by its own Mistakes, How the BJP lost Bihar", Economic & Political Weekly, March 5, 2016, pages 60-69.
There is also a new book in front of me, "Ruled or Misruled, The Story and Destiny of Bihar", by Santosh Singh (Bloomsbury) The book gives a graphic and detailed account of how Bihar has been t transformed under Kumar and also new insights of how the latest Assembly poll has created such a widespread hope for larger change in Bihar and beyond. Now, Mr.Nitish Kumar's move for a new national unity and alliance of like-minded political forces only reinforces that Kumar is poised for the new task of serving India for the larger good.
Yes, there is the very strong force of the BJP and its close ideological ally the RSS.
In the last two years we have also had a taste of what India looks like under Mr.Modi dispensation.
Instead of seeing development, fast growth, growth in new employment opportunities by the entry of new industries through FDI and other investments, problems seem to be growing in unrelated fields like new crisis in university campuses, a new sense of intolerance and consequent fear and insecurity among the minorities, the stalling of Parliament and even the PM himself not seem to have a control on the direction of the growth path.
Yes, the economy is under steady progress in many key sectors and yet the on-going controversies that grab the headlines on the TV screens seem to detract attention from the key sectors.
Drought, uncertain monsoons and climate change had greatly damped the largest sector f agriculture where the largest poor and the weaker sections reside. Farmer's distress is a reality and the issues like sugarcane dues are yet to be satisfactorily addressed.
Much would depend upon the weather and the monsoons. But then the non-agricultural sectors too in great many uncertainties.
We seem to be living through a new phase of multi-party governments in the states and our democracy is riddled with a slow-moving judiciary, slow-moving fight against corruption. The many critical corruption cases? When they would see the light of the day?
Politics is after all, all about one-upmanship, isnt it so?
So, the Opposition parties, mainly the many non-Congress Opposition parties like Trinamool, Mayawati and the Samajwadi party itself might unite or come together to make the political climate get hotter.
In these on-going uncertainties, what chances are there for Mr.Nitish Kumar's political initiative, in fact we call it even a gambit. Why not?
Mr.Kumar has all the qualifications to take some big risks. He won't be the loser, it would be others who sit like a cat on the wall and watch for very narrow gains.
We should all remember that, as everyone knows that Kumar wrote a letter to Prime Minister Narendra Modi during the election campaign soon after the election rally at the 25th July 201in which he said:"In my forty years of public life, I have tried to work for the betterment of the people flowing the ideals of Gandhi Lohia and JP. My father was a freedom fighter and I grew up in a humble household in rural Bihar"(Santosh Singh's book referred to above, page 326).
Kumar needn't entertain any such narrow ambitions. A desire for the highest political office in a parliamentary that of the Prime Minister is a noble call, in our opinion.
Great changes in democratic politics calls for much sagacity, patience and also, a great vision. Kumar, as we have noted, coming from a great political legacy, is also morally tuned to give a great hope and fight to the communal and anti-minority bashing narrow ideological hotheads.
Many independent voices have pointed out, rather in a muted way of course about the prevalence of widespread fear among the common citizens, there is violence in some parts too, terrorism has a past and a present and unless handled wisely, that could trigger many unpredicted consequences.
Of course, Mr.Modi still commands great hope and confidence and the BJP might come back again, though with some reduced numbers.
Even in such uncertain scenarios we need a well-knit, ideology and unity based Opposition parties. If Kumar manages to bring about some mergers and unity and alliances, all these are possible under Mr.Kumar with a basic structure of some rational principles.
It is time for Indian Opposition parties to think objectively and taking a broad world view that must make India a greater democracy and a greater nation.
Such a visionary and long-term view is possible with what Mr.Kumar has done with a call for a new national unity among the Opposition parties.