Lots of talks that are empty of any substance!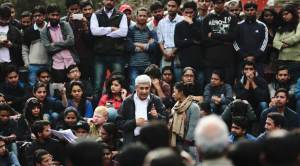 After the JNU (Jawaharlal Nehru University) campus row there are too much talk about Freedom of Speech and Nationalism and anti-nationalism. It is alleged (we have to say so for there are no exact records or any other evidence) hat freedom of speech is denied or curtailed for students and even the public after the JNU controversies erupted.
Yes, there are reports that anti-national slogans were raised. Some were really obnoxious. Some were really extreme. So, who are all nationalists? Who are all anti-nationals?
As we write the cases against students, charged with sedition, are yet to be heard and their bail petitions are yet to be disposed of. There most important point here is that in India is there any clear definition of the freedom of speech?
In our opinion, this concept of freedom of speech is essentially a Western concept. Only in Western democracies freedom, liberty, that is individual freedom and individual liberty are taken seriously and there are any number of cases, events and occasions where such concepts are taken seriously and debated.
As we write on this subject, two prominent cases related to individual liberty are catching the attention of the entire world. One is Julian Assange; the founder of the Wiki Leaks is fighting for his bail from a Bolivian Embassy in London for some 10 years or so. The UN panel has said this detention is illegal and so gets him his freedom, the UN panel says.
So, Mr.Assange has asked for his bail. Even Mr. David Cameron, the British Prime Minister is not convinced. This is, in our view something odd for given Britain's long tradition of defending individual freedoms for a British government leader, not to respect the UN panels' views is a bit really odd indeed. Another case is Edward Snow, the American citizen caught in Moscow for revealing the US Intelligence secrets.
You see these two cases is just a tip o of the iceberg!
There are any number of individuals, dissentrs, poets and writers who are all languishing in jail for expressing views or even holding views contrary to the laws of the lands concerned.
Now, in India at present the atmosphere is a bit uncomfortable for all liberal-minded persons. There is an air of uncertainty over many matters.
After the new government has taken power, there is a sense of fear and uncertainty. This in itself is inimical to the freedoms of the people.
There must be a diversity of debates, diversity of opinions freely and fearlessly expressed. This is now missing, unfortunately.
There are many instances where the government's commitment to provide a conducive environment for a sense of freedom and expression of opinions that are contrary to official positions.
Of course, the government must have the freedom to function. isruptive methods to prevent Parliament to function is not a wise step on the part of the Congress party.
Intellectuals and writers and members of the civil society might send out appeals to the government to tread cautiously with the students who might have exceeded the limits of law and public peace for raising some obnoxious slogans.
They must be given a lenient warning and let off. Police inside a court of law, inside the university, if any and such excesses can also be suitably dealt with.
At a serious level, we have to realise that India is a relatively new country. British colonialist practices still cloud our mind. Police and bureaucracy loom large in our in our thinking.
More so, if you really know the life in New Delhi, there is utter paranoia about who you are and what your status in the hierarchy is. Everyone invariably is obsessed with job security, residence security! Post-retirement benefits! So, no one cares for your freedom, neither have you cared much for your own freedom either! So much our concern for individual freedoms!
This Freedom of speech, expression of opinion in speech and writing is an evolving concept and must be so understood. Conscience-keepers will always be there and ready to face the law, come what may! They would always clash with the laws and orders! That is the essence of individual freedom!