Dear Sri Motilal Vohraji,
New Years greetings!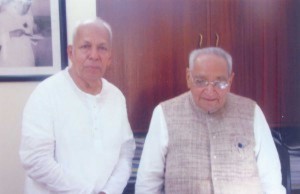 I hope you remember me when we, me and my wife, called on you last year when we visited Delhi.
Since our meeting much has happened in the political sphere. I had written a book in draft about the Decline of the Congress and what can be done to revive it, though it has not yet finished for various reasons.
But I have been active otherwise, my print media and online media activities are on and now I am sending out my weekly email videos on the state of politics, in particular on developments in the Congress party.
Just now before me is a book, Ruled or Misruled, The story and destiny of Bihar by  Santosh Singh (Bloomsbury), 2015. It is a substantial book (350 pages) and covers a great deal of the Bihar politics.
What struck me is the finding how in Bihar Lalu Prasad Yadav had 'trapped' the Congress party and in particular, Sonia Gandhi. This prompted me to write this letter!
Why?
I saw the exact parallels in Tamil Nadu, my own state where too  the Congress party and in particular, Sonia Gandhi, had been trapped by the DMK and in particular Mr.M.Karunanidhi, the chief, is such a tricky politician as  much as Lalu Prasad  Yadav, though a shade  less clever than the DMK chief.
I can write much on this aspect but I want to refrain from doing so.
The point I want to emphasise here is that even now in the 2016 Assembly elections the Congress in TN is like an orphan, no other party however small and insignificant wants to align with the Congress.
And the DMK, though itself very weak and discrediated, is playing with the Congress weakness for power and perks.
As you know, the state level Congress leaders, almost all, are under the trap of the DMK.
Unfortunately, for the Congress, both at the state and central levels Congress party politics are now a mere survival politics, everyone wants to search for survival.
Now, the more serious challenge is how to face the BJP, it is after all in power and very likely to grow stronger.
How the Indian National Congress, once a mighty organisation, is to meet the BJP challenge?
My humble and yet very strong opinion is that the Congress party is  cur off from the people now, the youth is very much disinterested in the sort of politics even now followed by the party.
I studied politics, poltiical philosophy and British   parliamentary history at Oxford.
I feel that for India now in order to inspire the youth, the Congress party must shed its present baggage, dismantle the grip of the coterie around Mrs.Sonia Gandhi, she has to step aside and dynastic politics must be shed and the various bodies, CWC, AICC must be reconstituted by a mix of open elections and a small part of nominations.
The new party entrants, defectors must be left at bay and traditional Congressmen must be brought in.
This is particularly so in TN whereas in Bihar there is a long tradition of Congress workers.
The Kamaraj loyalists (among them I count myself as one!) and now we are all feeling betrayed by the party.
In TN, ironically, there is still the wrong practice of inducting; an actress and a party defector are given high posts!
Now, how can we revive the Congress?
Only by honest introspection. Already party insiders (M.L.Fotedar, Salman Kurshid and others have expressed opinions against the leadership). So, we have to draw up an ideology, a new all-embracing political philosophy. Democratic norms, parliamentary  democracy, secularism and a host of urgent reforms, Constitutional reforms, electoral reforms, party funding, transparency in governance are some of the ideals for which the Congress must promise to enthrone.
I am sending this letter to some seniors and I urge your good self to apply your mind and do whatever you think possible.
I see a tendency on the part leaders to keep mum. This is a great disservice for the party and the country.
I hope that Sonia Gandhi realises she has very few options. She can't continue in the same old mould that will only spell greater trouble for the party.
With warm regards,
Yours sincerely,
V.Isvarmurti