What is this ugly practice of unfair privileges and practices in education?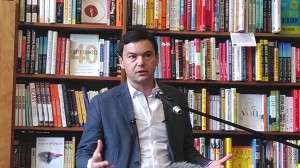 One curious feature of Indian education system, political and bureaucratic establishment as based in Delhi, leads to a series of inequalities of opportunities and also denial of opportunities equitably to all citizens. Here is one such observation. Yes, education is a very sensitive subject and that too in our time of growing inequalities.
There is an on-going debate in Delhi as we write and one of the star speakers, the rock star economist as he is called, Thomas Picketty from France whose book, 'Capital in the 21st Century' made a spell and many expected that he would be awarded the Nobel Prize. Monsieur Pickett spoke about the subject of growing inequality in times of fast economic growth, more so when so much emphasis is laid on capitalism in the growth mechanism or strategy.
The crucial point is that capitalism is now inevitable when every other country aspires for faster growth. Prof. Picketty said in Delhi that in India, elite is hypocritical when it comes to equality and fair share in things. Fair share of resources and opportunities is all about equality and justice. And when we only realised what we have been doing in India about these goals, we are constrained to admit we don't do much about these goals at all.
Yes, it is ironical that the Indian elite, right from the Delhi based leaders to the state level elders to other sections of the society, we don't debate these fundamental issues at all. There seems to be an unsaid conspiracy of silence. We get to see in Delhi, if you go around, that our leaders all choose to line sprawling garden spread bungalows. The bigger the bungalows, the more hypocritical are the occupants.
And do you know how privileges are distributed? The more powerful you are supposed to be the more protected you are, more visible symbols of your superior status in the pecking order. So, in India the inequality doesn't originate in the corporate houses but rather in the Delhi Lutyen bungalows. The latest development is that the much defeated Congress ex-ministers are all sticking to this left-over privilege; they are entitled to live in this place, hopefully till the next election.
Now, the next layer is the bureaucratic circuit. The Delhi bureaucrats are the most privileged and also the most paranoid. Now, in a newly constructed colony, New Moti Bagh, there are very luxurious bungalows where these bureaucrats live.
They have no way to show themselves off, the ministers are always above them and so these bureaucrats added one more status symbol. That is the Sankriti School on a 7.78 acre prim urban land, right in the elite Chanakyapuri for a token payment of Re.1! And the Civil Services Society, the name they gave themselves and lorded over the Delhi political, social and fashionable circles to admit children on the basis of a quota. The quota gives privilege access to civil servants' children much as 60 percent quota that was struck down by the Delhi High Court. The court said that the Sanskriti school be merged with the original school model of the Kendriya Vidyalaya.
It was the original school model for Central government servants. But who wants to remain servants for long? So, the artificial creation of an inequality luckily was struck down. But you can be sure, the clever bureaucrats would circumvent this blow and come out with some other legal fiction.
Now, we are more interested in the course of Indian education under the new minister. The lady has come out with her own New Education Policy that is supposed to replace the Rajiv Gandhi era. Fine. Here is now quarrel with a new policy by a new government. But then your education must be up to date! It must be competitive with international standards. Also, it must really give India its traditional foundations.
Sanskrit? Please teach. But also teach English and the Indian ethos. It means Indian languages, Indian values. There are already great schools. The Indian public schools. We were the other day in Ooty, at the famed Lawrence School, Lovedale. There was a meet of the Indian public schools conference going on. We believe that the Indian public schools, modelled by the British, are a unique concept; they are supposed to produce leaders! Not just civil servants! Nor, graduate to migrate to the USA as techno coolies!
Indians after living as a slave country are very comfortable to migrate as coolies, from the original late 19th century migration to South Africa and West Indies.
Please, for the sake of India's independence legacy, let us create a culture of independence, individual liberty and at least create a new generation of  self-confident generation of students, boys and girls who would aspire to become citizens with some confidence and drive so that they can enter public life, politics as a new vocation and calling.
We need well-educated and well-motivated leaders of society. Politics needs clean image. This the new generation goes to fill it up! In England, if you visit any Oxford College or Public school you would see often the motto: to serve God and the State! So, let the new call be: Serve an Independent India. Serve the freedoms and liberties of citizens. We have to shed our past memories. We have to establish new foundations for a self-reliant India.
For this we need a new politics that would be imbued with high principles of an open society, parliamentary democracy and a culture of self-reliant citizens.