M.L.Fotedar's time bomb?
Now, the Bihar's Assembly election results had suddenly changed the Indian political landscape.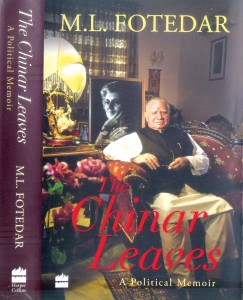 With Nitish Kumar-Lalu Yadav's sweep of Bihar, the  assertive and even aggressive Narendra Modi  seems beatable in the next general election. This is too short a time in which Mr.Modi's historic 2014 Lok Sabha election seemed to be a historic turn for the Indian democratic polity.
Now, the crucial question here is: will Mr.Nitish Kumar emerge as the alterative Prime Ministerial candidate  for Mr.Modi in the  2019 Lok Sabha election.
Then, what about the hopes and dreams of the Congress? In particular, what is the future of Sonia Gandhi and Rahul Gandhi?
Mr.M.L.Fotedar says in his new book that Rahul Gandhi has no future. More to the point that  Sonia Gandhi herself has not much time on her hand to anoint her son as her successor. Here is an assessment of the book that was written just a day before the Bihar election results came in.
Mr.M.L.Fotedar, the long-time political secretary to Indira Gandhi and then Rajiv, later, finally, to Sonia Gandhi is a familiar face  to Delhi watchers. I myself had run across him many times whenever I went to see Indira Gandhi in the 1980s.
Now, he had written  his political memoirs (Chinar Leaves, Harpers, pages 354) and they make for interesting reading.
The highlight of the book is the last chapter and that too the last few pages. In the very last page(320) Mr.Fotedar opens up his burdened mind and says:@Rahul Gandhi's leadership is unacceptable to the people of this country and Sonia Gandhi has her best years behind her. The party has no one to provide a direction. It refuses to learn. It has made wrong choices in choosing leaders of opposition in both Houses of Parliament.
In fact it is nothing  right which the party has done or is doing. It saddens me that the Nehru-Indira legacy has reached a cul-de-sac@.
Further h concludes the book with the following observation: Since Soniaji is still the unchallenged leader of the party, it should be her responsibility to reinvent the party. Blaming Rahul is  a way  is shifting the blame from the Congress president to someone who has yet to display his leadership skills. History is threatening to repeat itself. It is a matter of time before Soniaji's and Rahul's is challenged from within the party. I will be closely observing how they stand up to this challenge. Sonia is not Indira and Rahul is Sanjay'.
These are  powerful lines  and I am sure they would find an echo  in every sincere and loyal party worker.
As a seasoned  political operator, if I can call so Mr.Fotedar has much more explosive material with which he can demolish a whole lot of other operators whom he calls  Sonia's coterie, sycophants  some of he also mentions by name and many he leaves out but those who know the  10,Jan Path crowd know most of them.
Some are  very old loyalists who still live in Delhi occupying Lutyen's bungalows and also others like Dr.Manmohan Singh and Shiela Dixit who are  also  playing roles that are not entirely selfless but there are  new currents and cross currents.
I myself had recently been to Delhi, visited the AICC twice, why, even tried to see Sonia and Rahul. They have their own ways, they don't like  visitors coming straight to them but through a circuitous route.
You have to wait upon small men and women and I didn't  want to  do pursue this political path.
I am an old Congressman, from the days of Pandit Jawaharlal Nehru. I was with Kamaraj and many others at the AICC from 1962 onwards, off and on.
I contested the Madras Legislative Council in 1968,when the Congress was in the dumps, Kamaraj himself was defeated and thus when I won against the candidate put up by none other than the late C.N.Annadurai, the founder of the DMK, at the peak of his popularity, Kamaraj himself came out and claimed I was his candidate!
The point here  that I am  myself  engaged in the reform of the Congress, first in Tamil Nadu, my home state where the Kamaraj legacy is still very intact after 50 years of the Dravidian sway. Kamaraj passed away in 1976 and I had been working in his path ever since. So, I toured the state(TN) in 2008 and conducted many district level Congress workers meetings and found great enthusiasm for reviving the party on the Kamaraj legacy. I held meetings in the district headquarters of Krishnagiri, Salem, Namakkal and Tanjavur.
In Krishnagiri in 2008,when I openly  criticised  the leadership of Dr.Manmohan Singh, the then Prime Minister, the Congress workers revolted! But then I predicted then : The Congress party would lose mass base unless we reorganise  the party on the democratic and transparent manner.
I must have written at least one hundred letters to Sonia Gandhi. But for not one letter she responded! Not only that. She never once even visited the TNCC headquarters but then she chose to visit the DMK headquarters in Chennai. Even today the workers have no clue as to her secret parleys with the corrupt DMK with 2-G cases turning its image irrevocably.
There is much to read through the liens in Mr.Fotedar's book. As he rightly says Sonia had brought in many known party defectors from  rival parties. Why, he even says that she had inducted minorities' leaders, Christians and Muslims lately instead of old, tested loyalists.
In fact, he mentions in one place that at some crucial meetings, she had deliberately left out known loyalists for granting  separate statehood to  Telengana. The two Telugu speaking states deserted the Congress party, not one M.P. was elected from the Congress ticket!
The one lingering feeling is that Mr.Fotedar too is now disillusioned? For not getting a Rajya Sabha nomination and also thereby his   entitlement for a  bungalow in Lutyen's Delhi?
So, he chose to call it a day?
It is very convincing. For even those who are now left in Delhi, as I myself had seen, are the ones who still hold on to plush bungalows. Dr.Singh himself is occupying a 3 acre plot of vast property, some 5 or six tennis courts or some large number of airconditioners etc.
This is the lavish lifestyle  to which the Congress leaders were long accustomed to. And the BJP government is selectively choosing to humiliate and drive them out one by one.
The left-over Congress leaders won't go away so easily for they know the many devices  by which they can cling on to privileges in living in Delhi.
Now, as for the final bombshell?
Everyone in the Congress are only murmuring about the state of affairs in the Congress. I myself see the deep frustration that is simmering at the AICC.
It is the corrupt elements around Sonia who are feeding her ego.
Mr.Fotedar says that Sonia is keen to 'foist' her son on the party and the government. My own assessment is that she might continue to stick on to the present style tactics, marches to Rashtrpathy Bhavan etc and drag on till for one or two more years. By then, the next  Lok Sabha election 2019 would become a subject for  heated talk and then she might once more try to  foist Rahul Gandhi, with funds collected for the next general election?
May be this must also be the aim of the seniors who are also settled in Delhi. One thing is certain. The Congress party even now is not bothered to reform itself.
What the party  had done in the last 16 months  since it lost power? The CWC must have been dissolved a new committee with new faces must have been constituted. Not even a peon has been appointed or changed. There is all-round sullenness at the AICC. At the states level literally chaos, faction fights, internal revolts (latest as in Assam) are the order of the day.
Seeing things in perspective, Mr.Fotedar has really done a national service. He has dared to speak the truth at the right time.
Unfortunately, Sonia Gandhi has failed to safeguard the core values  of the Indian National Congress. Actually, she  is destroying the core values and doing things in ways that  break the heart of large segments  of Congress cadre  and senior leaders. This is most unfortunate. I only believe that this drift doesn't lead to unforeseen consequences.
Politics is fundamentally a sphere of morality and high principle. And also at the same time, as Thomas Hobbes has  said,  it could be and is 'solitary, brutish power and nasty and short'. Let true Congressmen take courage and learn to talk things out. Let us not fear for our short comforts and  continue to live with our current cowardice. Jai Hind.