How to minimize commercialization and corrupt practices in Indian education?
Smriti Irani on education reform in India
Global Scholars to teach in Indian Universities
But how serious is the new government?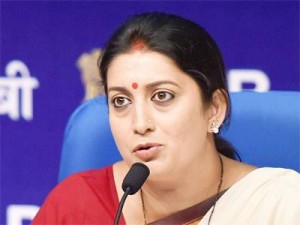 We are all these months, some 16-17 months, been hearing about some other priorities in education. Right or wrong? We heard that Sanskrit will replace German language in Kendriya Vidyalayas. We heard that the CBSE schools should not teach any foreign language. And we keep hearing saffronisation of education from all sorts of experts. We don't want to use any impolite language to describe the priorities in education under the Modi government. What is the action so far? Where are our Universities in International Rankings?
We hope that Ms. Smriti Irani, the minister, must have read the latest news that the international ranking of universities doesn't find any Indian universities in its first 200 world universities, right? What is the response from the minister? Any serious minister would have reacted, as this directly concerns her ministry. No word so far. Not even from her advisers and others.
What sort of intellectual environment we are having? What sort of open debates we are nurturing? So, this latest news reported about inviting the global faculty, is not seen in the mainstream newspapers so far. Some 200 of them, drawn from the world's reputed universities, names are all given out and we don't know how far this invitation is really serious enough to draw the top international faculty. Only those who are unaware of the academic world know well that the really top tier faculty, the ones where we see Nobel Laureates and the FRS and other medalists won't be tempted to take time off and come for teaching in India with the sort of fees given out in the news item. The rates quoted are not so tempting enough to draw top talent.
And even in the USA and UK now, the university faculty consists many Indian names, some really good ones but most of them not so great. So we have to be wary of the news. We like to draw the honorable minister's attention to really draw up a systematic academic plan and a strategy to invite some top names in select subjects. Also for sciences and arts to take up a regular faculty appointment for say one year or three years or to complete a degree course in top subject areas.
There has to be a priority. And also, please note here, the best way, in our opinion, is to entrust this task to eminent names in India. Invite for instance, Bharat Ratna C.N.R.Rao for deciding the names. Names like C.N.R.Rao and even others, like say Prof. Jagdish Bhagwati, the eminent economist who is also close to the Prime Minister to do the job for the social sciences.
Let us start somewhere. Unless top international faculty takes Indian academic work seriously you will be nowhere in this game of one-up efforts.
Of course, India's name is not taken seriously when it comes to academic excellence. Even the existing universities, including the central universities, are not doing their jobs well.
So, this really requires a small panel of advisers for the ministry. And, please take this education reform seriously. The new government is talking things in education at cross purposes. So many are talking about education reform. We have to take an international outlook when it comes to excellence in education. Adhere to the norms set by the international ranking agencies. That is the first step. We welcome otherwise even this small beginning, if it is really serious. Education has become highly commercialized and also highly corrupt. So many corrupt practices have crept in. So, this is a Herculean task. We only wish that the minister has an open mind.