Congress affairs: what is there to talk in secret?
Congress crisis needs to be debated openly and in great transparency!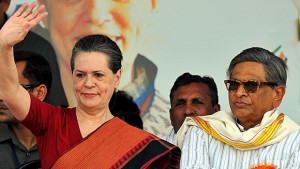 Congress government in Karnataka is not in the best of performing states!
See the issues that are causing concern to the general public.
First, Karnataka is one of the few states in the country under the Congress rule.
Karnataka is also supposed to be an advanced state. The IT industry have given the state an international standing. There are other positive features.
Now, there is the latest news about the visit of Rahul Gandhi, the Vice-President of the party, to pay his condolences to the suicide-committed farmers' families.
Yes, this visit gave him a positive image and    yet his visit left some ugly moments inside of the party. One, about 15 ministers, many seniors, didn't attend Rahul's padayatra or his interactions.
Second, the ones who sat with Rahul on the stage, they were all faction leaders, if we can say so. S.M.Krishna, the much respected senior leader was there and he is considered close to Sonia and also a sort of confidant.
There are various factions in the Congress. One is the lobby led by Dr.P.Parameshwara who has his own grievances; he wants to join the cabinet and also ambitions to be appointed as the Dalit CM.
So, also other factions.
The absent Ministers might have their own stories to tell.
Now, very soon after Rahul's visit Mr.S.M.Krishna is reported to have spoken to Ahmed Patel, the man behind Sonia in political matters and SMK has sought an appointment to appraise her of the inside affairs of the party and the government.
Now, our point here is that the Congress party, so severely defeated in the 1014 Lok Sabha elections and there is a strong pro-BJP faction also in the Congress party and government.
Whatever the exact truth, we is like to point out that Mr.Krishna must be seen playing a statesman role, he must say even here in Karnataka itself what he wanted to say to Sonia in a secretive manner.
Congress party in every state, from BIG states like TN to W.Bengal to even Punjab, Haryana, not to speak of UP and Bihar, are in deep crisis.
The Party is not managed from the AICC in a healthy, open and transparent manner. The seniors now around Sonia, the one who were all ministers occupying big bungalows are not willing to  go back to their respective states and work among the people and built the party.
To give one example wherever the new PCC chiefs are selected by Rahul are facing non-co-operations from the seniors in the states. This is only nature. Rahul's experience makes him so unsuited to grow the party in a natural way.
In TN for example, Sonia had almost destroyed the party fully.
First, the party needs a restatement of its ideology comprehensively.The party seniors must not think only in paying obeisance to the present leadership.
Indian polity is changed. It is now open to new ideas and new ideological formulations. Dynasty won't work now. Please let the senior Congress leader realise and let us all talk openly and exchange notes.
Rahul Gandhi, if he is still interested in party leadership, let him work under some senior leaders for some time. Let him earn his rewards in an honest and open manner. Please don't help to contribute to further disintegration of the party structure.
Now, in an ironical way, she had brought in one film actress who was all these years close to M.Karunanidhi. Also one former DMK, ADIMK, and also former BJP minister, as a general secretary of the Congress!
It is plain common sense that how one state where giants like Kamaraj and Rajaji had come from can expect the Congress loyalists of many years of standing can come closer to the party led by defectors and known inside enemies of the party.
Also, Sonia Gandhi herself, in our opinion, had lost touch with the ground level realities. She is still in secret pack with DMK whose standing is very weak and so it would somehow make the Congress weaker by aligning with the Congress.
The point is what senior and highly educated leaders like SMK can do is to speak out openly, in a very positive manner what the Congress party reforms must be like.
Only in such open and transparent exchanges of views can help the Congress party, not just in Karnataka and TN but also in other states.
The point is that SMK needn't seek private audiences and there is not much to talk with Sonia in this sphere.
The only way forward for the Congress party and the government in Karnataka is to identify the issues of development, priorities, such as Bangalore city development is itself a very big challenge.
Let us get guidance from senior Congress leaders, many of whom (wherever we have interacted) are hesitant to speak out. This fear and hesitancy has no rational grounds.
The more the senior Congress leaders take a hero-worshipping of Sonia Rahul duo, the future is beak for the party only. Dynasty has to be tackled if we want the Congress party to emerge as an all-India party and organisation.