Challenges of Democracy
Roles of ruling party and Opposition parties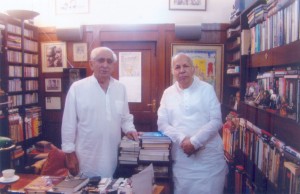 The BJP has some vague socio-cultural ideology. It has no sound political ideology. Nor any historically relevant economic ideology. It is time we realise India itself now needs a very clearly stated contemporary ideologies.
We can't see any one country. We are not China. Nor the USA. We can at least draw some lessons from the many regimes in the EU. There has been a trend toward some conservative social democracies, as in UK and Germany. Centrist politics, liberal private sector -led economic growth models seem relevant to India.
We have to think afresh. The Congress and the BJP shouldn't fall into the trap of too much populism. Corruption and black money are the twin evils of irresponsible private capitalism. So, we need to think afresh in an objective manner.
Modi government after a year
The Independence Day came and went. Prime Minister Narendra Modi took off as soon as the festivities were over to the Gulf Region. It is the Prime Minister's prerogative to do whatever he deems a priority and as such the Pm has lot of leverage over the direction of the country, the polity, economy, the very fabric of the Indian political system. Now, certain public perceptions and public opinion emerge as the days and months roll on.
After a year in power and after the many promises he made, from election campaign to Independence Day speeches, the public from certain judgements.
How far Mr.Modi has come from being a daring campaigner to a committed Prime Minister?
He has now faced certain resistance from the Opposition, the Congress plainly decided to obstruct the normal functioning of Parliament. Yes, the monsoon session was a washout.
How had been the Parliaments in the past? Yes, there were obstructions and there were floor managers, there were men like Pramod Mahajan and Kamalnath and governments did business.
Even now, there are indications that Opposition parties like the SP and BSP, why even some like the Trinamool and even the BJD, why even AIADMK and even the most wily of all, the DMK, a veteran in the game of political chess playing may prove to be a good game!
It is the real test of Mr.Modi in the days and months ahead to manage and get things done and face the next election, four years later. India is a democracy, why, a great democracy. We are admired abroad for the simple reason our democracy had survived and even prospered. Our Election Commission help is sought after in many countries, even the USA sought our help.
But then, this is the first time that a long-standing party like the Indian National Congress (INC) had been wiped out literally, a pathetic 44 MPs is no news at all. Now, as the major Opposition where does Rahul Gandhi, the designated heir would go?
The INC is simply forgetting the harsh realities. It is a large party but it has become a one-person party. Sonia seems to imagine she will be there for any long time she desires.
The party had forgotten its own time-table. When Rahul will be elevated? It looks it not so near or so easy.
The seniors who had made an appearance dot want Sonia to go. Their own future is at stake. Once you had learnt to live in New Delhi, the Lutyan's bungalows, you are unlikely willing on your own volition to vacate the place!
So, where would the senior go? They won't go to their constituencies, they won't bite the Kamaraj Plan and so they would like to stay where they are now. That means the same old faces, the jaded faces at that would continue to crowd the AICC headquarters?
No one has an answer. Nor the party seems to realise it doesn't exist in most major states!
Unless you build the party in the states, you have no future.
But who cares now?
I spoke to some seniors and even juniors and no one wants o speak. Neither Sonia nor Rahul are in a mood to do any hard work. So, in my opinion, the Sonia-Rahul 'hat-trick', the disruption is not just a trick, it is also a strategy which paid off handsomely.
As for the hard work, only the time can tell.
As for Mr.Modi, I feel that the BJP as a party and as a government need to do its homework seriously. Mr.Modi must have a real political and economic ideology. As for economics he has some good experts, the two economic experts are top class and they could give Mr.Modi really some strong inputs.
You can't have faster economic growth without investments and this requires the role of private capitalism. Mr.Modi may be corporate friendly but then he must have a vision. The Indian corporate under the previous regime brought down the reputation of both the government and themselves.
This brings us to the role of governance. Unless you realise that unless you have a sound political ideology you are likely to trip at every moment.
From Hindutva in the back of your mind, you trip on education, higher education, culture, social spheres like rights of minorities and rights of others. Human rights, freedom of expression, press and media and the very fabric of a modern society are put to risk.
There are a range of issues of serious political implications, from electoral reforms to electoral funding, reform of the political parties (which are not mentioned in the Constitution) to reform of the EC itself.
The other important aspect of the polity is the role of an independent judiciary on which the Modi government is grappling with at the months.
All these call for constitutional reforms. Political ideology is all about vision, broad picture as well as small details like the freedom of the various institutions, old and new.RTI is the latest contentious issue. LokAyukta, Lok Pal is also part of this debate, namely, the new definition of a new political ideology for India.
There is a sense of revenge taking. All top minds are replaced and very lower categories are elevated. This already ranges from Censor Board to FTII and many other cultural bodies.
This hits upon the idea of India and this leads to ruptures. What about the headless institutions, too many to list here. So, without a strong ideology of the economic growth, ideology of the political beliefs you will be left with only catchy slogans and sometimes empty ones!
In economic sphere, there is the unstated role of capitalism. The history of capitalism is an old issue. We shy away from discussing capitalism. It is time we face the issues squarely. Crony capitalism will crop up. Unless we take clear steps to define the cosy nature of the corporate with the present government. This doesn't mean the previous one was all puritanic. A fresh discussion and debate would do lot of good for all the parts concerned.
Democracy calls for periodic elections, parties need funds and funds can come only from the big corporates. If not the level of transparency in disclosing sources of election funds, as they do in the USA (where we saw the utter candour and commitment shown by Jeb Bush in disclosing his election funding) we see in India there is almost a conspiracy of silence from all stakeholders, all the parties seem to demonstrate a penchant for hedges and misses!
It is time we clean up. Mr.Modi will be surely watched carefully on this front. The second Independence Day speech of the Pm sounded like that. Not even a word about his foreign policy on which has done some decent progress.
Also, in economics he must spell out his corruption-free private capitalism's role. Black money is itself a huge challenge. Of course, some scams, like the two ministers, one chief minister all require careful handling.
Democracy demands some gestures and rituals. Now, there is some tension in the ranks. A cabinet reshuffle, now and then one way to go about. May be Mr.Modi may learn his ways.
He has demonstrated will and resolve that is in sharp contrast with his predecessor.
One more last point. Mr.Modi has to face the media. Twitter alone is not the way for a Prime Minister of India. He also needs some spin doctors.
Image itself is tricky. You have to have substance too. We wish the Prime Minister well.