What are the assessments by the supporters and critics?
Supporters many, few critics are no ordinary persons.
Yes, Modi's one year is being celebrated over much geography. Press conferences and other publicity means.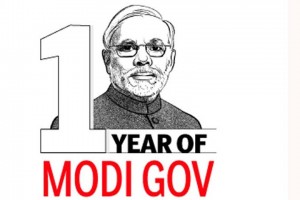 Mr.Modi who has been very much on the international stage all these months and also playing  to the theatrical style performances  and making some bold and sometime excessive publicity postures, otherwise called he had been a sort of a rock star or a poster boy for the many hues of BJP claims and counterclaims.
What is the role of the  RSS? What sort of substantial inputs the organisation has brought to Modi's achievements?
We are sure Modi's international tours and performances are not the handiwork of the RSS. The organisation hasn't, it seems, travelled beyond its  narrow confines to imaginary claims to build a Ram temple or  restoring other places of Hindu worship or some other marginal tinkering with the school syllabuses and introducing some fancy theories of Hindutva past.
Yes, there is a case  for making alternative ideological articulations for an Indian perspective to things. Indian history needs to be re-read and a wholesome picture of Indian renaissance needs to be articulated.
But then this is a serious, much-debated articulation.
Now, by simply leaving out the respected historians and other thinkers and independent thinkers what sort of big picture the RSS and other outfits  are capable of doing.
Simply picking up the thread somewhere in the 1920s and also picking up Mahatma Gandhi's legacy  in a twisted manner what sort of credibility we can hope to gain by taking to a route that is bound to fail historically speaking or otherwise.
How can you escape from the impact of the Westernisation process altogether?
These are all of course larger issues that won't go away.  As for the PM's publicity attack on the public opinion he is unlikely to succeed. There are serious issues.
Take the RTI Act implementation. The PM seems deliberately keeping the chief information commissioner's post vacant for all these months?
Yes, he is not really open-minded. He seems to have his own narrow agenda. He wants to shut the doors on the public's right to know how his government is doing.
As per the latest statistics, the number of petitions that have accumulated so far is 39,364,this for 2015,the year Mr.Modi is in power. The number of petitions that were disposed of in 2014 is 20,967.
What sort of efficient government, maximum governance he is proving?
Also, there are many such issues that make one suspect the PM's motives behind such delays. Lokpal, Lokayukta are other sensitive issues. The election manifesto promised an @efficient Lokpal@. Where is it? Is it too much for anyone with minimum common sense to suspect the PM's motives here?
Mr.Arun Jaitley claims there has not been one corruption charge so far! Fine. But where is the outlet for the citizens to ventilate their grievances.
This is certainly not an open society government, we can say.
This is a very active government. But not the activists-governance.
The judiciary is under stress. Apart from the Judicial appointments act, the issues is now pending with a 5-judge bench working on it, there is the huge accumulation of the pending litigations.
The law minister is grappling with the problem. The budget and finance minister's budget cuts, the individual ministries grievances are only now coming out slowly, ironically, on the eve of the second year of the government!
We are conscious that faster economic growth is not brought about by any magic wand. So, we have to give some more time for things to unfold. But as some experts who know the government, it seems, from inside said that Finance Minister is not having things easy for him.
But then there are enough indications to believe that some of the well-respected intellectuals, some media men and journalists who sided with the BJP government in the hope of seeing things change in their way are getting disillusioned by the way the PM had utilised their talents.
This government is obviously running short of talents in diverse fields.
Even the bureaucrats, some at least, also minister, at least some among them are giving vent to their frustrations.
Things are not moving as fast as everyone expected. In the political fields one good impression this government has made is to make the Parliament work harder. The productivity of Parliament has improved.
As for the criticisms of the Congress party is concerned  the Vice-President Mr.Rahul Gandhi has managed to stir up the issues lie Land Acquisition Bill as anti-farmer.
This is only small comfort for the party who has a long way to go. As for other parties, the Janata Parivar merger hangs fire. This is not good for Opposition unity.
As for the other state parties, the AIADMK in TN, Trinamool Congress in West Bengal and Biju Janata Dal have some roles to play.
Let us hope Mr.Modi, the Prime Minister of the country manages to see the larger picture of India's unity and also India's role in a changing world.
We have to remain optimists, after all. That is the only way forward. Jai Hind.
Indian agriculture is still a monsoon-dependent activity. 181.98 hectares of land is unirrigated, rain-fall dependent. So, we have to strengthen our scientific management of agriculture with season-relevant seeds, short-term seeds and also soil health, nutrition rich and  barriers-free all Indian market. Not the least is of course agriculture exports in which India is becoming competitive and also the Western major exporters like the USA,EU also are now realising the potential of the Indian agricultural sector alert's competitive edge in some crucial products like milk powder and milk products, horticulture products like grapes, starwberries and now mangoes and other fruits and vegetables.
In fact, there is a need for a high profile face in the agri ministry in charge exclusively for the agri exports. It is not out of place here to mention that Indian must delegations of farmers, we mean genuine farmers to such high profile agri exhibitions in Israel, Germany and even in EU and USA.
Our farmers must be exposed to high-tech agriculture, why not even in floriculture, a sector that showed lot of promise some years ago and now there is some slackening.
Floriculture in select flowers, as it is realised from the experience of flower farmers in such places like Hosur in border of Tamil Nadu and even in Karnataka needs special attention.
Certainly, we need some new policy announcements for floriculture. Also in promotion of grapes cultivation and wine making India had done some good work and this sector needs to be supported.
There is a new spurt in small grains agriculture. There is potential for exports of these valuable small grains. Of course the agriculture minister Mr.Radha Mohan Singh is doing his part well, we have to say considering how the government had come out of the recent untimely rains and how the government dealt with  the issue.
Photo Courtesy : www.financialexpress.com