On a range of issues!
One year performance review of the Indian government.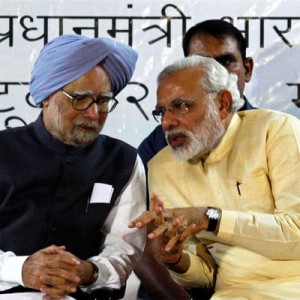 There is a mixed sense of elation as well as criticism over one-year of Modi government.  It is time we make a fresh new debate on Indian political and economic ideologies. Our economic future depends upon how our people look forward to a vigorous economy, vigorous economic growth that takes India its place as the top country among the top three: USA, China and India.
We need a new economic philosophy. Given our IT strengths, we need a new study of capitalism, we have to study the history of capitalism and see how the new capitalist system fits into the new world, knowledge economy where the educated and the skilled are placed on equal footing in terms of equality of opportunities.
We need a responsible capitalism where laws of the land are observed scrupulously. In politics, we can't but have a liberal democracy where too the last man feels equal to the top man.
The economic ideology, if we can say so, needs some basic clarification. India's economic future calls for a national consensus on the direction of the economy. PM Modi talks of faster economic growth. Fine. His is this to come about? Is it through just more investments in the manufacturing sector? Or, "make in India" is about more joint ventures, as it is envisaged, for instance in the joint production of air force planes of the French Rafale brand?
Or, the more basic industries like steel making by the MNCs like Posco.
Or accelerating the hundreds of pending projects in a wide variety of areas, awaiting various clearances from forest, environmental and land acquisition delays? Or, finally is it all about the private sector or the private sector along with the public sector, say, like in the oil and gas exploration?
Finally, what all this leads to? A more pronounced emphasis on the private sector with the disinvestment process leading to shedding the government(read bureaucratic)involvement in what is really a future course, more and more private sector participation, both domestic and MNC investments playing the dominant role in economic growth.
As we have seen in China, it is after all the role of the government that would play a crucial role in the building of infrastructure in a range of sectors, from highways, railways, airports and ports, not to speak of other critical urban infrastructure like metros, urban services and even smart cities. Some of these topics are now increasingly talked about but very little indication is there to hope for a faster and determined progress in all these frontier areas of the future.
Mr.Modi is really lucky to have come to play a central role in making the modern India of our times. But then his one year period in office gives not much of a robust hope that the PM can do all these things as he seems to give people the impression.
He has already invited criticism from within his own camp. One such criticism is from Mr.Arun Shourie, an old hand. Also, are there similar indications from BJP ranks, mostly of the more intellectually gifted ones?
Intellectuals have to play a critical role in any polity.
In fact, in the previous regime too there were intellectuals who were critical of the Congress party and the government. But their voices were silenced or subdued for various reasons. The party paid a heavy price for having trusted its Prime Minister. In India we have the dubious character of believing academic degrees and qualifications of long government service as proof of delivery on the promises.
Dr.Manmohan Singh proved such a disaster. Poor man he proved simply not the person to lead the party or the government or the country as well. He was not a political personality. It is a lesson that a Prime Minister has to be a political person in the first place.
Having said this much, it is now an open question whether the incumbent PM is a genuine alternative. Only time can tell.
But we can make some observations here. Justice R.M.Lodha, the then CJI, presiding over a 5-judge bench made the observation that the PM under the Indian Constitution has a great role to play. It all depends upon the incumbent. Or some such observation.
In the case of the incumbent PM he has created such a great impression on the people. So too his one year in office didn't bring about the expected buzz so to say.
There are indications, why even there is a sort of broad consensus that the government lacks lot talent and expertise to run its crucial ministries.
Let us be fair and admit certain realities.
The Modi Cabinet has lot of talents. Some of the Ministers are first rate. As good as the previous Congress Cabinet, why some are much better too.
We needn't name names here but the front-runners are too many. In crucial ministries like highways, railways and defence, not to speak of some others the Ministers carry lots of hope and trust.
So, we have to give time and show some patience as well. But there are some duds. It is time they are changed sooner than later. But then a Prime Minister in India must cast himself in a wider perspective.
Now, the PM leads the entire sections of society. So, why not he taps the best talents from all fields. So, I would take this opportunity to make the suggestion to the government that it draws talents from a wider net.
The PM can really afford to invite even his critics as well as his well-wishers from a wide spectrum of fields. Higher education really cries for sound advice and guidance. So too science and technology fields.
Even such fields like railways, aviation need bold and decisive approaches.
The PM is a doer. So he has to show some urgency in calling for strict monitoring of big projects.
Already we started hearing of deadlines missing for several areas.
Strict deadlines and almost round the clock monitoring would produce results. Again, China is a good example and we need more efficiency in governance.
Agriculture is another area. So too health and some other areas.
The PM seems to have embarked on creating the impression of being pro-poor. So, many of his latest pro-poor schemes. Fine. This too needs to be done in a democracy.
But creating a positive impact is much more productive of enduring impression. There are real questions of an ideological clarity. The Modi government is widely seen as Centre-Right. Why not? But then you have to also make clear the misconceptions that come with such an ideological stance.
Centre-Right is not the same as crony capitalism. Transparency in governance is the critical test. Also, fighting corruption. Yes, corruption in India is widespread and deep-rooted. This Mr.Modi has to attend to. Lokpal and Lok Ayukta are very urgent. Also, governance issues. The IAS/IPS cadre are not enthused. There are very many issues here.
There must be much sagacity and fairness in selecting and posting and guaranteeing fixed tenures.
Capitalism is always not a happy word among the elite of all countries. At all times! This is a big issue. The PM can invite the best minds from all countries. He, in our view, must have already invited the best talents, Prof.Amartya Sen, Dr.Jagdish Bhagwathi and other great economists for face to face exchanges of ideas and policy choices. The PM's image only would get a boost.
Some recent actions of the Cabinet, Cabinet Appointment Committee decisions are plain silly. Why remove the chairperson of the Lalit Kala Akademi? Why remove the Director General of the National Museum, right at the centre of the national capital.
Culture is a very sensitive issue. Already, some 130 odd artists and culture critics have petitioned the government over its recent reversal of acts.
So, please consult the best in the field. Already the culture leaders have petitioned the PM.
Also, the judiciary reform is also a touchy issue. Go slow is all we can say.
It is not of place to say that even in the past, even the big monarchy-rulers like Catherine the Great and the Fredrick the Great cultivated intellectuals like Voltaire. And what glory they attained! So, we say: please take the initiative and invite the great minds for tea! The gain is that of the PM's only!
The Hindutva tag is a bit of a bother. So too the communalism issues.
The PM has a baggage of the past. So, he has to tread carefully.
The media is another area.
India has a very vigorous private sector TV and print media industry. This has to be "managed" carefully. There can't be any hasty way to drive public opinion in a particular direction.
India is a liberal society, right? As such we have to recognise what it means. It means, among other things, a vigorous civil society and the role for NGOs. In this case, the Indian Prime Minister is seen as a bit authoritarian, he brooks no criticism and this is reflected in his delaying tactics or some other reason why he couldn't fill up vital position, be it the Chief Information Officer and also the Lokpal and Lokayukta.
As the current on-going 5-judge Bench of the Supreme Court arguments show that even the RTI Act could also become part of the basic structure of the Constitution argument. Why not? Democracy gives the common man the right to scrutiny and know of the government functioning.
India is also a much diversified society. Religion and cast had played a historic role. You can't abolish caste in a day and so too you can't restrict freedoms of the religions hat have been there for long.
Also, very important, you can't have the same party rule in all the states.
Each state has its own uniqueness and rhythm of its own. Economics, politics and society has their own spheres.  It is the elite and the classes that give character to a country. In that aspect India has been lucky. It has a reputation for an open society and many of its democratic credentials like fair elections, electoral reforms, RTI, why even RTE in education are all lauded as Indian contributions to an open society. India's neighbours look to India for guidance and much regional security and much else. I was in South East Asian countries and I could sense how much India matters in this part of the world. So, we have to keep our optimism in place and look forward to a bright South East Asian future.