Who is pro-poor: BJP or the Congress?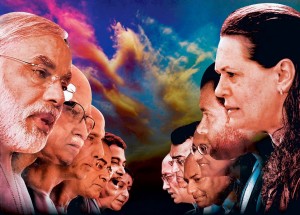 Prime Minister Mr.Modi, after his very path-breaking 10-day, three nation tour to Europe and Canada has come to find himself fighting a battle of sorts, this time; it is all about the, public perceptions of his government. All his strenuous efforts so far, from the day he took charge of the country he is really working hard on a host of fronts to activate things, to restart the economy from where his predecessor had left, he left it in a mess, this much the public have come to realise. So, some amount of charity is called for in view of the great challenges ahead. The whole world would look to Mr.Modi's leadership and as such we, the Indian people, cutting across the party lines, irrespective of our own reservations and scepticism, we have to give a supporting hand to what the PM is doing on many fronts.
Now, after Mr.Rahul Gandhi's unjustifiable absence from the affairs of the state, his return might have gladdened the hearts of one section of the party, yes, the other section, mostly seniors and as such with some stake in the future of the party, Mr.Gandhi chose to address the farmers' rally and the next day he also went to Parliament (which he is known to neglect to the chagrin of the party veterans) and there he made an impressive speech, we have to concede. Fine! Mr.Gandhi you did a good job, we admit.
But then what you wanted to achieve?
You wanted to show that the Congress party did well in the farm sector and the BJP doesn't measure up to its promise? Is this what you wanted to convey?
Even if we concede that much, there still remains your credibility gap. Yes, in the interest of the country's long term good, why, even in the long and short term interest of the farmers in whose name only we are promoting this magazine, we have to say things and invite the views of thousands and lakhs of farmer-readers and visitors to our largest agri website (www.agricultureinformation.com) we won't be truthful to our commitment.
We know well and we are sure our readers would also agree with us that agriculture is the very backbone of the country.
It is a vast field of concern for everyone and only in India, of all the countries of the world that still more than 50 per cent of people are still engaged in agriculture for their livelihood.
Poverty is still a big challenge to our planners and we are sure that Mr.Modi, more than anyone else, knows this very well.
And to remove and reduce poverty is no joke. It is also a fact that other parties, specially  the Left parties, more so the parties left-aligned and also from states like W.Bengal and Kerala where the left parties, the Communist parties had been in power had remained backward in the sense there is not much modern day industrial development, no new, new generation big industries and manufacturing.
The Communists have a mindset of anti-capitalist, anti-big industry focus. More workers' tilted claims like industrial workers and kisan, farm workers claims for higher wages. In a strict sense of the term, the Left-oriented parties are anti- urban and pro-rural rhetoric.
Even now, under Trinamul what do we see in Bengal?
Who can take Mamata Banerjee after her track record on industrialisation in Bengal countryside? The Bengal rural hinterland is trapped in a medieval dark ages. People really would contrast Bengal and Gujarat when it comes to industrialisation or even developments on a whole host of fronts, from education, health and other infrastructure, rural electrification. Tata's car factory fiasco sums up what Mamata Banerjee can do and can't do.
The future won't welcome another Mamata Banerjee medicine!
The same might apply to the Bengal Left-front politics. Mr.Sitaram Yechury is a fine person. But that is all. What a CPI (M), however he could rejuvenate the party, can do in this time of globalisation when the global capitalism, a favorite phrase of our comrades, itself is in a sort of decline or in a not growth cycle.
It is a big issue. Not easily amenable to rhetoric-wielding platform orators, politicians.
Economics is a serious business, right?
There is no big industrial investments. So too even in Kerala where there is a tradition of Communist protests against every other factory!
Of course, it is a complicated and complex issue. The issue of economic development. It had fallen to the lot of Mr.Modi to come out with a new set of rhetoric to defuse the standard attacks from Opposition parties.
Mr.Modi can't be accused of any right-wing conspiracy. He has to face up to the grim reality of restarting the economy. Certainly, Mr.Rahul Gandhi 's charge that Modi is trying to take away poor farmers' lands and gives away to rich corporate houses, it is not a "pay-off" as Mr.Gandhi has termed is wrong.
Mr.Gandhi has some serious issues himself to contend with. First he must get rid of his shoulder the albatrosses of many kinds. Manmohan Singh is now a great liability to the party. So too his creations, G-2, coal scam that too need to be taken off from public mind. He has his hands full with other issues too.
The Land Acquisition Act is landmark legislation and it is everyone's view that the Indian Parliament must be able to enact it through mutually agreeable way. That is the essence of democracy. Also, Parliament must not be disrupted purposely to block the passage of the Bill and the country would now see how the Congress conducts itself in the Rajya Sabha.
There is a vast consensus on some of the basic features of the Bill. Land for many development needs, roads, railways, airports and irrigation projects are essential. So too in many instances land for new projects like big steel projects, coal mining and many other such criti8cal issues.
We have to create a favourable investment climate for the foreign investors. Of course, Mr.Modi had urged his MPs and party men to become more active and stand upright and see people in their eyes and tell what the government has done and intends to do more.
Yet, as Mr.Modi would realise and he also looked defensive, as the media put it, because in this country there is a tradition of left-wing tilt to all parties. So too the Janata Parivar and the newly elected CPI (M) general secretary Mr.Sitaram Yechuri  has also talked in some assertive manner.
The media is not also very friendly, it is rather diffident but not forthcoming in support of the BJP government which talks, in the words of Mr.Modi, more about "rashtraniti", not as much about" Rajniti".
The point here to be emphasised is that India needs a new land acquisition law. We need land for development.
Also, it is pertinent to point out that no economic development can come about without big investments and also if we can so put it, without private capitalism playing a pro-active and confident role.
But we want a "responsible capitalism", not "crony capitalism".
May be the future of the debate might revolve around how the government explains its position and how it is able to swing the public opinion and public perception to its side.
Photo Courtesy : www.dailymail.co.uk