The challenges before Modi are real!
Yes, there is a certain discerning public perception that the Modi magic, the brave words and gesture of assertions apart, there is a subdued skepticism creeping through as to where India stands? Are we moving? And where and in which direction?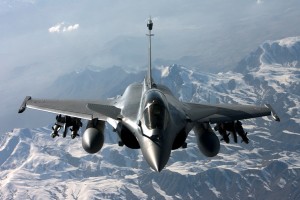 Modi has his own style and his own world view, we have to concede. The PM keeps up a scorching schedule. As we write he is in Paris and he is seen perhaps the best part of his deal. At one stroke, the Indian PM had strict an ambitious bargain, he bought as it were 36 high profile Rafale fighter aircraft, off the shelf as it was and another lot, in total 126 aircraft valued at 12 billion dollars and also a deal in which the French manufacturer, Assault, to stand guarantee to make the 108 planes in a joint-venture (?) with the state-run HAL.
This deal if made operational, it would really become a feather in the PM's cap for his ceaseless mantra of 'make in India' really start working on the ground. As patriotic Indians let us all hope for the realisation of the deal.
There is also the side deal, the more ambitious nuclear reactors deal. At Jaitapur in Maharashtra the Fr4ench nuclear power company, Area is to set up six units in a venture under the private construction company, L&T. There are other bigger and ambitious joint deals. France would also invest and once these initiatives come to fruition, Modi said that India is the biggest market today and various rating agencies, like WB and IMF besides others have rated India's economic prospects high.
May be, who knows that Modi's moment of luck is here and he might be proved right in his various moves and initiatives. It is just natural that the private sector might be unmoved. What is here for them, in these government to government ventures?
Very little. So, what the local corporate ant are easing of doing business and for this the government has to move the various ministries and the ministries are stuck in many legacy issues. From environment to mines and forest clearance and of course the most critical land acquisition law are stuck in clarity and consensus among the various stake holders.
Running a government and a mature democracy like India throws up a set of challenges. India is a democracy, right?
Yet, what sort of democracy it is. We have also a high degree of corruption, black money retrieval is only one such election promise. On these two fronts there is no movement. As for other irritants, there are the states which have their own problems.
A democracy also needs certain clear understanding and importance of public opinion. The bureaucracy in India is very peculiar. The judiciary is bogged down pending cases which it looks couldn't get cleared in our life time.
Mr.L.K.Advani, the senior-most BJP leader stands tribal for criminal offence over the Babri Masjit demolition. Manmohan Singh, the former Prime Minister, is also served with a criminal offence summons for the coal block allocation scandal. Now, we are told his case might come up for hearing only after 4-5 years time!
Also, Mr.Modi is facing the uncertain prospect of reforming the Supreme Court appointment of its judges. Sooner, rather than later he might be embroiled in this Constitution-related fight with the higher judiciary.
There is the Parliament where the upper house is an obstacle. And of course there is the quality of governance, some of his ministers, why the majority are yet to prove their mettle.
So, what sort of democracy is India's?
The public perception is that India is a highly corrupt society, polity as well. The many institutions we created, the Lokpal, Lokayuta, the RTI etc are almost non-functional, cant we say? Why delay in filling up such sensitive positions?
What is the point of keeping the CIC vacant? It is said some 10,000 and odd appeals are pending before the CIC. This is only one institution. There are very many others. Many national level institutions are headless.
So, what Digital India Mr.Modi is speaking about? Mere rhetoric? Or what else?
Also, let us know and it is time we, Indians, should know that Indian democracy, even a liberal democracy under Mr.Modi, is not as corruption-free or efficient as China is. In China just now I read that the chief of the secret police, a Polit Bureau Standing Committee member (Mr.Zhou is now sent to Jail. He is a close ally of another high profile Bo Xilai, a former rival Mr.XI, the current President. Much more revealing is the fact that Mr.Zgou's trial would be broadcast "live", this high profile corruption case!
How do we, Indians here, rate this sort of fighting corruption in China, the fasts growing economy in the world?
Neither Indian economy neither grows fast, nor we fight corruption so determinedly nor our leaders, do we mean party leaders, live an austere life style.
Nigerian leaders
Just now, the Nigerian general elections had elected a new leader, Mr.Muhammadu Buhari who lives ,reports the London Financial Times after an interview with him, the leader with an "an ascetic reputation" he wanted to "curb the excesses of the political class was a centre-piece of the lean 72 year old's campaign has a more urgent ring".
Can we say the same type of thing about our own leaders? Our own election campaigns?
We thrive on a bogus VIP culture. Our retired leaders live in posh localities of Lutyen Delhi, on plots measuring as big as 3.5 acres and guarded by 100 odd police men round the clock. And all this we do and tolerate with a bloated and ostentatious display of hypocrisy all the time.
Our democracy must become more truthful to its Constitutional tenants.
Our youth would become more aware and also demand a great deal of honesty and openness in our various approaches to governance.
It is time Indian democracy truly becomes an exercise in self-discovery for all citizens.