The pace of 'development' not fast enough!  'Governance' not transparent enough!
Invite Deepak Parekh as government adviser!  Things would brighten up!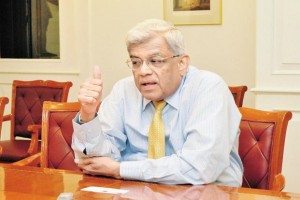 Mr.Deepak Parekh, the industry veteran and one who is not known to speak in fine English language but he has a blunt way of talking the truth!
India needs straight talkers!   In more than one occasion in recent times he has openly said that what Mr.Modi promised, speedy decision making, is not happening.
Knowing Mr.Parekh's past services to the government and other public well, we are sure the recent pronouncements must have reached Modi's ears.  While we have any number of high profile corporate leaders. Where are the famous ones like Ratan Tata and Ambanis and others?
Unfortunately, at this very moment came the so-called corporate espionage which blew off the lids on many of the very same high profile corporate.  As anyone with a bit of Delhi government and bureaucracy, this corporate espionage is no news at all.
In fact, there is a well-organsied and well-oiled racket, even there are highly expensive lobbies, they perch themselves in star hotels, entire floors are occupied and there is a new hierarchy within this espionage racket.
Any official secret paper reaches the top barons of the corporate world before the same papers reach the PMO's tables!
So, this is the well-entrenched Delhi bureaucratic setup. Now, what do you do?
What do you say about the Prime Minister's predicament?
We asked a very senior leader of the BJP party, now not in the good books of Mr.Modi(as there are other seniors also inside the party for strategic reasons, we suppose) we asked him as to what he thinks of Modi, the new Prime Minister and what the PM should be doing in the coming days. He paused for a moment and came out with just two words.
Humility and truth!
Is it easy to practise the Socratic wisdom?
Mr.Modi, now after some 10 months in office and facing the humiliation of defeat at the hands of Kejriwal, is faced with a series of issues.
He has to hold his allies first into a cohesive coalition. Though it is not a political coalition, in the Indian context Modi must realise, realise sooner rather than later that he can't take his electoral majority as a lance to bow beat others. Certainly not in the wider society outside the parties and party politics. India is a country of vast diversity.
It has many states that had great leaders, many illustrious chief ministers.
There are classes, the upper, the middle and the lower classes. They have their own dynamics.
There are also, let us admit, caste and communal hierarchies. We don't know how much Mr.Modi had understood these diversify and the hierarchies.
Take one example. Recently, Prof.Amartya Sen, the Nobel Laureate, was stripped of his office of the Chancellor of Nalanda University for the second term. Fine.
But be generous enough. Call for Prof.Sen for a personal meeting. Talk to the distinguished personality and win him over. Win his sympathy.
Your stature would have shot up. Likewise, even the Opposition leaders. It was a fine gesture on Mr.Modi's part to visit the Opposition leaders in UP over the social function.
But then a Prime Minister can do thousand things to win over the public perception about him. His team is fine as on date. But there is some disquiet over some portfolios.
Take health. Of course, the health budget is cut. But on such an issue like swine flu outbreak, even the PM must speak out and reassure the public anxieties.
So too education.
So too railways. Mr.Suresh Prabhu is a discovery. There is nation-wide trust in his efficiency and delivery capability. But then, the February 15 Bangalore accidents, near Anekal, with ten dead and 15o injured, show that the railway establishment is not a transparent one.
Even after 10 days the railway safety enquiry officer says his counterparts in SWR didn't give the details of the accident. The track was welded just 12 hours before the accident and the loco pilot was not informed! This truth is not revealed! This is disturbing.
The public and the families directly affected are kept in the dark!
What sort of railway establishment it is? What the PM had done. Did he pull up the minister or the officials? Any heads rolled? Why this behaviour?
So too the civil aviation ministry. AIR INDIA must be reformed. You can't have a white elephant, an inheritance from the previous government as it was always, Loss making enterprise. So too other ministries.
One here: agriculture. The ministry gives an affidavit that it had fulfilled the mandate given to it, in an affidavit to the Supreme Court. This is unacceptable.
What about the farmers' suicides?
The PM must be seen as one deeply concerned. We can go on and on. As Mr.Deepak Parekh had observed that the government must move fast, act fast, take decisions.
Also, luckily, Mr.Pareksh had also come outwit very good suggestions as to how to raise funds. Disivest in PSU units. So, in conclusion we say: please invite Mr.Deepak Parekh to sit on the Niti Ayug! He would really come to rescues the government from some of its latest short-comings.
Humility and truth!
That would serve this government very well as a timely advice!