Nitin Gadkari talks to All India Panchayat Parishad of village heads!
Sonia Gandhi led a 14-Opposition parties delegation to Rashtrapathi Bhavan!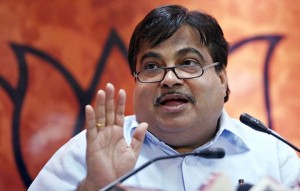 Modi government is really in a bind.It is faced with the prospect of a deadlock over the much controversial Land Acquisition Act that was passed in the Lok Sabha but stuck in the Rajya Sabha where the BJP doesn't enjoy a majority.   Ironically, it is parties like Trinamool and the ADMK, not to speak of other parties that enjoy respectable numbers in the upper houses. Of course, the Congress is in a good number.
Now, what is unusual is the fact that suddenly on a Wednesday afternoon the fourteen Opposition parties got together and they march from Parliament House to Raisina Hills.
The TV shots showed it was a very pleasant and enjoyable walk to the disparate number of Opposition parties and their leaders. The TV shots didn't show much of Sonia Gandhi in the first few minutes and even afterwards she was seen only in a group, too many security personnel covered her and she was no leader of any mass appeal. She in fact walked the distance with some reluctance and she never for once cared to look at the cameras and in fact she seemed to have ignored the pleas of the anchors for a bite.
No, she is no leader at all. To compound her plight she had an accompanying shadow, guess who he was. Yes, you are right. It was none other than her real shadow, Dr.Manmohan Singh! Demure, lost in the rush of the crowd, he gave the distinct impression of utterly in some unease.
He must have been ruminating within himself: oh, was this all about the Premiership of which so many Congressmen and women envied me!
Anyway, here he was and the rest of the crowd seemed to have enjoyed the short pleasant walk on a day that won't come so often and so spontaneously.
Now, for the real issue here is that the Land Acquisition Act, it had seen so many twists and turns, first an ordinance and now an act that has to go through an establishment procedure.
The Opposition clearly enjoyed its runout. There was this unusual display of unity and camaraderie. The Communists were real beneficiaries; here was their moment of glory. The Communists can speak while the Congressmen while they can really speak much and yet they are under the constraint of two non-speaking leaders.
May be, it is time that both Sonia and Singh give way to others who can take the party forward.
Now, what of the Land Acquisition Act itself?
One thing must be certain for everybody. There can't be development, new highways, railways or ports or airports and big industrial complexes without adequate land to construct the new age industries and the new age services, be it airports or railways.
Only those who have had the example of China and we are sure most of our parliamentarians must have  visited China and they would all realise that  unless we are honest to ourselves, we can bring in  development on the scale and speed as China has done and is doing, Indian development would be thwarted.
Now, what the BJP wants? What the Opposition parties object to?
It is about the compensation and the rehabilitation of those farmers displaced.
Yes, they are not simple questions.
But one thing must be clear. There is no point is politicising the issues. Certainly, what Mamata Banerji did in West Bengal, in Singur and Nandigram is no lesson.
She just ruined Bengal's chances for industrialising the Bengal countryside which today looks like a medieval age still subsisting with us.
Also, Mr.Modi's bulldozing of the farmers is also not appreciated. Now, luckily Union Minister Mr.Nitin Gadkari has met with the UP, Haryana farmer leaders and explained the need for an act. Otherwise, he explained even the giant Bhara-Nangal dam, the lifeline of Punjab and Haryana agriculture prosperity might not have come.
Now, it is for the Congress to respond to the timely need for a consensus on the tricky act, Right to fair compensation and transparency 2013, and ultimately the  democratically elected  government's responsibility to promote development that only  ultimately  benefit the country is respected.
So, at the all India level, with a Central act like this crucial one we need enormous caution, tact and much diplomacy and much sharing of one's innermost thoughts with the Opposition party leaders.
The Congress had seen a chance for itself to assert its authority, as a big brother. But then even here, Sonia and her advisers need to trade very cautiously.
It looks Sonia in her new found relevance(in the absence of her dear-most heir hiding somewhere inaccessible to her)has started using such expression like the Modi NDA, the Modi government etc.
This is not wise in our opinion.  She has to show much humility and some finesse.
Let us hope the government with its majority in the Lok Sabha is allowed to take the peoples' will to its desired ends in a democratic polity.