Janata Parivar takes on the Modi government!
The six-party front could become the new catalyst!
India needs two broad fronts, one Centre-Right and Centre-Left!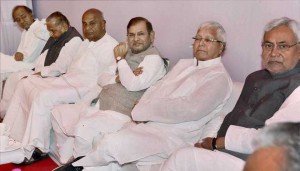 That will strengthen the democratic system and also help to clean up the current distortions!
Also, the new Supreme Court judgement to undo the caste-based census would ensure the modern, secular Indian social forces.
The new front must come out with an in-depth analysis and shape of the new ideology which must reflect the realities of Indian state. There must be more Muslim representation in the legislatures, Parliament and the Cabinet at the Centre.
Times change and so too politics. Time and tide don't wait for anybody! Also, the Congress party too much move forward and join the new front.
That would only enable the currently confused Congress leaders and workers and followers to think and make up their minds for the coming struggles to safeguard the unity and integrity of India.
Make an aggressive pitch!
Spell out the vision, a strategy!
The parties aim even for a merger!
That would be a bold move.
Call for a new vision document.
A more transparent democratic polity!
With all the accumulated baggage thrown out!
Fighting corruption must top the agenda. So too distorting democratic rights of the common man. No religion-invoked communal agenda!
A vision document
Welcome to the Mulayam Singh initiative
Indian political leaders belonging to the what we can call the anti-Congress, anti-BJP politics have met at a luncheon meeting at the UP strongman and leader of the Socialist party Mr.Mulayam Singh and also his old-time colleagues in what is called the Janata parivar, who came to power as the Janata Party in 1977 on the anti-Indira Gandhi platform have now come together to form a new unity among themselves under a new alternative political platform.
These parties now have only 15 MPs in the Lok Sabha. But they have 25 MPs in the Rajya Sabha. So, they have an advantage. Use it when it is still powerful.
Drop all the old hangups. Come out with open minds.
This is the right time. Indian democracy cries for an effective Opposition.
This, these democratic parties only can provide.
For the time being, please leave out the Communists. They could spoil the open minds.
Lok Ayukta, Lokpal, black money, Caste politics, gender equality, Child labour, education, child mortality is all sensitive issues.
Judicial independence, press and media freedom are out priorities. Judicial independence is now threatened. The 5-judge Constitution Bench observed how the PM under the Constitution remains critical.
This should be the new coalition/party's top Constitutional reform agenda.
It is a standard Indian reaction to any such new initiatives. Their initial explanation is to make for a joint floor management in the forthcoming winter session of Parliament where there is no recognised Opposition party. The Congress is the largest Opposition party with just 44 MPs. That makes the party not a recognised Opposition party.
It is a good sign that Mr.Narendra Modi, the new Prime Minister too seems to be not very cautious in his moves. The PM had already shown enough hints he is not a nice democrat. If any, he is a very assertive and even aggressive get-goer. He is also in a hurry to antagonise the Opposition parties. See what he has done in Maharashtra. He had humiliated the only regional party which didn't yield space to the blandishments of the BJP and its equally determined chief Mr.Amit Shah. Shah and Modi had given the Opposition parties some rough treatment already. The duo seems to have a strategy. They want to subdue and even destroy the very many regional parties in various states.
Germany, like India!
India, as in the Western nations, especially in Germany (which incidentally is going to celebrate the 25th year of the fall of West Berlin) has also numerous smaller parties. Just now we read that the Left party in former East Germany is the left-over Communist party which is set to take charge of one of the reunified Germany's 16 states for the first time. As the Communists in India the Communists in Germ nay too talk in extreme terms, all impractical issues like demanding scarping of NATO etc.
Yet, there are smaller parties in Germany, one of the big and multi-party and multi-ethnic countries. So, we read there are coalitions called "red-red" with Social Democratic party (SDP) as against the current dominant party, Christian Democratic party-led coalition led by the redoubtable Angela Merkel.
The point is that any large country like India will have many local, state and federal issues and there will be equally any number of political parties with many demands. In the South, especially in Tamil Nadu we have so many new and numerous smaller parties, plain caste-based parties, as in UP and elsewhere.
It looks that Mr.Modi doesn't have much patience and he is in a hurry and hence there is pressure everywhere and also confusion as to the future of the Indian political route.
This is an opportune time, we think. The Indian democratic scenario is also ripe for some broad alignments.
India now seems a mature polity with the BJP winning an absolute majority in Parliament. This had never happened in the Indian political history. We welcome this dramatic development.
New political alignment
It is our view that the BJP won more because of the misdeeds of the hopeless Manmohan Singh-led UPAII. It became a byword for scandals and corruptions at high places.
The very many cases like 2-G, coal gate and also the corruption case like that of the former TN Chief Minister J.Jayalalitha have almost completely transformed the Indian politics into a laboratory test case. How the Indian political alignments would shape?
There has to be only two broad political coalitions of interests or coalition of rational politics. One, Centre-Left and another Centre-Right. However one interprets these two broad alignments, from a Marxist or non-Marxist, Socialist or democratic Socialist or bourgeois points of view that India, as a big nation with multiple ethnicity and religions and languages and castes and social and economic hierarchies we have to take our political stands only from these two standpoints.
Thus, we can see that the current moves by some of the old guard, the leaders are battle-worn veterans and they are also battle-ready new warriors of nationalists and patriots.
So we salute Mulayam Singh, Lalu Prasad Yadav and Nitish Kumar, K.C.Thyagi and Deve Gowda from the South. They have contributed to the growth of political maturity and also have established their credentials beyond any doubts.
Sharad Yadav, the president of the JD (U) is a true worthy heir to a great political tradition. The Jayaprakash Narayan movement in fact brought out the three leaders, namely, Sharad Yadav, Nitish Kumar and Lalu Yadav. We wish them well in their endeavours.
The purpose here is to indicate, briefly, certain norms for some fundamental ideological clarity. The three broad principles in our view that would bind any such democratic, secular and non-exploitative capitalist economic growth path have to be further defined in much more micro terms.
Our democracy now is a bit weakened by various developments. There are some visible corrupt practices we overlook like distribution and buying of votes by political parties.
No crony capitalism, please!
So, there is unaccounted money, on a vast scale that is injected into the political process. The so-called black money stashed abroad is now a mirage, as we have already found.
There are some 80 tax havens abroad and also the money is untraceable, we have found already! There are other deficiencies pointed out by various NGOs and such bodies like Association for Democratic Reforms, National Election Watch etc.
As for secularism, we have to fight the BJP in the coming days when issues flare up. It is in economic sphere we have to define our position much more carefully and in basic terms. It is my view all these issues can be thrashed out once we constitute think-tanks or brain-trusts with eminent persons.
Let us ask for a vision statement. It is this vision statement that must draw people towards the new political front.
One more point.
What is the future of the Congress?
Dynastic obsessions have no place anymore!
It can't grow any further with its dynastic obsessions. We can welcome the Congress as a valuable partner. The Sonia Gandhi-Rahul Gandhi syndrome had tied the party to a stand-still.
Only a broad new groupings of broadly democratic and secular parties come together we can see some developments in the Congress party too. Already, the NCP, Trinamool Congress and now G.K.Vasan Congress, why even from Haryana and other states we can expect coming together of like-minded parties.
There are any number of new comers into the new coalition and once the parties move towards a merger, the better for the nation. We don't want to name names or mention individuals.
There are really good number of new parties and faces waiting in the wings.
As a long-time Congressman and a former MLC and a Socialist of the Fabian vintage I have my own assessment of the future of the Indian National Congress.
We have to see the issues in historic terms and also in long-term historic perspectives. India is now maturing as a democracy, as an economy and as a society too. Religions have a place. But religion-based politics has no place in a modern democracy like India.  This, we can debate endlessly.
Now the issues of ideology, policies and also strategies have to be thought about and worked about.
There are other parties and leaders, like Trinamool, and Naveen Patnaik's BJD.
Let us create a new and more powerful India. All economic predictions point to India becoming almost a close rival to the Chinese economy by 2016.
Let us make this as our broader goal, as far as making India an economic power-house! A more just society.