What the government's vision and agenda?
Industry leaders demand priority for the farm sector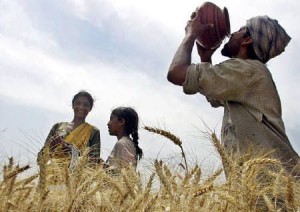 In a pre-budget consultation with the captains of industry the industry leaders called for priority for farm productivity, raise rural incomes and promote inclusive growth.CII president Ajay   Shriram said thi.
Fine, fine!
Indian agriculture is both strong as well as weak. India is now a competitive agri exporter and also plays a   crucial role in international trade in agri sector.
At the same time Indian agricultural scene, farmer's lives and the rural people's, their incomes and social security is still at a primitive stage. Farmer's suicides are India's shame.
So, we are not sure what the new government's priorities are.
The pity or the irony is this lobbying for the farm sector is done not by any farm lobby which is as good as sleeping or feeling helpless or utterly confused. Nor the usual academic experts of the self- propelling publicity seeking officials or former officials posing as farm experts.
All the old glories of the Green revolution seem gone. Now we seem to live in a post-Green Revolution phase of the Indian agriculture economy.
In a more serious sense we are all changed beyond recognition. We live in a post-Congress political era whose tone and tenor are yet to unfold.
In fact, the new government has appointed an agriculture minister whose details we don't have and we don't know whether he will prove anything.
May be even the Modi government is yet to come out with any recognisable blueprint. The health policy blueprint has invited strong criticism and so too other steps like the land acquisition ordinance.
If you pass an ordinance it is presumed there is one urgency.
What is the urgency you notice now with the land ordinance?
The Opposition is still divided and weak. The Congress is nowhere in this current mood of agitation and consternation. Only the Janata parivar leaders seem to be stirring a bit and they too seem to be a bit leathergic, given the fact that the Modi government is starting to stumble upon new uncertainties and new challenges.
The Planning Commission is renamed and it is really a change of name and not the vision as such.
What is the vision for economic transformation? Who is talking. The few experts now on the panel are all so new that they don't dare to ruffle the feathers of the trade mark experts who have surprisingly fallen silent or choose a conscious retreat, now they see all their pet theories are thrown to the wind, so to say. Who wants to talk of poverty, or poverty reduction. Sonia Gandhi gambled foolishly by believing the advisory council radicals. The rural jobs scheme didn't bring her any votes, in fact, the ungrateful voters, the supposed beneficiaries betrayed her so badly.
So, the populist schemes that welfare economists hogged for so long are no more votes -fetching formulas.
Mr.Modi had come out with a formidable formula of accelerating the growth and development, whatever these two concepts might unfold in the years ahead. Now, farm sector.
You see for an agriculture media like ours, farming is not just statistics. In fact, after Modi came to power three, at least three reports  or date were put out. One the NSSO data.50 per cent of farm households are in debt. Second, there is an acceleration of farmer's suicides, not just in one state, Vidarbha but in many states including Gujarat, Punjab and TN as well. Third, there is the IB report to the PMO about farmers' distress all over.
But as we have said farming for us is not just statistics. For us, farming encompasses a whole range of emotions, empathy and leaders' commitment, integrity and a rural vision.
What is the future for rural India? For the villages?
Do we recognise that Indian is an agricultural power?
We at the Vadamalai Media do so!
Only when we realise what we mean by this claim, we can really hope to draw up a new plan, a new strategy and a new growth path for the agriculture and rural India.
So, we wait for the new government to come out with more articulation from the Prime Minister downwards.
Then, we could trust what others, other sectors, CII and others, the political elite included, have got to say and do in this India's most critical sector.