I see this question as a milestone in the evolution and maturing of Indian democracy.
There is a troublesome transition path for the Congress party, in the sort and the long-run.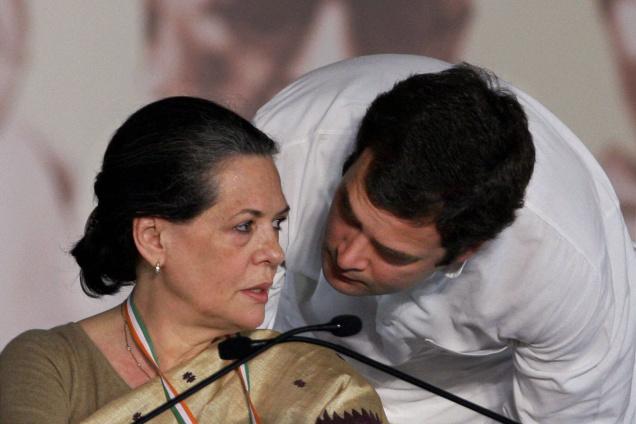 It has to overcome some difficult court cases and other sensitive questions to establish its credibility.
People ask me why I still cling to the Congress party. I am not. Not to the present structure of the party, as a dynastic succession issues at all!
I see the Congress party, in terms of its history and its ideology. The Congress party ideology, in my view, has a universal, international perspective. Democracy, secularism and individual freedoms, human rights etc.
Not any other sectarian, short-term and short-sighted divisive ideology would suit Indian diversity, Indian ethos.
How we understand our times? How our times would impact us? How we can impact our times? By our constant engagement with politics as a public duty.
This is how I see politics in India. Now, when we come to the current time, the latest landmark judgement in the TN Chief Minister, J.Jayalaitha's conviction and sentencing of her for four years imprisonment and a fine of Rs.100 crores is a watershed in the evolution of Indian democracy.
Indian public life won't be anymore the same.
So too the emerging Modi regime with its unique novelties and also some trends. Money, muscle power played a great role.
Moneyed candidates are now the reality. So, from now on, we can expect more corruptions, more large-scale corruptions by the high and he mighty would become the norm of political life in India.
Why, the latest, the most shocking news is that the CBI would question Ratan Tata in the Unitech reality case!
So, we have to expect more exposures and more likely corruption cases and even conviction of the mighty in politics and corporate world could become a reality. Only in that larger perspective I see politics, my own political beliefs and convictions must have some resonance.
As the Brazilian, Harvard-based philosopher, Roberto Mangabeira Unger (FT Sunday Oct 4) says "you should die only once!"He means politics is a self-transformation and you should do it yourself and you must somehow "muddle through!".That is okey, he says.
But for me politics is to speak the truth, come what may and also do what you think is morally right and correct. Political activist, poltiical philosopher, simple protest will all the same in a significant sense!
The Congress party as it is is almost caught in a dilemma. It is obsessed with one dynasty, one family. That surely won't do, won't survive.
To see the reality or shut its eyes!
How long this non-activity can help the current players?
The very political landscape seems to be changing in India. So far, it was a highly Centre-left political spectrum that seemed to hold good for the Indian people. Not anymore?
Yes, it looks like that. The sweeping victory of Mr.Narendra Modi and his BJP party both in the Lok Sabha elections and now in the Assembly elections in Maharashtra and Haryana, two very powerful politically trend-setting sates gives the clear indication that the average voters of India have turned the tide in favour of Centre-Right politics.
Apart from the immediate party and or parties and the politicians interests are concerned there is clearly a new economic trend.
Many relaxations of laws from FDI to Labour laws show that the economy is very much in need of such reforms and relaxations. With the latest labour law reforms, there is now an end in sight for the total elimination of the licence raj.
Here, only one more relevant point is that along with the high subsidy welfare programmes we also need a relaxation of the land reforms laws. Please relax the agricultural landownership laws, from ceiling to tenancy reforms so that new investments could flow. There are still some of the outdated land related laws. And these must also go.
Now, the Congress party under Sonia Gandhi is in the dumps. For the simple reason that the president and the vice president of the party, mother and son, haven't show much interest or enthusiasm to motivate the cadre and the leaders to plunge themselves into the election battle.
The new government has already started or the very process of governance is such that we are seeing some unusual and maturing process of some of the long-pending court cases involving the high-ups facing the heat of the rule of law.
One is the conviction of the TN Chief Minister, Jayalalitha who has now been given bail and the conditions imposed by the Supreme Court are unusual, to say the least. There is also the warning not to drag the courts for too long.
There are other high profile cases soon coming to a close. The 2-G cases, the Maran brothers and also now the media exposures are such that Robert Vadra, the son-in-law of Sonia Gandhi is also exposed for his land deals. With the powerful Haryana Chief Minister is losing power in the state; it is very likely these cases against the dynasty are likely to see the light of the day. No less serious is the case filed by Dr.Subraminiyanswamy against Sonia and Rahul in the National Herald newspaper change of ownership deal.
Apart from the court cases we have seen what is happening to the Congress party in the atleast 5 months or so since it lost power. Sonia Gandhi nor Rahul care to change, it seems.
They follow their own ways, old ways too. They show a distinct contempt for the public. They don't see visitors, not easily; never had they shown there is a change in the country as well.
They live a highly protected life. If you want to lead a party like the 128 year old Grand National party you must certainly have certain qualities of mind and head.
They don't have any, it seems. They don't talk, give interviews and they don't seem to be interacting with their own party leaders. Recently, we saw two events that give us the coming things.
The Kerala Pradesh Congress Committee and the Karnataka Congress Committee saw different events. One, Shashi Tharoor, the Congress MP who spoke in favour of the Prime Minister Modi. The KPCC demanded disciplinary action. At the end he was removed from the party spokesman position.
The Karnataka PCC president and the state chief minister went all the way to Belgaum in north Karnataka to receive Sonia Gandhi who came to participate in an election rally in Kolhapur in Maharashtra across the border. The two dignitaries just only managed to greet her. She didn't stop to talk to them, to listen to their petitions for appointing state board chiefs. Nor they were able to talk to her on her return back in the same route. She just got down from her helicopter and changed over to the plane and flew away from Belgaum!
What sort of leadership is this?
No doubt, there are signs now that the PCCs are now asserting. The duo didn't also show much interest in the crucial two state Assembly elections. Thank god, that Rahul didn't show much interest in the elections. First, he knows that in Maharashtra he doesn't matter. There are more powerful politicians. A leader like Sharad Pawar can't be dealt with by a novice-like Rahul Gandhi. Nor Rahul's penchant for selecting candidates could be proved a fake step.
Rahul neither fits into the traditional seniors-led Congress party nor is he really able to win over friends and influence people. Sonia Gandhi and Rahul Gandhi, let us admit, are not good speaker, let alone orators.
If things stand at this fashion, we can say with certainty that the Congress party would be sidelined as one more regional force, if at all or one more Congress faction among the many.
In no big state the Congress party is now a force. What shood, be done to revive the party if at all?
There are no easy answers.
Mr.Modi is almost taking over all the Congress names and also schemes like clean India, work hard India campaigns. These are all at best old style Gandhina schemes. But there are certain deeper questions here.
One how far Mr.Modi can really take on the serious economic and ideological questions. He has to speed up economic growth. But then economic growth has its own logic and also own historic constraints.
You can't grow when the world growth is constrained. Now, the America's unemployment rate is at 6% but is falling. Nor much. EU growth is not going up. Rather there is recession in Germany, the largest EU country and economy. Japan, Russia is also not growing.
China is growing smoothly at 7.5%, says The Economist magazine. As for India's no one has taken note of. Growing or not growing?
Let the government explain. FDI is welcome but unless the global economic growth is vigorous, where will you get the incentive for the FDI to flow in?
These are all tough questions for everyone, including the Indian Prime Minister. FDI, a very insignificant percentage of the GDP is not alone enough. You have to create a conducive environment here.
See the Nokia and Foxconn cases. Nokia is closed for ever. Foxconn's iPhone, iPad (Apple's spare parts manufacturing contract manufacturing unit, both, Nokia and Foxconn units, large units in Sriperumbudur had located, Foxconn to Brazil.
So, what Modi should be doing? Good the PM acted fast and reformed the labour laws.
That is decisive first step. Then, there are some highly complex issues like coal allocation, iron ore mining leases, telecom spectrum allocations.
The PM must resolve them quickly before he can think of inviting new investments.
Tax issues that hit Vodafone might not recur.
Yes, we can give the PM more time. But this is the basic reality. As for the parties, Mr.Modi might try to wipe-out as many opposition parties in power as he can. Including in TN too.
But then there are certain basic broad outlook. Dynastic politics wont matter anymore,
There has to be a push from somewhere from outside or from inside for the party, we mean, the Congress party to find its feet in the new challenging circumstance.
Let us hope some new forces, new faces are seen sooner, rather than later! It looks like the current status quo deceptively a permanent arrangement.
Surely, Sonia Gandhi and Rahul Gandhi don't know where to go from here.For Sonia Gandhi this is really the most tough time.
Politics is a ruthless game. We are sure Sonia Gandhi must have learnt some lessons by now.
She should volunteer to help the Indian people to find their own indigenous ways. Sooner the better.