Bangalore
Date : 15.7.2014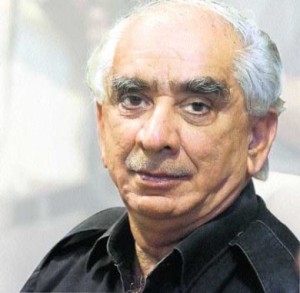 Shri Jaswant Singh,
Former Union Minister,
15, Teen Murti Lane,
New Delhi-110011
Tel: 2301 6228
Fax : 23011304
Dear Sri Jaswant Singhji,
Namaskar. How nice it was to have met you and talked with you about things of mutual interest.  I saw your letter inviting me to meet you dated June 30, 2014 after we returned from our visits to Nepal and Delhi. Now, I must first thank you for giving a listening to my queries.
Though the meet was brief I could get some insights and in my forthcoming book I would elaborate my thoughts. Now, there are some observations.
The Congress leaders I talked with, gave me mixed signals. They of course all seem to have no clue as to their future. They of course don't give out what is in their inner minds. The party can't move forward with Sonia Gandhi and Rahul at the helm as they are today.
The duo doesn't seem to be having any clue either. They don't seem to be interested in things; they don't receive visitors and don't interact even with their colleagues except the few around them. The few I won't call them   as sycophants but they, the few are also, in a difficult position, and it seems, with their options bound by the dilemma in which they themselves find. The mother-son duo are also in a dilemma, a cruel dilemma of an existential kind. They are, as I see, are in an elipathayam, the Malayalam word for a mousetrap.
So, where do we, as Congressmen like me, go?
It looks after I talked with the Congressmen all over that I am the only last Congressman left with!
As for the new BJP, as I see, the dilemma is no less severe. Yes, Mr.Modi looks in command. But for me it looks as if he seems to be also in a cruel dilemma over his long-term prospects. Yes, he had won an absolute majority but there are clouds hanging above.
You might have seen the latest concerns in UK and USA over the 2002 riots cases that are still pending. The UK foreign minister Mr.William Hague had met Sushma Swaraj and has complained about the delay over the three British citizens of Gujarat origins, killed in the riots, whose cases are still pending.
The US too, though now given an invitation, is reported, the US is seeing Modi with "cautious scepticism".
As you know things could escalate into a full-blown international issue. You have to remember only what happened in the Robert Mugabe's case in Zimbabwe and also nearby in Sri Lanka's LTTE ethnic war case that has now become a full-blown UN human rights enquiry issue.
I have friends in Sri Lanka, some of the high society Sinhala families are my friends and knowing their secular credentials I can't but sympathise with Rajapaksha Mahinda's predicament.
Now, I see that there is only one way out of the current ideological conflict likely to evolve. Oneside, the Congress can't sit without coming out with some fundamental radical thinking. The present dynasty-obsessed stand is bound to explode.
Explode into unknown directions. On the other, the Modi's subtle or brash Hindutva is bound to play out. They don't have any thinking core in the party as I see.
Mr.Modi is heavily dependent upon Arun Jaitley's legal skills to protect him. In my considered views and new ideas as such of which I am dealing in the forthcoming book, I seek to put forward a sort of liberal, democratic alternative.
India, as a diverse country with deep roots in tolerance, religion and history etc., we have a tradition starting from Gokhale to Gandhi, why not even from early Jinnah, we can forge a liberal democratic ideology.
I am a liberal but this needs severe qualifications and new formulations, of course.
Anyway, my letter had already meandered too long. I stop here!
Namaskar once again.
With warm regards,
V.Isvarmurti