Bangalore
Date : 12.07.2014
Sri Digvijay Singh,
General Secretary,
The Congress party,
64, Lodhi Estate,
New Delhi 110003
Ph: 011-24628655, 23019373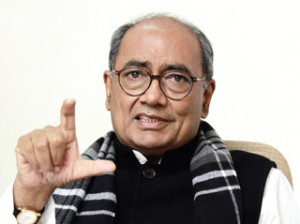 Sub: Decline and fall of the Congress and how to revive the Congress
Dear Sri Digvijay Singh,
How pleasant to see your letter of the 4th June, a reply to my earlier letter. I returned from New Delhi just only a day ago.
We went on a holiday to Nepal and on our way back we stayed for a few days in Delhi.  We reached your residence on the 10th Wednesday early afternoon and we found you were away on your tours, we were told. So, we drove further down to meet Sri Motilal Vohra who received us and we had a very satisfactory discussion and exchange of views.
In fact, I was visiting Delhi after a long gap and as such time was short for me and therefore I had to rush everywhere to look up friends and acquaintances. We had lunch at the Khan Market restaurant and bought our bundle of books at the Bahri Sons and drop the family members at the Lalit hotel and had to rush to see you.
Anyway, I visited twice the AICC and saw things. Our efforts to see Mrs.Gandhi and Mr.Gandhi didn't fructify, though Mr.Rahul Gandhi called us back to come at about 6 PM on 9th July. But we had already booked our flights for the day in the evening and so we have to deny ourselves the pleasure of seeing him.
Now, we also met Mr.A.K.Antony at his residence, he was also in a rush and as he is in the Congress disaster enquiry committee I wanted to give him my piece of the mind. I was shocked what I heard from him. He said his "mandate" was just to enquire the list given to him by the AICC!
What is this? Are we all, Congressmen and women, really serious about the disaster?
I am almost at the final stages of finishing the book on the decline and fall of the Congress and how to revive it. I wanted to see you face to face and incorporate the same in the book. Anyway I would do it in some way or other.
Now, the most serious point here is that after talking  to people in Delhi, at the AICC and also to such  other political leaders like  Mr.Jaswant Singh and others, I have formed a distinctive feeling that  the Congress on its own might not change, might nor reform, unless some more external push comes to  oust people from their positions.
As for Sonia Gandhi and Rahul are concerned I had got the clear impression they are in an elipathayam, mousetrap. They can't get out of the present cruel dilemma in which they are caught. They can't resign and they won't for the very simple common-sense reason where they would go from here? What is really the genuine alternative for them? None, none at all!
Also, the persons and others who are around them, those who made a career out of this existence. As for the leaders who enjoyed power and privileges for all these 10 years, they have already moved out and seeking careers elsewhere.
The party is total disarray, to use a more polite expression. From what I had observed since the defeat the party is not at all in a position even to stand up and see the world around.
The 'enemy' I use the word carefully in a neutral sense with no offence to anyone, is emerging aggressively, resorting to all options of misuse of power and   arbitrary authority and what we do? We are nowhere, I heard Mr.Kharge closely at the Parliament House facing the TV cameras, and he is a good man but very ineffective in the new situation.
Of course, I had outlined some of the urgent, even immediate initiatives we could take but Who to bell the cat?
Is Sonia Gandhi in distress, yes she is? I saw her at some distance at the Parliament complex and she looks exhausted and tired. So too Rahul Gandhi. He too looks thoroughly bored of things. Given their present predicament you can't expect anything other than this 'standstill' do-noting come what may posture!
You see Mr.Singh the situation is really much more dangerous. There are very many parallel situations in our own history. In politics you can't give up active participation in the events as they unfold. Mahatma Gandhi went back to Wardha in 1934 and yet he was called upon to come back and engage in politics, he did engage in direct negotiations with the Mountbatten in 1947.
It was Gandhi   again who endorsed the partition of India, though he was silent otherwise in the proceedings. No one voluntarily withdraws in politics, never had it happened. Even Gandhi was assassinated in 1948 though he was not enagged in politics.
The point is that you can't sit quiet when events overtake you.  Sonia and Rahul have to act now and we, those selfless and well-minded ones, can give our advice and counsel. The advice and suggestions might be unwelcome but it is the duty of genuine Congressmen to come out with constructive suggestions.
My book will of course give all these inputs. It is part autobiography part political analysis of the times.
Congressmen in Delhi seem to imagine that after five years they might be voted back. This is pure naivete!
In fact, some more unexpected turns politics might take in the country.
We are all mortals! Only the immortals can say Dillli is door nahi hai!
You have to identify youngsters, new comers and assign them to tour states and come with reports. One suggestion here not many.
I would like to discuss with geniune congressman like you.
Let me see.
Yours sincerely in a hurry!
V.Isvarmurti