Letter to Honble Mr.Siddaramiah,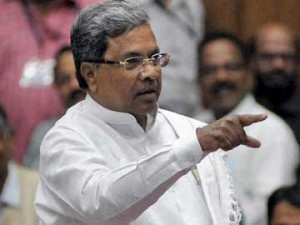 To
The Honble Mr.Siddaramiah,
Chief Minister,
Government of Karnataka
Sub:  My letter to Mrs.Sonia Gandhi on the Congress defeat and what should be done:
Mrs.Sonia Gandhi and Mr. Rahul Gandhi must resign and make way for new comers
I write this letter as a senior Congressman to a fellow Congressman.
I am based in Bangalore though my field of political activity is concentrated in Tamil Nadu, I myself coming from Coimbatore.
I know most of the Karnataka political leaders, S.Nijalingappa, Ramakrishna Hegde, Veerendra Patil and even J.H.Patel and many others.
I was an elected member of the Madras Legislative Council from 1968-76.I defeated the candidate put up by the late redoubtable Tamil leader, C.N.Annadurai and know most of the Dravidian leaders very closely.
I was a close follower of Kamaraj and in New Delhi I knew almost every great Congress leader, besides such ones like George Fernandes to Chandra Shekhar and other great Socialist leaders.
I was a member of the Congress (O) till the last days of Kamaraj.
Now, I am keenly following the politics in Karnataka and I am in close touch with many leaders, most, closely with our much respected M.V.Rajasekaran, MLC and former Union Minister. This is for your information.
I was a close associate of many Congress stalwarts, among them was S.Nijalingappa and Kamaraj in the Sixties. When I worked at the AICC under   the galaxy of leaders like Atulya Ghosh and Sadiq Ali were my mentors. To know more  about me please see www.isvarmurti.com
Now after the 2014 debacle, there are factions active and there is not much clarity as to the future of the Congress party's chances in the face of the BJP challenge.
The purpose of writing this letter is regarding the goings on in the KPCC and also about the nomination of members for the Rajya Sabha.
There is now a raging controversy going on in Tamil Nadu where I am engaged in the revival of the Congress party. Where there is a self-destructive faction fight against P.Chidambaram, the former finance minister, it is alleged seeking nomination from Karnataka.
Apart from what the Karnataka MLAs feel about the PC nomination, there are other controversies in TN where the former finance minister didn't contest, he also didn't canvass for Congress candidates in the state and only concentrated on his son's constituency which was also lost.
So, in these very disappointing moments, what is the rationale if the Congress High Command rushed now to nominate P.Chidambaram, ask the TN Congress critics of the former finance minister who, they allege, was in fact responsible for the defeat of the party at the all India level also. Because of the handling of the economy and prices.
Whatever may be the other considerations, I want to bring to your attention that Congress in Karnataka too must show some roadmap as to how the party can be revived all India level..
Senior leaders in Karnataka, also new entrants like Nandan Nilekani must stand up and speak out and show the way for revive the Congress.
Karnataka has a progressive political tradition and also a Gandhian legacy. Also there is an enlightened intellectual class that takes bold public stands on issues as well as the new corporate class that also engages in progressive steps to engage themselves in the electoral battles.
In such a scenario what is the far-sighted suggestion or suggestions to take the national political movement forward?
As such the state is well-poised to come out with suggestions and practical and strategic solutions to revive a healthy Opposition party as well.
Let the Congress be built on a much more fundamentally sound and transparent basis, not just on dynastic politics or sycophantic culture.
Let there be a debate and a new articulation.otherwise, there is the danger that a re-emergence of the BJP with new power might completely wipe out the Congress from the state.
This danger must be well-recognized and there can't be any camouflaging this reality any longer.
I have attached herewith my latest letter to Mrs. Sonia Gandhi which explains my point of view.
Mrs. Sonia Gandhi and Rahul Gandhi must resign graciously themselves and make way for a new interim president so that new initiatives, new ideas and new thinking can come into being and the Congress can hope to look in a new light.
You come from a different political and ideological background and we, as Congressmen must stand united by progressive ideals and casteless and classless ideologies only.
There has to be an entirely new thinking and new approaches and new strategies.
With regards,
Yours sincerely,
V.Isvarmurti
Encl: Mrs. Sonia Gandhi letter